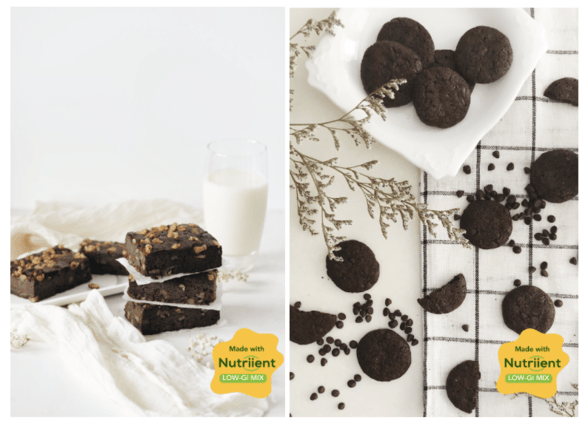 The 'Better For You' product range from both brands introduces two new healthy dessert items, a low glycemic index brownie and low sugar chocolate chip cookie, that are Halal-certified, tasty, and even safe for diabetics to enjoy
SINGAPORE, 17 August 2023 – Singaporean food purveyor Melvados, a brand under the Foodedge Gourmet umbrella, in partnership with local startup Nutriient, introduces Singapore's first-ever Low Glycemic Index (GI) Brownie and Low Sugar Chocolate Chip Cookie. Made with Melvados' delicious original recipes and Nutriient's proprietary Low GI sugar substitute blend, the products have low sugar levels, making it a much healthier alternative to the usual snacks, and safe for even diabetics to enjoy.
The two Halal-certified dessert products from Melvados and Nutriient are the first in a new line of 'Better For You' healthy desserts  with more products to be released later in the year.
The products are affordably priced with the Low-GI Brownies priced at $15.50 for a tray of 4, and $38 for a tray of 10, while the Low Sugar Chocolate Chip Cookies are priced at $2.90 per pack. The products will be available for purchase online and from all Melvados retail outlets around Singapore from mid-September.
Delicious, Guilt-free Desserts for All
Diabetes is an increasingly prevalent disease in Singapore. Statistics from Diabetes Singapore show that there were 440,000 Singaporeans with diabetes in 2014 — and this number is set to increase to 1 million by 2050, accounting for 10% of the disease burden in Singapore. In line with the Health Promotion Board's increased emphasis on healthier, conscious eating, Melvados and Nutriient are proud to share that they have aligned their goals and embarked on a mission to improve public health by helping Singaporeans take control of their diet through food innovation.
Made to deliver a sumptuous experience for your taste buds, each bite of the Low-GI Brownie offers a delightful contrast of dark couverture chocolate — widely considered to be a more premium type of chocolate — and the nutty crunch of walnuts and ground almonds. The brownie has a perfectly balanced texture, moist and fudgy on the inside with a crisp exterior, for a harmonious blend of melt-in-your-mouth goodness and satisfying chewiness.
The deeply indulgent chocolate flavour is also present in the Low Sugar Chocolate Chip Cookie, its rich cocoa imparting a luxurious and velvety mouthfeel. Within the cookie, delectable morsels of chocolate chips add bursts of decadence to elevate the cookie's flavour profile. Whether enjoyed with a cup of milk or simply on its own, the brownie and cookie are sure to satisfy your cravings with their mouth-watering flavours and texture.
The Low-GI Brownie offers up to 8.1 grams of protein and 4.7 grams of fibre per serving (1 piece) and no artificial preservatives. Meanwhile, the Low Sugar Chocolate Chip Cookie provides just 31.4g of sugar, 2.8 grams of protein and 2.3 grams of fibre per serving (40g packet). Against Melvados' traditional double chocolate brownie, incorporating Nutriient's proprietary premix has resulted in 25% less sugar, 50% more dietary fibre and 15% more protein. Not only is it packed with protein and fibre, but these products can also be easily incorporated into a sustainable diabetic-friendly diet plan as it doesn't cause one's blood sugar level to spike.
"At Melvados, we firmly believe that taste and enjoyment should never be compromised when it comes to our products. We take pride in crafting delightful treats that cater to all. Together with Nutriient, we aim to redefine the concept of guilt-free indulgences and offer customers a range of delectable and healthy alternatives while continuing to deliver unparalleled tastes," said Bandana Kaur, Brand Manager of Foodedge Gourmet.
"Innovating and creating healthy yet great tasting food options has always been the focus here at Nutriient. Melvados' expertise in gourmet recipes and retail operations are a perfect match for our proficiency in launch strategies and rigorous research. We are confident in our combined efforts to make food innovations convenient yet accessible to all," added Sean Lee, Chief Executive Officer at Nutriient.
Supported by Rapid Local Innovation 
Launched as a spin-off from A*Star's Singapore Institute of Food and Biotechnology Innovation (SIFBI), Nutriient is transforming the way we view confectionery through its proprietary mixture that can be used to replace from 20% up to 100% of sugar in existing recipes – for lower levels of sugar, a lower GI, and increased amounts of protein and dietary fibre! By reducing added sugar in recipes, a major cause of Type II diabetes, Melvados' new Low-GI Brownie featuring Nutriient's proprietary mixture is clinically validated to be suitable for individuals with diabetes to consume safely.
Suitable for use in any baked good, confection or beverage, Melvados' latest products take advantage of Nutriient's low-GI premix to create a healthier and diabetic-friendly dessert than regular brownies in the market today — all made possible by Nutriient's state-of-the-art technology.
Nutriient's inventiveness extends to its ease of use as well, where one-to-one substitutions of sugar with the Nutriient's premix can be made, to improve the nutritional composition of these foods instantly – from whole cakes and cookies, to bubble tea and cold brew coffee, the possibility of health-conscious living without significant compromise is within reach for all. Through the streamlined R&D process that Nutriient's premix offers, Melvados and Nutriient plan to introduce a broader range of Nutriient-enriched products in their healthy dessert line to continue providing exciting options to customers.
Celebrating the Launch with Exciting Promotions and Deals
To celebrate the launch of the 'Better for You' product range including the Low-GI Brownie and Low Sugar Chocolate Chip Cookie, Melvados will be holding a limited-time-only promotion available at all their retail outlets. Enjoy 20% off the new Low Glycemic Index (GI) Brownie and Low Sugar Chocolate Chip Cookie throughout the month of September.  For more information on the upcoming promotion, do keep a lookout at the Melvados (@melvados.sg) and Nutriient (@nutriientsg) Instagram pages. Don't miss out on snagging these deals and trying out Melvados and Nutriient newest creations!