Sugar cane companies are not just the sugar company of the olden days focusing on extracting sugar out of cane juice. Instead, they have evolved into producing other higher value added products such as paper,  sugar cane juice and electricity generation etc.
Vietnam's TTC Group, a sugar, energy, real estate and tourism conglomerate, introduced Miaqua water made from sugarcane in mid-2017. The water was made available to 2,000 domestic and international delegations who attended the APEC Economic Leaders' Week 2017 in November 2017 as well as in other international conference and meetings.
Miaqua is the by-product of sugar manufacturing. The water is collected and treated before being packaged in a PET bottle and sold in selected retail outlets. The uniqueness of this packaged water is it is unsweetened and has the fragrant smell of sugarcane.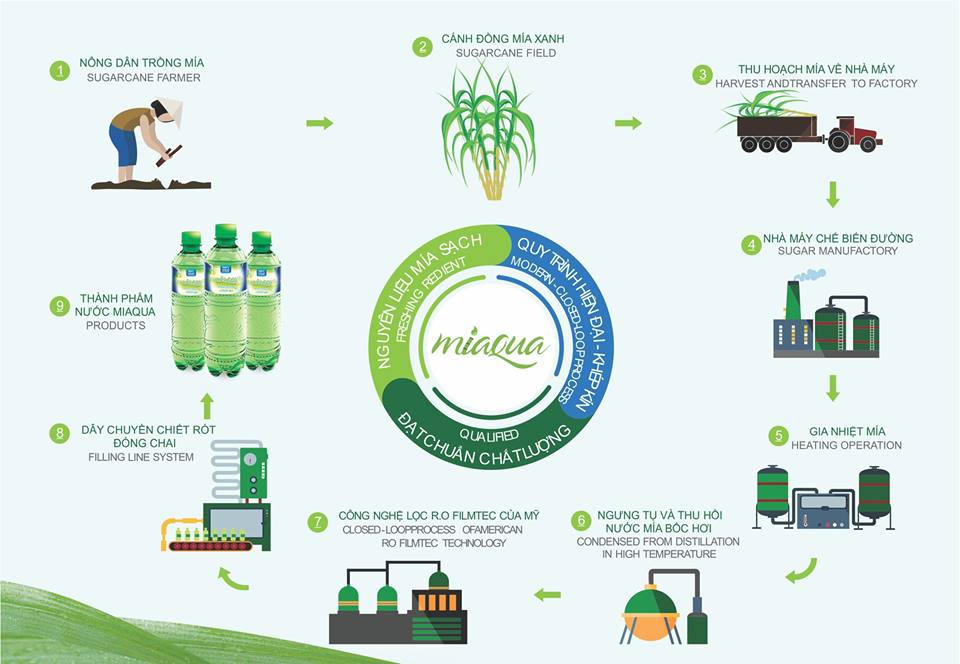 The production process ensures the water is not wasted and ties in with the current global focus on reducing food waste and sustainability.
Miaqua is available at Lotte, Aeon Citi, Big C and other retailers. It is a product of Thành Thành Công Tây Ninh in Tan Chau District, Tay Ninh province.
The key ingredients are distilled water from cane sugar processing production treated with reverse osmosis ozone technology and UV light. A 500ml bottle is priced at VND 3,800 (USD 0.17).