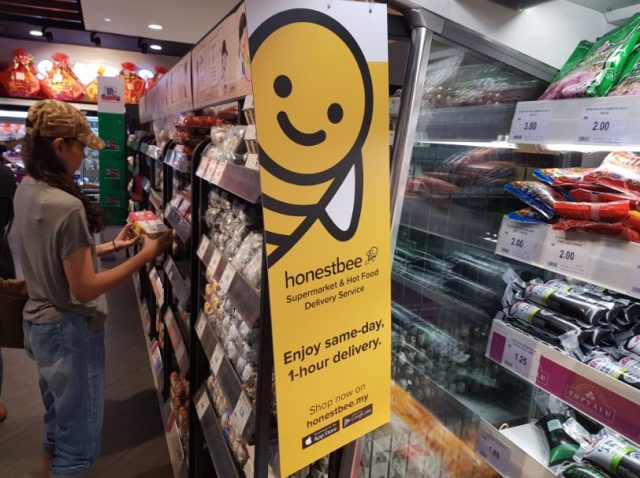 The new AEON online store on Honestbee marks the first time the general merchandise store retailer has an online presence in Malaysia. It also gives us the opportunity to analyse the private label strategy of AEON in the online marketplace.

Private label accounts for 6% of online SKU
On AEON's outlet on the Honestbee site, AEON TopValu private label range accounts for 6.4% of the total stock keeping unit (SKU). The figure is smaller than Tesco Online's 10.5% but still high considering Tesco is the market leader in grocery private label in Malaysia.  Tesco Online's website is at eshop.tesco.com.my.

Focusing on food segment
AEON-Honestbee is focusing on the food segment with food accounting for 84% of total SKUs including private label. As a comparison, Tesco is more matured as it has been operating its online store since April 2013 with an even split between food and non-food.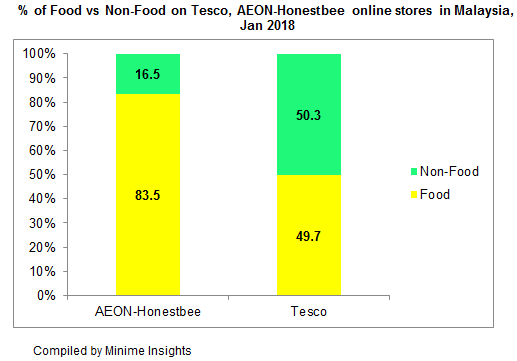 Non-food private label still key trust for AEON-Honestbee
Looking at the share of private label in food and non-food, AEON-Honestbee is focusing more on non-food. Non-food is usually where consumers find it less risky and more willing to switch to store's private label offerings influenced mainly by price.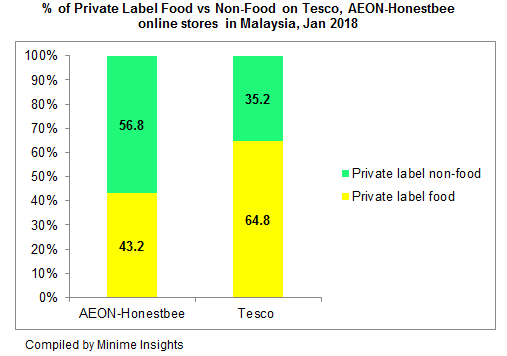 Over time, Tesco has educated consumers on the merits of its store brand food products and this is reflected in a higher share of private label food at 65% versus non-food at 35%.
Tea has largest number of SKU in private label food
On AEON-Honestbee, tea has the largest number of SKU in the private label food category, while cooking ingredients has the biggest SKU in non-food. Convenience food is second in food and comprises frozen food such as frankfurter, nuggets and fish balls.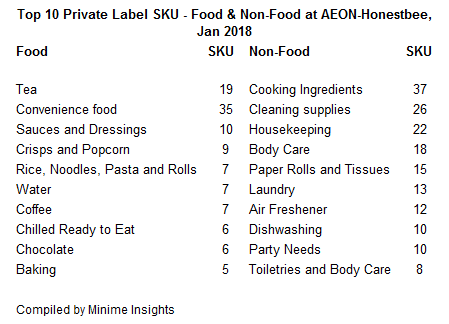 Houseekeeping top penetration 
In terms of penetration, we are see TopValu accounts for the biggest share of housekeeping (eg. sponge, garbage bag and wet tissue), followed by party needs (eg. paper plates, chili sauce container and serviette) and skin care (eg. cotton buds, wet wipes and sanitising wipes). This is not surprising to see as consumers usually opt for the cheapest products.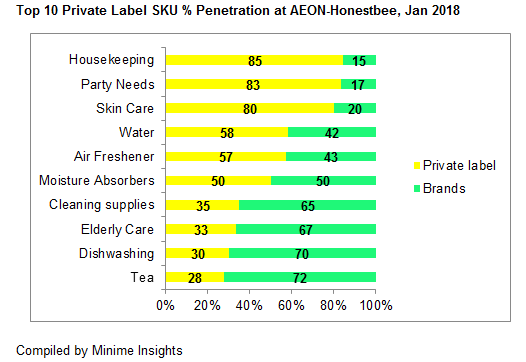 What Mini Me thinks
With AEON embracing e-commerce grocery, it can become a useful platform to educate and promote private label like what Tesco has been aggressively doing on its Tesco Online portal.