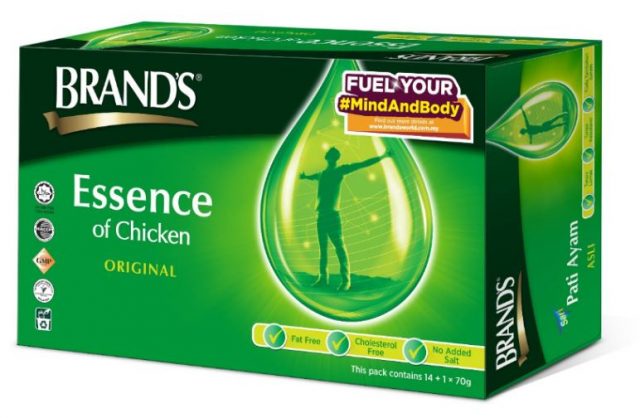 Whether you are constantly on the go, ready to face a challenging day ahead or need to put in a long night at work, BRAND'S® lets you make the most of every day to achieve greatness. Ace through the day with a sharp mind and energized body by fueling it with BRAND'S® Essence Of Chicken.
Taken warmed or chilled, clinical studies show that regular consumption of BRAND'S® Essence of Chicken significantly improves one's mental and physical performance while keeping stress at bay by reducing anxiety, mental and physical fatigue as it improves blood circulation and oxygen flow to the body and brain.
"People get caught up with their busy lifestyle and many may not notice it when their body gradually wears down from stress, tiredness and poor nutrition. Drinking a bottle of BRAND'S® Essence Of Chicken daily can help to fuel your mind and body with its nourishing goodness and keeps you in top shape to achieve greatness in whatever you do," said Kuang Ming Ming, General Manager of BRAND'S® Suntory Malaysia.
"This is because increased blood circulation and oxygen flow to the brain and body keeps mental and physical fatigue away, while reducing anxiety and stress hormone, cortisol, so that the ability to stay alert or focus is not affected," added Kuang.
No matter if you like it warmed or chilled, you can now fuel up and reach for greatness on the go with a BRAND'S® special chiller cum warmer. Suitable for the home or office, you can redeem one for free with the purchase of ten packs of BRAND'S® Essence Of Chicken (14+1 bottles x 70g or 12-bottles x 70g) which retails at RM81.00 and RM65.00 respectively.
Submit the 10 barcode flaps from BRAND'S® "Fuel Your #MindAndBody" campaign packs and with your personal details from 1st March until 31st May 2018 to redeem your very own chiller cum warmer while stocks last.
BRAND'S® Essence Of Chicken is the only chicken essence in the market backed by over 40 international scientific papers and clinical studies. Results have shown that daily consumption improves memory by up to 15% and enhances concentration by 22%, while metabolism can be increased by up to 16%.
For more product information and redemption details, visit www.brandsworld.com.my, BRAND'S® Smart Living on Facebook or call BRAND'S® Customer Care Line at 1-300-228-300.