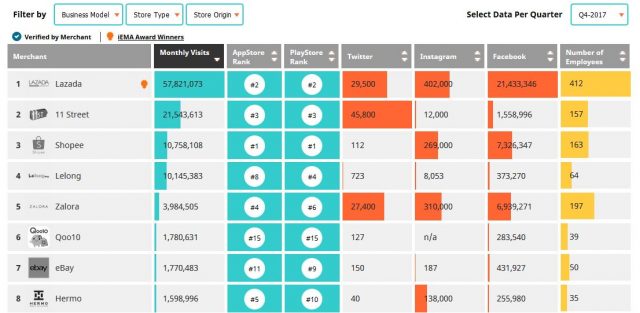 Lazada most visited eCommerce while Shopee leads as highest ranking mobile shopping app end 2017
20 MARCH, 2018, KUALA LUMPUR – Latest figure by the Department of Statistics Malaysia indicate the digital economy has contributed 18.2% to the Malaysia's GDP, amounting as much as RM290.9b in 2016. Since then, eCommerce has continued to grow at a rapid rate as both government and private sectors continued to heavily invest into the digital industry.
To keep track of this fast-paced tech economy, the Map of eCommerce was created to ascertain the key players in the country and reveal key insights for Malaysians.
Lazada extends its lead in Malaysia
Comparing online traffic between Q3 and Q4 2017, we saw an increase of 13.8 million average monthly visitors for Lazada. This widens the gap between Lazada and its closest competitors 11street (increase of 5.9 million average visitors) & Shopee (increase of 5.3 million average visitors) when comparing to the previous quarter.
Until its competitors are able to find an answer to Lazada's dominance, the Alibaba backed eCommerce looks set widen its lead as its Chinese investors further pumps in US$2b (RM7.83b) into Lazada.
Shopee also saw impressive growth as they replaced Lelong as the 3rd most visited eCommerce in Q4 2017. This comes not long after their parent company SEA obtained US$550m (RM2.1b) in funding on September 2017 with plans to utilise most of its funds to develop its eCommerce platform.
Shopee overtakes Lazada as the top mobile shopping app
Though Lazada leads in terms of website traffic, Shopee overtook Lazada to rank as the best app on both Google Play and iOS App stores. This is significant as Southeast Asia is a mobile-first region where consumers are more likely to search and compare products using mobile devices.
Our recent whitepaper study on the State of eCommerce SEA saw 74% of online traffic in Malaysia sourcing from mobile devices (both smartphones & tablets). Shopee has been a mobile-first eCommerce since its inception in 2015, launching its mobile application as a mobile C2C marketplace across Southeast Asia.
Runners up after Shopee is Lazada, 11street, Zalora and Lelong. The mobile shopping app is ranked on the highest number of downloads, least number of uninstalls, engagement (app usage), revenue, consumer ratings and others.
An average 30% increase in online traffic for MY's top 50 eCommerce due to year-end promotions
Malaysia's top 50 eCommerce experienced an overall 30% increase in online traffic due to year end sales. In fact, all vital eCommerce sale periods took place in the last months of 2017. Among the most popular online sale periods were #MYCyberSale (9-13 Oct), 11.11 Sale (also known as Single's Day on 11 Nov), Black Friday (24 Nov) and 12.12 Sale (12 Dec). The most popular sale period was 12.12 Sale followed by Singles Day where searches for promotions on Lazada, Shopee and Zalora were the highest in 2017.
Malaysia's top five eCommerce has provided more than 1,000 jobs
The top five eCommerce platforms in Malaysia Lazada, 11street, Shopee, Lelong and Zalora has created more than 1,000 jobs in Malaysia. This figure was found by searching for staff who were working in the mentioned eCommerce companies and is currently in Malaysia.
The number of persons currently working in the top five eCommerce could be even higher as not all employees have a LinkedIn account. Nevertheless, this is a significant number given that the Malaysian government expects its digital economy employment to surpass global average by 2025.
Local fashion brands continue to dominate on Instagram
Malaysia's local fashion brands were more popular on Instagram when compared to regional and international players such as Zalora, Sephora and Lazada. The three most popular eCommerce on Instagram is Bella Ammara, Naelofar Hijab and Fashion Valet. Among the three players, Fashion Valet is among the oldest fashion-centric eCommerce which has been in Malaysia since 2010.
Malaysia's fashion eCommerce is among the most active in Instagram where they publish engaging content on a regular basis and partner with various celebrities and Insta influencers to garner further customers.
Click here to view the full infographic: https://iprice.my/insights/mapofecommerce/en/
Methodology
The Map of E-Commerce ranks Malaysia's top 50 e-commerce players based on their average quarterly traffic, mobile application ranking, social media followers and number of staff. Data was collected in January 2018
Monthly Visits – Average monthly website visits. Source: SimilarWeb
App Ranking – Average ranking of mobile app. Source: App Annie
Social Media Followers – Source: Facebook, Twitter & Instagram
Number of Employees – Source: LinkedIn. Data will be displayed as (n/a) if the number of employees is not available
List of Merchants – E-commerce who received more than 100,000 visitors per-month or 100,000 social media followers are qualified for this list.
The following industries were not included in this list: e-ticketing, financial services, rental services, insurance, delivery service, food & beverage, meta-search, couponing, cashback websites and ecommerce who solely provides classified ads/P2P services.
All e-commerce who initiated their business as a physical store were excluded from this list.
About iPrice Group
iPrice Group is a meta-search website where Malaysian consumers can easily compare prices, specs and discover products with hundreds of local and regional merchants. iPrice's meta-search platform is also available in six other countries across Southeast Asia namely in; Singapore, Indonesia, Thailand, The Philippines, Vietnam and Hong Kong. Currently, iPrice compares and catalogues more than 100 million products and receives more than five million monthly visits across the region.
iPrice currently operates three business lines: price comparison for electronics and health & beauty; product discovery for fashion and home & living; and coupons across all verticals.
On a regular basis, iPrice Group releases key insights on topics pertaining eCommerce, startups and others. Stay tuned to iPrice's insights here: https://iprice.my/trends/insights/