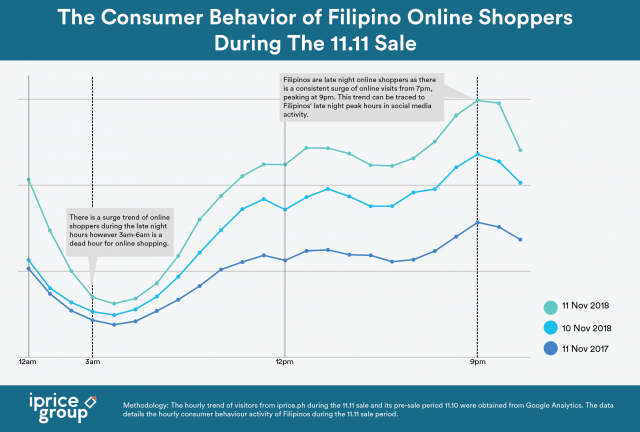 The anti-valentine, Singles' day sale which occurred last 11th of November have surpassed yet again its recorded revenue from last year earning 30.8 Billion USD. Its annual growth rate however is the lowest in the history of Single's Day as it only increased to 27 percent from 25.3 Billion USD last year's earning. In the Philippines, Singles' Day overwhelmed merchants like Lazada as the company reported that it needed to further expand its local warehouse due to the after sale surge. Lazada Philippines' CEO of Logistics, Juan Spencer, said that its continued growth prompted the company to scout for another logistics hub that would raise its footprint from 60,000 square meters in warehouse space to 120,00 square meters by 2021.
This success of Lazada Philippines proves that Filipino online consumers are becoming more and more active in online shopping esp. in these sale events despite the "mall-culture". To understand the overall performance of Singles' Day in the country, iPrice Group conducted a research in the Philippine market analysing its local consumer behavior trend, geographical trend and the market search interest during the pre-sale 11.10 and 11.11 in 2018 as well as the 11.11 in 2017 sale period in the country. The data used in this report is a mixed of our proprietary data from Google Analytics as well as external data from Google Trends.
There is a surge of online shoppers in the country during the late hours peaking consistently at around 9 pm
Based on the traffic of both 11.11 sale period from last year and this year, there is a consistent upward trend suggesting that Filipinos are consistently hyped for this sale event. Based on our proprietary data, there is a whopping 91.3 percent increase in terms of online visit this year versus last year from 48385 to 92603. While in comparison against the pre-sale event, the Single's Day itself showed a 29.7 percent increase in terms of online visit from 71386 to 92603.
Interestingly, despite that both Singles' Day sale events this year and last year occurred during the weekends, majority of Filipinos still preferred to shop at the very last minute. Based on our proprietary data from Google Analytics, majority of online Filipino shoppers are actively searching for products during the late-night hours. The hourly consumer behavior of Filipinos is consistent comparing the sale trends from 11.11 pre-sale, and the 11.11 sale period this year and last year.
Early mornings specifically around 3:00 am is the dead hour for the online shopping while it slowly gains momentum in terms of number of visits starting from 5:00 pm surging continuously every hour where 9:00 pm is the most active hours. The rationale behind this late-night hour shopping trend is correlated with Filipinos' social media activity which coincidentally peaks in the late-night hours.
A majority of Filipino Online Shoppers are from Greater Manila Area: Quezon City, Makati and Manila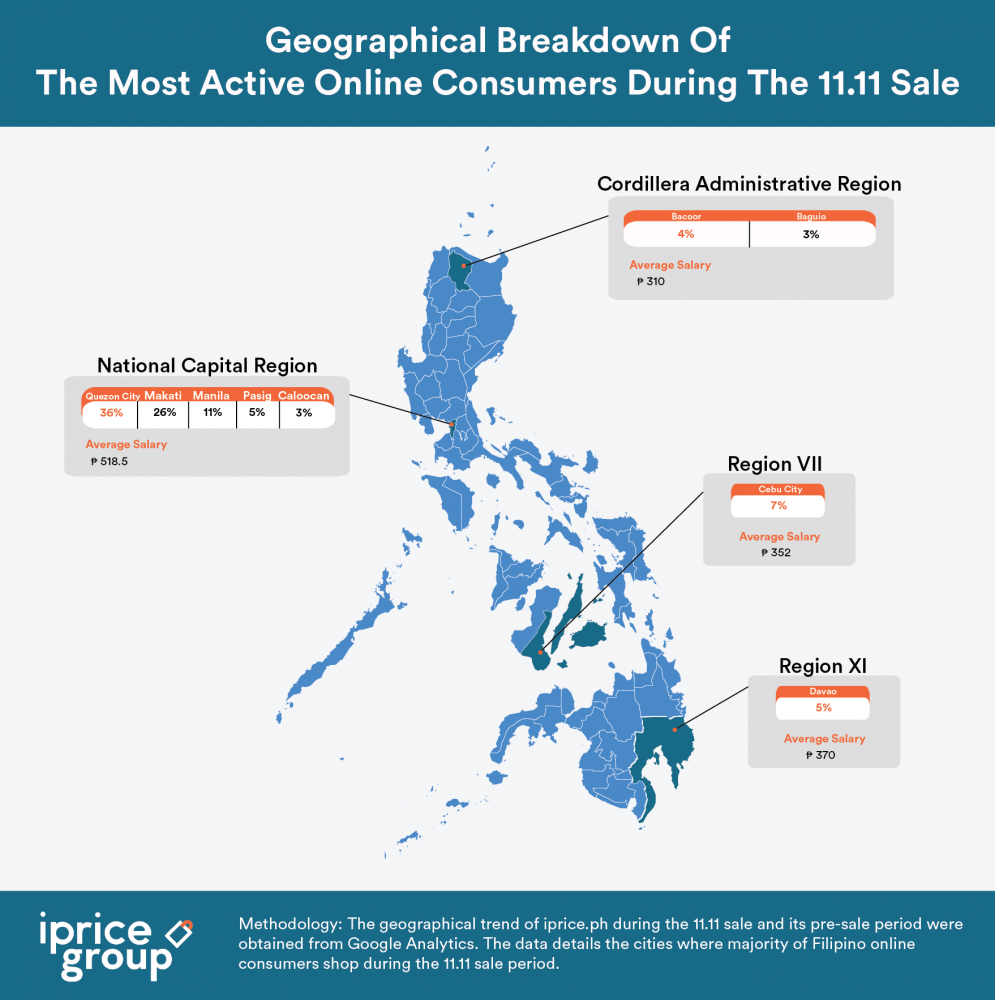 Majority of Filipino online shoppers during the Singles' Day are mainly from the Greater Manila and some other provincial metropolis cities. The Greater Manila cities mainly Quezon City, Makati City and Manila are the top three most active cities that participated in this year's Singles' Day sale which had 36 percent, 26 percent and 11 percent consumer activity. Meanwhile, the other cities in Greater Manila namely Pasig and Caloocan took the 6th and the 8th spot respectively with five and three percent consumer activity.
Only three provincial metropolis cities namely Cebu, Davao and Cavite made it on the list placing 4th, 5th and 7th spot which is significantly less than the three major cities in Greater Manila: Quezon City, Makati City and Manila. The rationale behind the activity in these cities can be traced from their respective minimum wages. The Greater Manila cities: Quezon City, Makati, Manila and Pasig have the highest minimum wages in the country justifying their high shopping activity during the sale event.
Cebu Pacific And Air Asia Are The Most Searched In Airline Promotions While A Majority Of Filipinos Are Actively Searching For Online Deals In Lazada And Shopee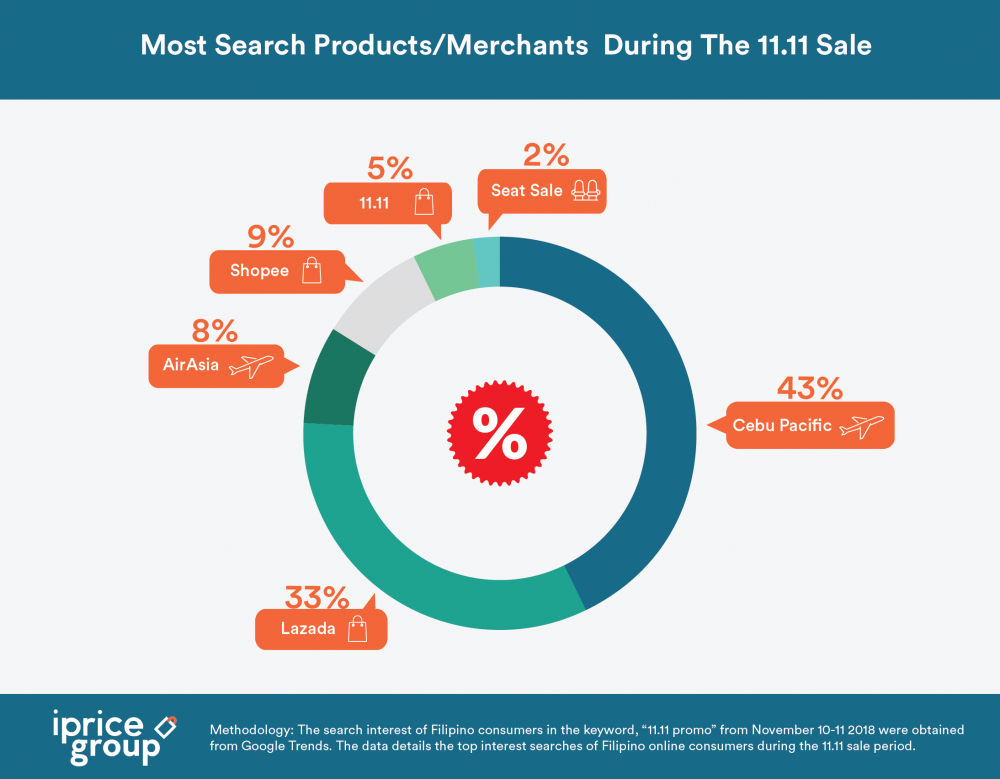 In terms of the search interest, Filipinos are actively searching for online promotions for airlines and general top merchants in the country. In fact, the top two most searched keywords are "Cebu Pacific" and "Lazada" placing 1st and 2nd respectively. Interestingly, the respective competitors of Cebu Pacific and Lazada namely "Air Asia" and "Shopee" came in for the 3rd and 4th spot. While general search interest in "11.11" and "Seat Sale" came in as the 5th and 6th most popular keywords.
The reason behind the interest in Lazada and Shopee this Singles' Day sale is that Filipinos' online shopping preference is based on brand familiarity thus directly seeking mainly for the top online merchants in the country. This is according to Kantar Worldpanel survey, revealing that 84 percent of Filipinos preferred to buy from established companies despite the alternatives available in the market.
Meanwhile, airline promotions are one of the most searched keywords during this sale period which is consistent across Southeast Asian markets: Malaysia, Singapore, Thailand, Vietnam, Indonesia and Philippines. The rationale behind the popularity in airline promotions is that majority of the participating airlines in the Singles' Day sale are offering an early Christmas and New Year holiday promotions.
About iPrice Group
iPrice Group is operating as a one-stop shop e-commerce aggregator across 7 markets in Southeast and East Asia with key feature in price comparison. It's meta-search feature collates e-commerce products: home and living, cosmetics, grooming, fashion and electronics while its key feature in price comparison specifically caters to electronics.