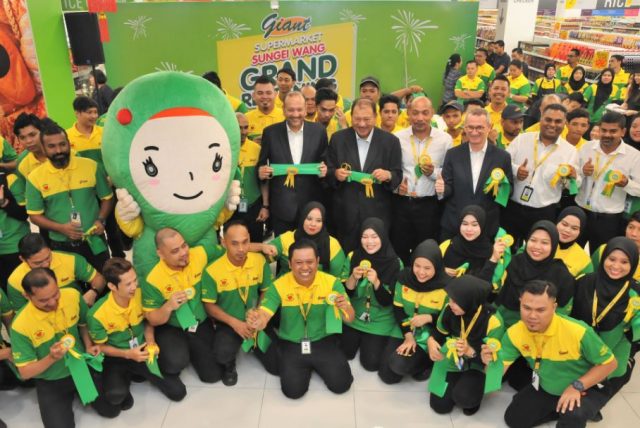 KUALA LUMPUR, 31 January 2019 – Giant Supermarket Sungei Wang reopens its doors once again today, after a complete revamp, incorporating a new store concept to offer customers an intriguing and engaging shopping experience from start to finish.
Giant Supermarket Sungei Wang, located in the heart of Kuala Lumpur's Golden Triangle area, is one of the oldest Giant Supermarkets in Malaysia, providing customers with the freshest products and tourists with an extensive array of best-loved Malaysian products. Established in 1977, Sungei Wang Plaza still holds its charm for its range of specialty shops and is a bargain-hunters paradise surrounded by office workers, avid shoppers, foodies, and tourists.
"We spent a great deal of time to understand the needs of our customers when they visit us at Giant Supermarket Sungei Wang. Every detail in the store has been meticulously planned and implemented for one purpose – to provide the best shopping experience to our customers. Giant Supermarket Sungei Wang will continue to inspire customers with fresh selections and provide them with a fulfilling experience while shopping at this newly refurbished store." said Mr. Pierre-Olivier Deplanck, Managing Director of GCH Retail (Malaysia) Sdn Bhd.
With the brand new Giant Supermarket Sungei Wang, customers can expect to see an added array of fresh products, a wider selection of local and imported fruits and vegetables, fresh meat and seafood prepacked for convenience, a full range of Malaysian favourites, and pantry essentials at great value.
In line with the stores new concept of enhancing customers experience throughout, the newly reopened Giant Supermarket Sungei Wang sees the extension of Giant's ready-to-eat food items and a new concept bakery, to meet the unique needs of customers at Giant Supermarket Sungei Wang. The new Giant Supermarket Sungei Wang store will also see the introduction of new products and items, expanding the supermarkets variety of ready-to-eat food items such as; an extensive Korean range, Japanese bento sets, Malaysian local delights and eight varieties of mixed rice. The newest addition to the store, Uncle Jack's Fried Chicken is offering its new menu which consists of mix and match options, affordable combo sets and upgraded taste of Nasi Lemak to the customers at exceptional value to cater to the working adults in the surrounding area.
Giant Supermarket Sungei Wang is also famous for its vast selection of Malaysian delicacies among tourists. The new concept Giant store also features a commitment to Made in Malaysia products and goods with the introduction of a dedicated Malaysian Delights or Citarasa Malaysia area. The Citarasa Malaysia area will allow Giant to further emphasise and assist Malaysian producers of the freshest, highest quality items to offer their products to Giant's customers. Some of our most sought after local products such as white coffee, tea, special sauces, varieties of keropok, noodles and chinese herbs will be made available in this outlet to cater to the tourist's demands.
Deplanck added, "Giant has been a trusted name when it comes to providing the best value and quality to our customers. That is why we constantly aim to better serve the needs of our customers and the communities with a store that they can trust, delivering quality, service and value. With this new store, which features a wider selection of high quality fresh products and good value, Giant Supermarket Sungei Wang will continue to be the preferred choice for customers and tourists in the area."
To mark the launch of the store's reopening, Giant Supermarket Sungei Wang will be hosting a variety of activities such as interactive in-store experiences, food sampling as well as large numbers of giveaways and mystery gifts that are up for grabs throughout the month of February. Giant Supermarket Sungei Wang is also offering a RM5 Giant voucher to its first 1,000 customers who spend a minimum of RM50.
To add more value to our discerning customers, there will be promotions from 31 January until 27 February at Giant Supermarket Sungei Wang. Visitors will also get to indulge on complementary local favourites such as Rojak, Tau Fu Fah and Apam Balik throughout this promotion duration. The store will also be hosting a 'Snap, Upload and Win' contest on Giant's Facebook Page to stand a chance to win a mystery gift. Participants will have to take a picture of their favourite corner at Giant Supermarket Sungei Wang with an accompanying caption that tells why it's their favourite corner. Then they would need to upload the photo and caption to their respective Facebook page, and include #GiantMY hashtag to redeem the gift.
About GCH Retail (Malaysia) Sdn Bhd
GCH Retail (Malaysia) Sdn. Bhd., (GCH) a subsidiary of Dairy Farm International, is the operator of Giant hypermarkets and supermarkets chain; Cold Storage, Mercato and Jasons Food Hall premium grocery stores. Keeping abreast of latest market trends, GCH Retail continues to deliver on modern retail experiences and avails Malaysian customers to a wide array of products and produce, including quality value selections as well as premium and exclusive offerings. GCH Retail's latest industry accolade includes being Retail Asia-Pacific's Top 500 Gold Winner as Malaysia's Number 1 Retailer. Operating stores across Peninsular Malaysia and in Sabah & Sarawak, GCH Retail retains a strong foothold in the local retail industry and continues to maintain a strong leadership position.