The Southeast Asian instant noodle market had a positive year in 2018. The leading instant noodle manufacturers in Thailand, Indonesia and Vietnam all posted accelerated growth in value sales in 2018 compared with 2017.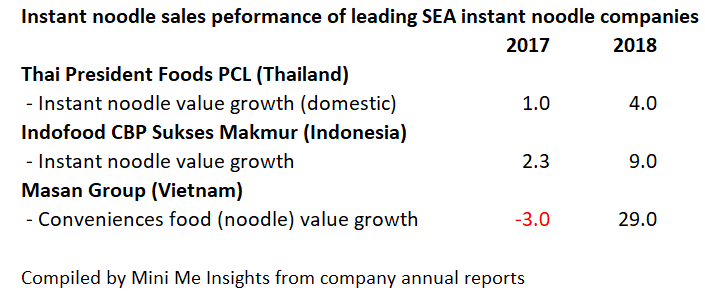 Some of the growth is attributed to higher selling price but if you look at Indofood's 9% growth, it cannot be entirely due to higher price alone.
What are the factors driving growth in 2018?
Flavour innovation and premiumisation are some of the reasons driving the positive performance of these instant noodle companies. For example, insanely spicy noodles such as Pop Mie Pedes Dower have benefited Indofood, while Nestle Malaysia won consumer hearts with the Maggi Pedas Giler range. The success of spicy noodles show Southeast Asian consumers want an extreme taste experience.
Apart from spicy flavour, unique flavours such as salted egg will help drive future growth.
Instant noodle companies also focused on premiumising its instant noodle range with real meat ingredient and adding premium ingredients to offer restaurant-like taste. Masan attributed its instant noodle value increase to the 60%+ growth of premium products, which contributed 45% to its noodle portfolio. The company's Omachi premium instant noodle has real pork stick.
The key takeaway for future growth is to create restaurant-like instant noodles and challenge your consumers with unique (sometimes unexpected tastes) and with spicy flavour.
What about the distribution channel?
Thai Preserved Food Factory, the maker of Wai Wai instant noodle in Thailand, said it plans to increase the number of existing instant noodle vending machine from 50 currently to 300 in the coming three years. The vending machines are located in office buildings and factories to shorten the time for consumers to get hold of their instant noodles.
The company also has plans to open its second Quick Terrace restaurant at a PTT petrol station to serve its noodles. The first Quick Terrace is located in front of the company's noodle factory. Thai Preserved Food Factory has an ambitious plan to open up to 100 branches in the near future as a response to a slowing instant noodle market.
In China, Master Kong has employed a similar strategy of venturing into foodservice – Master Kong Chef's Table (康师傅私房牛肉面), which specialises in beef noodle.
However, foodservice is a cut-throat business and is not suitable for all companies to venture into this sector.