Nestle has introduced Milo Protein Granola in Singapore, Malaysia, Thailand and the Philippines around end-March/April 2019. This is a product that marries Milo with the high-protein trend and the popular granola segment. It provides 10% of the RDA serving of protein. Each 45g serving contains 5.9 of protein. When added with 125ml skim milk, the protein content rises to 10g.
Milo Protein Granola is also high in calcium (25% of RDA) and iron (15% of RDA).
The whole grain content is 47.5% comprising wholegrain oat flakes 23.1%, wholegrain wheat flour 19.4% and wholegrain oat flour 5%. It has soya protein, which is the source of protein.
Milo positions protein granola as a breakfast item to "power up your day by leaps and bounds."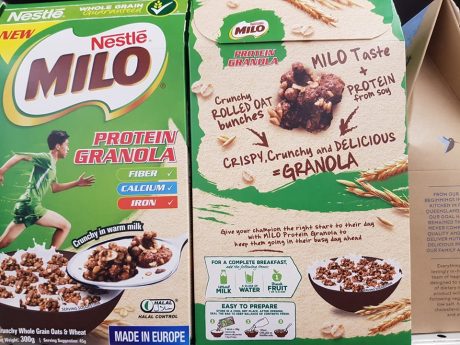 Nestle does not have the facility or the economies of scale to produce granola in Southeast Asia. So this product has to be manufactured in Lithuania by Tasty Foods for Cereal Partners Poland under license of Nestle.
At Cold Storage in Malaysia, each pack (300g) is priced at RM 16.56, which is similar to the price of a 300g pack of Nestle Fitnesse Granola.
The launch of Nestle Protein Granola is another example of how Nestle is using granola to strengthen Milo as the breakfast choice for Southeast Asians.