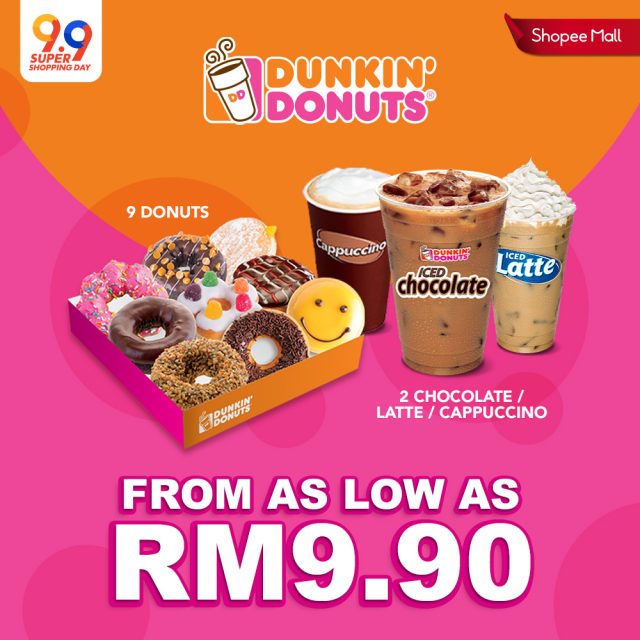 Dunkin' Donuts Malaysia Aims to Secure Larger Wallet Share by Building Up its e-Commerce Presence
KUALA LUMPUR 5 September 2019: It is no longer a brick-and-mortar versus online store for Dunkin' Donuts Malaysia.
The donut chain recently expanded its trade channel with Shopee, the no.1 online shopping platform in Malaysia. The aim was to provide consumers with the best and seamless online to offline experience to strengthen overall customer engagement and brand affinity.
"Our e-commerce journey started in September last year, when we first launched our online store. We then engaged with online food and beverage technology startups such as Foodpanda and Grab to enhance our customer's experience.
"We are seeing some traction in e-commerce with delivery sales contributing close to 10% of the overall sales for outlets that offer delivery," said Jesrina Liew, Dunkin' Donuts Group General Manager.
She added that customers today view online and offline operations through a single lens, and it should no longer be the case of brick-and-mortar versus online store for food and beverage (F&B) businesses.
Liew said that while consumers' media consumption has changed to that of mobile first and their growing appreciation towards the vast inventory that is now readily available online, they are still drawn to the tactile experience of brick-and-mortar outlets, even more so, when it comes to F&B. Therefore, convergence of the two channels into one business plan is essential.
"Hence, we think that online marketplaces such as Shopee, with their innovative and aggressive marketing tactics such as the 7.7 Orange Madness and 9.9 Super Shopping Day campaigns can offer complementary benefits to traditional brick-and-mortar outlets such as ours.
"Taking the example of the 9.9 Super Shopping Day – we estimate that the platform traffic would increase by four times and we hope that our attractive promo of RM0.99 per donut, in addition to deals on beverages and merchandise, would gain more visibility through this partnership," she said.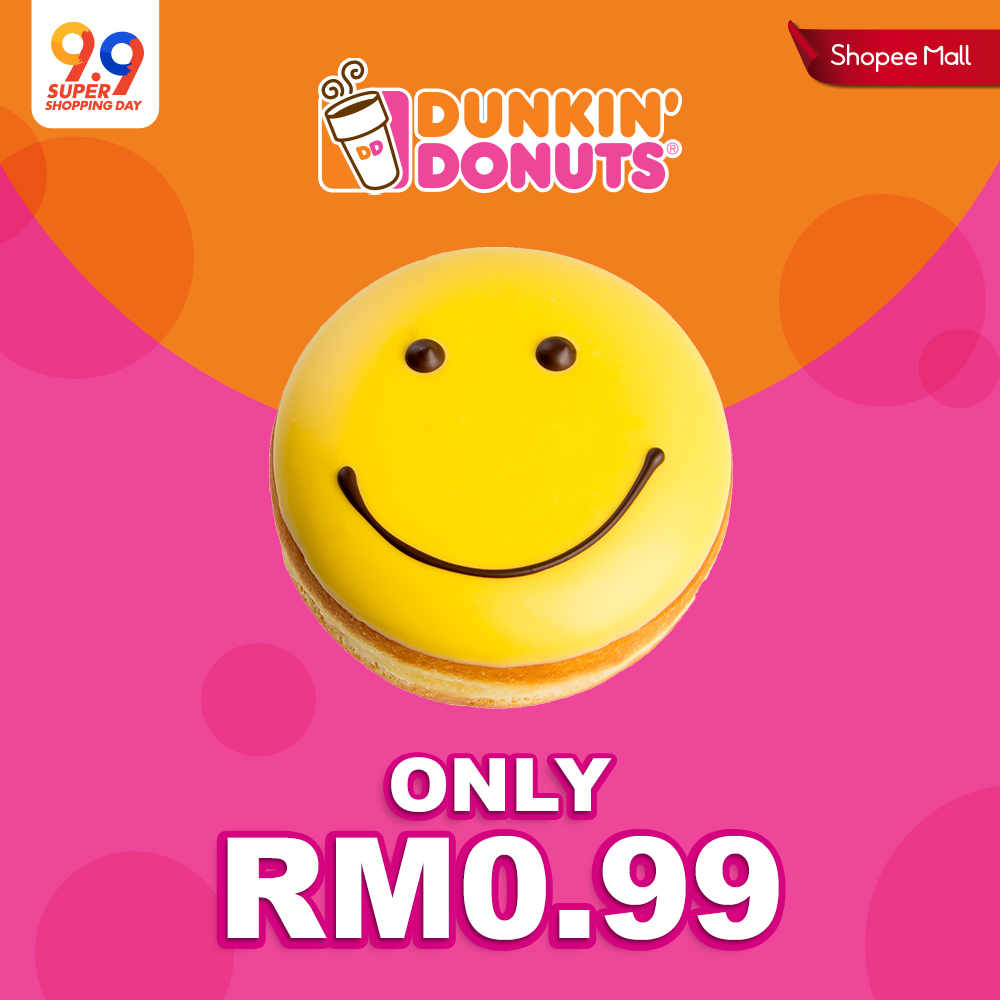 Ian Ho, Shopee Regional Managing Director said, "The F&B deals under Shopee's Ticket and Vouchers category is a newly-introduced segment. We started off first by featuring hotel and cafe dining deals before introducing this new segment.  We find that the customer base for F&B deals is increasing by the day. Given the positive response, we realised that there is nothing to stop us from partnering with F&B chains like Dunkin' Donuts."
Ever since launching its official store on Shopee on 26 June 2019, Dunkin' Donuts has seen extremely positive response from Malaysians. It has sold over 5,000 donuts online during the 7.7 Orange Madness campaign and the on-going 9.9 Super Shopping Day that will end on 9 September. On top of that, the Chocolate and Coffee beverage deals were a favourite.
Additionally, the store is charting an increase in daily orders during the 9.9 Super Shopping Day, as compared to the 7.7 Orange Madness campaign. To illustrate, the 9-donut voucher deal was snapped up in three days, generating a 1.6 times increase from the previous campaign.
Shopee commends Dunkin' Donuts for taking a big step and expanding its footprint online because it is no easy feat. Ho said, "Its growth on Shopee is attributed to several factors, from the convenience of redemption process to the online exclusive deals and discounts that provide for a great bargain. More importantly, the donut chain has the readiness in technology and resources to tap and market their products and brand to consumers they previously did not have access to."
"We are ever ready to assist Dunkin' Donuts, be it providing them with marketing solutions or co-organising campaigns to further reach its touchpoints across the country, effectively. Our list of assets is there for Dunkin' Donuts to leverage on including homepage banners, Push Notifications and EDM blasts. There are also Shopee's in-app features like the Shopee Quiz and Shopee Live that were introduced to bring brands closer to their customers, and boost engagement for a more rewarding shopping experience."
Apart from the RM0.99 deal for a donut, Dunkin' Donuts is in one of the 9.9 Super Shopping Day offers called the RM9.90 voucher pack. All users need to do is purchase the pack to enjoy vouchers from across various brands including Dunkin' Donuts to be able to enjoy savings up to 17 times of their money spent.
From now till 9 September, the 9.9 Super Shopping Day will feature discounts up to 90%, and daily deals from as low as RM1 in its Shocking Sale and ONE OR NOT game. Users will also get to enjoy free shipping with a minimum spend of RM9.
To enjoy a sweet deal from Dunkin' Donuts, visit https://shopee.com.my/dunkindonutsmy.os
About Dunkin' Donuts
Founded in 1950, and growing globally since 1970, Dunkin' Donuts is the world's leading coffee and baked goods chain. The brand has over 12,000 restaurants in 50 countries worldwide. Dunkin' Donuts first established in Malaysia in 1987, and now operates almost 90 outlets in the country. It is on a mission to serve positive energy to customers, by offering quality food and beverages, and also excellent service.