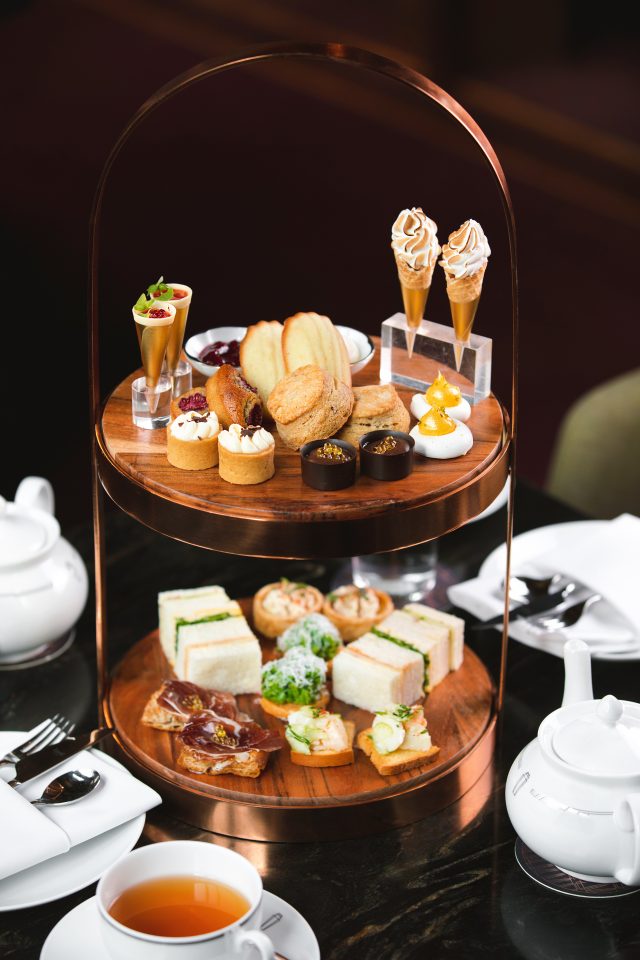 Singapore, 4 November 2019 – Executive Chef Lachlan 'Loki' Lynch presents a newly refreshed edition of ATLAS' much-loved Afternoon Tea set. Featuring a thoughtful curation of sweet and savoury items, the new selection is the perfect way to indulge and enjoy the grand Art Deco interior of Parkview Square.
Available from Monday to Friday from 3.00 pm to 5.00 pm, and Saturday from 1.00 pm to 5.00 pm, the elegant set features an assortment of delectable nibbles complemented with either an ATLAS Selection (SGD56) or Prestige Selection (SGD60) tea of choice. For an added indulgence, guests can opt to add a tulip of Piper-Heidsieck "Cuvée Essential ATLAS" Extra Brut Champagne for SGD20.
Continuing with tradition, the experience begins with an amuse-bouche of mushroom ragout with crunchy barley and potato espuma, followed by the presentation of ATLAS' beautiful rose-gold tier stand that houses a dainty selection of delicious treats.
To start, the lower tier showcases a range of homemade savoury items, including a newly added butternut pumpkin quiche with whipped cream cheese garnished with mustard cress and a sprinkle of Basque pepper. Another addition is the crushed peas and parmesan sable, a short textured savoury biscuit, topped with crushed peas, dressed with lemon juice and olive oil.
The lobster crostini is served on a toasted brioche crostini, garnished with chives and espelette pepper. From the previous Afternoon Tea, the popular 5j Iberico Jamon on toast remains and continues to feature with the most luxurious of hams on a traditional Spanish toast, delicately spread with freshly crushed tomatoes.
The Afternoon Tea set sees the addition of three quintessential finger sandwiches – classic cucumber with pink pepper, egg and watercress, as well as a comté cheese and quince.
The upper-tier showcases a total refresh of glorious sweet treats, such as the raspberry financier, the chocolate budino complemented with olive oil and sea salt and a bite-size version of the crowdfavourite dessert; the banana cream pie. The panna cotta is served in a white chocolate cone, filled with raspberries and baby basil, while the passionfruit pavlova with pistachio showcases Chef Loki's Australian roots consisting of a meringue base served with a passionfruit curd.
For a break from the sweets, guests can enjoy the key lime meringue, inspired by the key lime pie. Chef Loki reimagines the famous dessert in a mini pastry cone, filled with lime curd before being topped with torched soft meringue.
Afternoon tea sets are not complete without the classic scones, and Chef Loki has mastered the art of creating the perfect brown butter scones paired with mascarpone and raspberry jam, where the browning of the butter gives the scones a slightly richer flavour, adding to the softness and fluffy texture.
The ATLAS Selection of teas includes the exclusive ATLAS Art Deco Blend, a fine black tea incorporating dry gin botanicals, with added elderflower and yuzu. For something slightly more refined, choose from the ATLAS Prestige Selection where you can find the Carmelia Bud, a Chinese white tea with soft tones of apricot and a fresh finish.
Each component of the ATLAS Afternoon Tea is hand-made to order. Reservations are required with at least 48 hours' notice.