Research in Partnership with App Annie Intelligence to Discover the Most Used Semi-Closed & Open E-payment Apps in the Singapore Digital Mobile Payment Market
iPrice Group collaborated with App Annie Intelligence to track the city-state's vision of building a cashless society via mobile e-payment applications. The study pictures the developments of e-wallets or e-payment apps via vital app metrics such as Monthly Active Users (MAU) and total downloads in the past 8 quarters.
As a well-connected society, Singapore's effort in driving the adoption of mobile e-payments across multiple platforms had pushed down the ratio of cash and cheque usage against digital payments. Driving this initiative is the Monetary Authority of Singapore (MAS) which aims to ease the access to e-payment infrastructures through SGQR that consolidated various QRs into a single unified interface and many other efforts.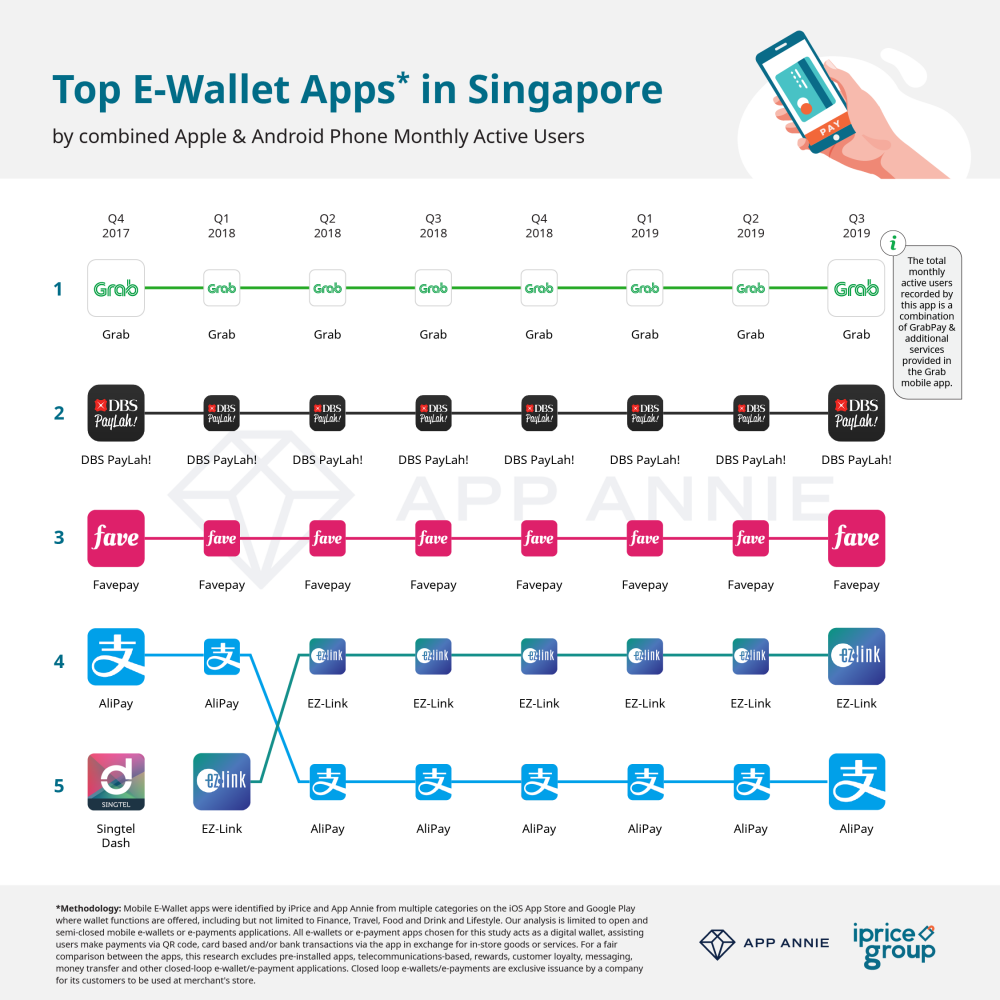 As such, which e-wallet companies have benefited from these efforts? Who leads Singapore's e-wallet sector? Here are 5 vital findings from our study to answer these questions.
Singapore Headquartered Super-app, Grab, Leads the Market with a Sizable Customer Base in the Region     
The contactless payment rendered by GrabPay has consistently been the most commonly used e-wallet app since Q4 2017 by Singaporean consumers. Data by App Annie revealed that Grab consistently obtained the highest monthly active users in the past 2 years.
However, unlike other e-wallets featured in our study, Grab is a super-app as it provides users interconnected services such as ride-hailing, food, delivery, and other features. Nevertheless, according to Grab's social impact report, they claimed that 77 percent of overall transactions on Grab's platform was conducted via GrabPay. In addition, Grab's report claims that cashless usage on its app is 1.3 times higher than the overall cashless usage in the Lion City.
Commenting directly on this study, Gary Wong, Head of GrabPay Singapore said "We are about providing real choices and more convenience to our consumers. To date, about three-quarters of Grab users in Singapore use GrabPay for various services, including making payment at over 10,000 merchants in-stores and online. We continue to see more users adopting cashless payment on our platform month-on-month and are grateful for their support."
To date, the Singapore-headquartered company not only contributed to MAS's efforts to move towards a cashless society, but the app is also widely used in neighbouring countries such as Malaysia & Indonesia. Currently, Grab ranks 1st in Malaysia and 2nd in Indonesia (through OVO) in similar research conducted in the two neighbouring countries.
Bank-based e-wallet App, DBS PayLah! is the 2nd Most Actively Used App in the City-state
One of Singapore's most popular mobile wallets is the DBS PayLah! app, ranking as the 2nd most actively used e-wallet app. The app owned by DBS is the only bank-based application featured on this list as they are the only semi-closed e-wallet application provided by a bank. This means that other bank-based applications were not featured on this list as they only allow users with a registered account with the associated bank to use its payment services for selected merchants.
The initiative by DBS highly aligns with MAS' vision for a more inclusive e-payment sector where users without a bank account with DBS can use the application for e-payment services. With more than 3M Singaporeans are 'banked' & have full access to digital financial services, the company continuously supports the government's effort to move towards a cashless society by aiming to double its users to 3.5 million by 2023 in its press statement.
Not to mention that its high number of active users is primarily driven by DBS's popularity and credibility in Singapore, established by the government of Singapore since 1968 and considered as the safest bank in Asia by New York-based trade publication Global Finance in 2016.
Fave, One of the Pioneers in the Digital Payment App Sector Remains Relevant in Singapore
According to data by App Annie, Fave is currently Singapore's 3rd most used and 4th most downloaded mobile wallet in the city-state as of Q3 2019. As a payment aggregator platform that allows users to link their credit, debit cards, or e-wallet on FavePay, the app is one of the most consistent & prominent apps among Singaporean consumers in the past 2 years. And, this year, the app has been downloaded over 4 million times with monthly active users that have been growing 3 times in the past years, according to Fave.
Aik Phong Ng, Managing Director of Fave Singapore highlighted a statement by Minister Ong Ye Kung, stating that the e-payments industry is growing more than S$10 billion a year with almost 3 in 5 Singapore merchants are accepting e-payments and 8 out of 10 Singaporeans have adopted a method of e-payments. These are signs that are reflective of the Government's progress towards its goal of making Singapore a cashless society by 2025.
Directly commenting on its performance in this study & sharing their outlook on Singapore's e-payment sector, Ng added "We have witnessed growth in e-payment adoption by our growing base of loyal users and are well-positioned to leverage this new wave of innovation and growth. And we're optimistic about the new digital economy and way of life".
Singapore's Pioneer Payment System EZ-Link a Prominent E-wallet App Since its Debut
As Singapore's first large-scale contactless payment system for the local public transit network, EZ-Link is amongst the fastest growing mobile payment apps in the Lion City. The mobile app consistently ranked 3rd in terms of total downloads and is the 4th most used e-wallet app today.
According to CEO EZ-Link, "the company is making a concerted effort to contribute to Singapore's goals to promote e-payment adoption & reduce cash handling". In support of this, EZ-Link initiated various efforts such as its partnership with YouTrip to create Singapore's first multi-currency mobile wallet and to provide more payment features to suit users' lifestyles.
Huge Untapped Potential for E-wallets in the Next 2 Years
According to a JP Morgan report, digital wallets are already the second-most popular payment method in Singapore, accounting for 14 percent of all e-commerce transactions and representing $680m of sales. The same report mentioned that the usage of digital wallets in e-commerce is expected to rise exponentially, predicting a 22.5 percent of all e-commerce sales by 2021.
A statement by Grab on the outlook of digital wallets in Singapore shared a similar sentiment. "The drive towards cashless payments is a key part of Singapore's Smart Nation vision. And, Grab is committed to contribute to this vision as we ensure every Grab user enjoy a seamless e-payment experience and we work hard to create long term value for both consumers and our merchant partners" Said Gary Wong, Head of GrabPay Singapore.
Insights & study by iPrice Group.
Research Categorisation Methodology
Mobile E-Wallet apps were identified by iPrice and App Annie from multiple categories on the iOS App Store and Google Play where wallet functions are offered, including but not limited to Finance, Travel, Food and Drink and Lifestyle. Our analysis is limited to open and semi-closed mobile e-wallets or e-payments applications. All e-wallets or e-payment apps chosen for this study acts as a digital wallet, assisting users make payments via QR code, card-based and/or bank transactions via the app in exchange for in-store goods or services. For a fair comparison between the apps, this research excludes pre-installed apps, telecommunications-based, rewards, customer loyalty, messaging, money transfer and other closed-loop e-wallets/e-payment applications. Closed-loop e-wallets/e-payments are exclusive issuance by a company for its customers to be used at a merchant's store.
About App Annie
App Annie is the industry's most trusted mobile data and analytics platform. App Annie's mission to help customers create winning mobile experiences and achieve excellence. The company created the mobile app data market and is committed to delivering the industry's most complete mobile performance offering. More than 1,100 enterprise clients and 1 million registered users across the globe and spanning all industries rely on App Annie as the standard to revolutionize their mobile business. The company is headquartered in San Francisco with 12 offices worldwide.
About iPrice Group
iPrice Group is a meta-search website operating in seven countries across Southeast Asia namely; Malaysia, Singapore, Indonesia, Thailand, Philippines, Vietnam, and Hong Kong. Currently, iPrice compares and catalogues more than 90 million products and receives about 20 million monthly visits across the region. iPrice currently operates three business lines: price comparison for electronics and health & beauty; product discovery for fashion and home & living; and coupons across all verticals.