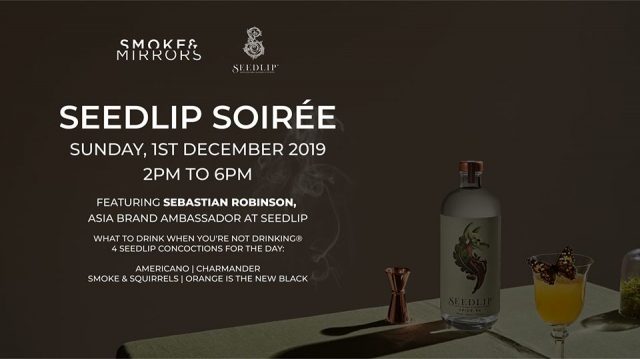 Begin the indulgent festive season on a clean slate at Smoke & Mirrors
Singapore, 27 November 2019 – As the season of endless holiday parties and festive meals draws near, Smoke & Mirrors will kick off the month with a unique guest shift with Seedlip, the world first distilled non-alcoholic spirits, on Sunday, 1 December at 2 pm to 6 pm.
Seedlip's Asia Brand Ambassador, Sebastian Robinson will be helming the bar, bringing his passion for quality and well-crafted drinks to the venue. As the first Asia Brand Ambassador for Seedlip, Sebastian crafts creative and flavourful beverages to help solve the dilemma of 'what to drink when you're not drinking'.
The talented barman has concocted four non-alcoholic drinks made with Seedlip, with low-ABV additions for those looking for a touch of indulgence. Savour drinks such as the classic Americano prepared with the aromatic Seedlip Spice 94, NA Vermouth, with a splash of soda; guests can opt for the addition of Fernet Hunter. Orange Is the New Black is a citrus-forward drinkconsisting of CB Seedlip Grove 42, Seedlip Spice 94, and tonic water; the low-ABV option will include a pour of Mr Black Cold Brew Coffee Liqueur.
Smoke & Squirrels is a playful drink made with Seedlip Grove 42, beetroot, and smoke; the unique smoked juniper Empirical Spirits Charlene McGee Blend adds a new dimension to this tipple. Lastly, Charmander is a combination of the herbal Seedlip Garden 108, cucumber, mint, and soda; those looking for a low-ABV alterative can add a splash of Hendrick's Gin.
Kickstart the festive season on a lighter note at Smoke & Mirrors, before indulging in feasts all month long.
Smoke & Mirrors x Seedlip Guest Shift: