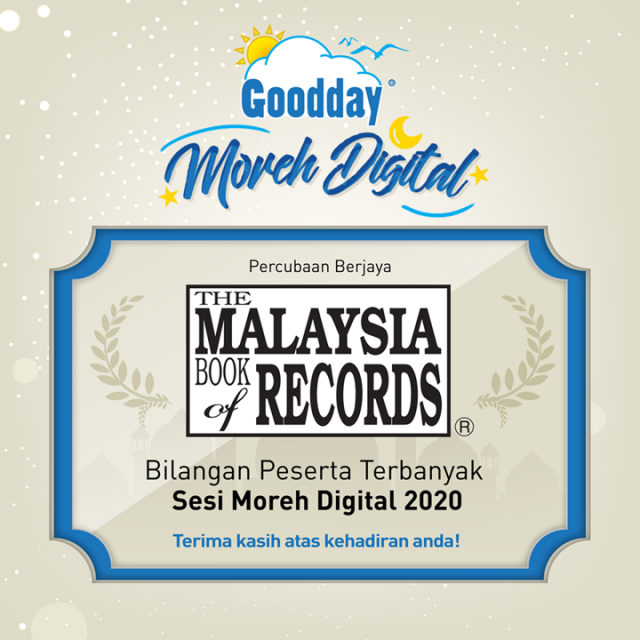 The session had 814 participants superseding the previously held record (largest virtual mamak session) under the same category of virtual gathering
Kuala Lumpur, 12 June 2020 –One of Malaysia's favourite milk brand since 1968, Goodday Milk has made its' way once again to the Malaysia Book of Records. The brand received this recognition by organising the largest virtual moreh session the nation is yet to witness as part of its' 'Kekal Sejahtera, Kekal Selamat' campaign. The session was held on 22nd May 2020 and recorded a total of 814 participants, who joined the virtual moreh session through the Webex video conferencing platform challenging the previously held record of 667 participants for a virtual Teh Tarik mamak session. Goodday Milk's previous mention in the Malaysia Book of Records was for the most number of milkmen on motorcycles for milk delivery where a total of 50 milkmen distributed 34,560 packets of Goodday Milk during the Goodday Milk Fest 2017 campaign.
Under present day circumstances, Goodday Milk has been championing for safe celebrations by showcasing creative ways on how Malaysians can enjoy festivities at home. As a part of the 'Kekal Sejahtera, Kekal Selamat' campaign, the brand organised virtual moreh sessions during the holy month of Ramadan to bring a sense of community amidst the social distancing regulations.
Traditionally, a moreh session involves a light meal that is enjoyed together after evening prayers in the month of Ramadan and takes places in the grounds of a mosque or surau. However, due to the outbreak of the COVID-19 pandemic, moreh sessions as such became seemingly impossible to organize.
Bringing this important community activity into the homes of their consumers, Goodday Milk partnered with ERA FM to virtually recreate moreh sessions online. Moreh sessions were held regularly every Friday throughout the month of Ramadan, with the largest being on the 22nd May that saw a huge number of participants, superseding all other virtual gatherings held so far. The moreh session on 22nd May also saw the presence of celebrity guests Nabil and Sherry Alhadad, Ustaz Don Daniyal and the nation's favourite radio announcers including Radin (Era FM), Rahim (SINAR FM), and Shah (GEGAR FM), to discuss the preparations at home in welcoming Syawal.
"While we have all been adapting to ways in the new normal, it is also important to safeguard our traditions and practices. Our aim with the 'Kekal Sejahtera, Kekal Selamat' campaign was to give out the message of keeping safe and staying indoors but still creating ways in which Malaysians can participate in community events throughout Ramadan and Raya. We are extremely overwhelmed with the response that our consumers have given to the virtual moreh sessions and are really glad that we could create this experience for them" said
Santharuban T. Sundaram, Senior Vice President of Marketing and Alternate Business at Etika Sdn Bhd. "We would also like to express our gratitude to Malaysia Book of Records for giving us this recognition of organising the largest virtual moreh session. This has certainly motivated us to continue to be creative and create engaging campaigns for our consumers that go beyond the brand."
Not only did this campaign set a new record for Goodday Milk, but it also gained recognition for being an interactive session where consumers were able to engage with their favourite announcers as well as special guest Ustaz Don Daniyal. This allowed participants to gain a better understanding on how they can prepare for the month of Syawal and other related topics. The virtual moreh sessions conducted over the weeks also came layered with rewards for loyal consumers, where participants stood a chance to win from a prize pool of RM13,000 worth of Shopee e-vouchers to be utilized at Etika Flagship Store, adding layers of interaction and engagement to an otherwise online gathering.
Along with putting together a virtual moreh session, Goodday Milk has constantly been leveraging technology to create engaging digital campaigns that keep consumers entertained at home. One such initiative that was also received enthusiastically by the audiences is Goodday Milk's Selemat Selebraya, a WebAR based (web-based Augmented Reality technology, without the use of an app) 3D celebrity house visit experience for celebrating Raya indoors. Since this year we saw different Raya celebrations where Malaysians celebrated the festival indoors, Goodday Milk wanted to brighten spirits by introducing a novel at home celebration element. Using the WebAR technology, consumers will be able to bring national celebrities like singer Andi Bernadee, Mark Adam, and sweetheart Elfira Loy" to life for "house visits" during Hari Raya celebration, adding an element of excitement to Raya celebrations.
"Through these virtual experiences we hope to bring some excitement to this year's festivities in a safe yet interesting manner," added Santharuban.
For more information on Goodday Milk's initiatives and future activities, stay tuned to Goodday Milk Malaysia Facebook page https://www.facebook.com/gooddaymilkmalaysia/.