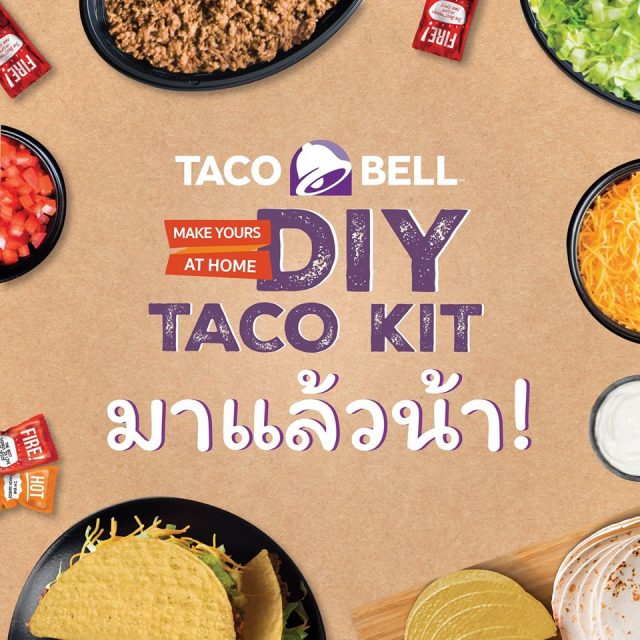 Bangkok–22 Jun–Thoresen Thai Agencies
In response to the trend of New Normal, Taco Bell launches "D.I.Y. Taco Kit", inspiring customers to become Mexican Chef and create Taco Bell's signature Taco Supreme, in their own style, anytime, anywhere with the similar spicy taste as served at Taco Bell restaurant. Taco Bell's D.I.Y. Taco Kit is available from 22 June to 31 August, 2020 at Baht 389/box. Customers can easily place their D.I.Y. Taco Kit order from foodpanda delivery service or buy at Taco Bell stores to take back home.   To win special prizes, customers have to capture their Taco Supreme and share delicious moments on Facebook: @TacoBellTH.
Mr. Chalermchai Mahagitsiri, President and CEO of TTA and Director of Siam Taco Co., Ltd., stated that, "We have experienced on unprecedented shift in our way of life and are pushed to embrace the "new normal" practice due to the Covid-19 pandemic. We also pay more attention to cleanliness and social distancing to keep ourselves, our colleagues and our family members safe. This crisis triggers a dramatic adaptation in food businesses as consumers become less confident about eating outside the home. The food delivery service is gaining considerable popularity among customers, supporting by the work-from-home policy. Consequently, Taco Bell has achieved a significant increase in their online order sales.
"In order to serve the demand for online ordering and contactless delivery, Taco Bell revolutionizes the Taco industry by initiating D.I.Y. Taco Kit special for customers in Thailand. We believe that our customers will enjoy making their own delicious-style tacos anywhere, anytime."
D.I.Y. Taco Kit for Taco Lovers. No waste time waiting in line at Taco Bell stores. Just unbox it, all of which come with choices of 4 crunchy hard or soft taco shells, favorite seasoned ground beef or chicken, shredded iceberg lettuce, diced tomato, hot sauce, sour cream, cheddar cheese. To make it even more delicious, one can add pico de gallo salsa and Guacamole, which do not normally put in signature Taco Supreme. All ingredients are wrapped and packed in a sealed packaging to ensure food safety. Customers can also add more ingredients for more flavors and a lot of fun, then share their good memories on TacoBellth Facebook to win some prizes. For more update activities, news and promotions please visit Facebook: facebook.com/TacoBellTH, IG: @TacoBellTH, Twitter: @TacoBellTH, and Line: @TacoBellTH.
Currently, Taco Bell operates 6 branches in Thailand: The Mercury Ville @Chidlom, Siam Paragon, Central Pinklao, Samyan Mitrtown, Central Westgate, and Sukhumvit Soi 11. Every store strictly adheres to safety measures in accordance with the government policy and nationwide policy from Centre for the Administration of the Situation due to the Outbreak of the Communicable Disease Coronavirus 2019 (COVID-19).
About Taco Bell
Taco Bell Corp., a subsidiary of Yum! Brands, Inc., is a world-famous Mexican-inspired restaurant chain serving customizable tacos, burritos and other specialties with bold flavors, quality ingredients, breakthrough value, and best-in-class customer service to over 42 million customers weekly across the globe. There are currently over 600 Taco Bell restaurants in 30 countries outside the United States, and over 7,000 restaurants across the U.S., with the expansion still continuing in international markets.