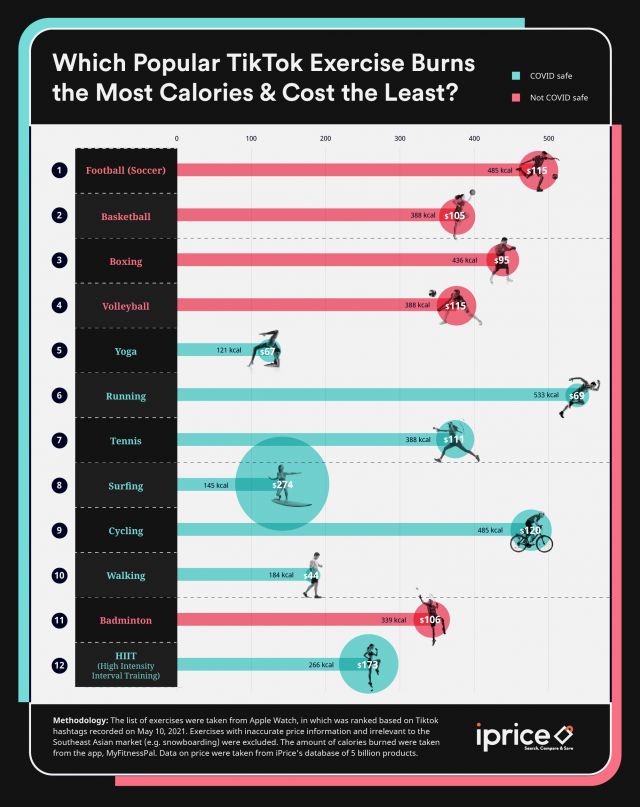 To date, TikTok videos that are tagged with #exercise have been watched over 7.2 BILLION times. With so many people turning to TikTok for their workouts and healthy lifestyle amid this pandemic, it's unsurprising the TikTok platform has allowed for an explosion in one of the internet's favourite commodities – exercise videos.
But which TikTok exercises are creating the most popular videos and yet pandemic-friendly? And how much calories do they burn?
iPrice Group conducted a study that observed popular TikTok exercises. They identified which are pandemic-friendly and how many calories they burn per hour (as per Underarmour's MyFitnessPal app). Based on their platform, the price aggregator also estimated the amount needed to invest in each exercise (excluding trainers and fitness sessions).
Sports Are Still Trendy on TikTok
Unfortunately, 5 out of 12 of the popular TikTok exercises recorded are not so pandemic-friendly, and yet they burn a lot of calories per hour. Singaporean favorites, running and cycling, burn 533 and 485 kcals respectively. Nicher sports, football (soccer) and volleyball burn 485 and 388 kcals respectively.
Popular leisure sport, badminton, burns an estimated 339 kcal per hour. In terms of safety, badminton is in a grey area. Badminton courts are 1.5x smaller than a tennis court and some are located in enclosed quarters with air conditioning.
It will take some time until we can safely participate in the sports mentioned above. Fortunately, there are 7 pandemic-friendly exercises in the list and some of them burn as much or even more calories.
Pandemic-Friendly Exercises
Running (533 kcal, S$92)
Running for an hour burns the most calories (533 kcal). It's even one of the cheapest exercises you could do. All you need is about $69 (S$92) if you're particular about wearing sports attire from top to bottom. Given that it's outdoors and is usually done in isolation, it is definitely considered pandemic friendly.
Cycling (485 kcals, S$160)
If you're not a fan of running or are worried about busting your knees, then cycling is certainly a good alternative. Although you may have to spend more on gear US$ 120 (S$160), cycling for an hour can burn up to 485 kcals, even more than playing basketball or badminton.
Tennis (388 kcal, S$148)
Tennis, a socially-distant sport (if played in singles), burns as many calories as basketball (388 kcal). Investing in tennis gear may cost you up to $111 (S$148), but it can be worth it given its leisure and health benefits.
HIIT (266 kcal, S$231)
Surprisingly, high-intensity interval training (HIIT) only burns 266 kcal per hour! All that panting and cardiac difficulty for a lower amount of calories. But it actually makes sense since many report that HIIT is an anaerobic exercise, which means that people are more likely to gain muscle than shred when exercising in bursts. Investing in HIIT at home can be pricey, costing you an average of $173 (S$231) for the equipment and apparel.
Walking (184 kcal, S$59)
The simplest form of exercise, walking, can burn more calories than yoga and surfing. An hour of moderate brisk walking can burn up to 184 kcals, believe it or not. Barely any money is needed as well, unless you're specific about exercise gear, then that will cost you about $44 (S$59).
Surfing (145 kcal, S$365)
Surfing is the most expensive form of exercise recorded by iPrice. It only burns about 145 kcal, and yet the activity's leisurely fun is deemed worth it for many. Some surfers typically spend more than one hour at the beach, which explains their beach body and tanned skin.
Yoga (121 kcal, S$89)
Another popular home workout, yoga, was recorded. As suspected, it only burns about 121 kcal if done for an hour. It costs only about $67 (S$89), considering the yoga mat and clothing. If you do yoga to burn calories instead of achieving its mental benefits, you may have to log in more hours compared to other exercises.
Pandemic-induced limitations should be enough to forgive yourself for not being as fit as you used to be. However, there are still options to be as healthy as you can be with home or socially distant exercises. If you're aiming to burn the most calories with the least amount of time and cost, running is your best bet.
Methodology
The list of exercises was taken from Apple Watch, which was ranked based on Tiktok hashtag views recorded on May 10, 2021. Exercises with inaccurate price information and irrelevant to the Southeast Asian market (e.g. snowboarding) were excluded. The number of calories burned per hour was taken from the app, MyFitnessPal. Data on price were taken from iPrice's database of 6 billion products.
About iPrice Group
iPrice Group is a meta-search website operating in seven countries across Southeast Asia namely;Malaysia,Singapore,Indonesia,Thailand,Philippines,Vietnam, and HongKong. Currently, iPrice compares and catalogues more than 6 billion and receives about 20-30 million monthly visits across the region. iPrice currently operates three business lines: price comparison for electronics and health & beauty; product discovery for fashion and home & living; and coupons across all verticals.