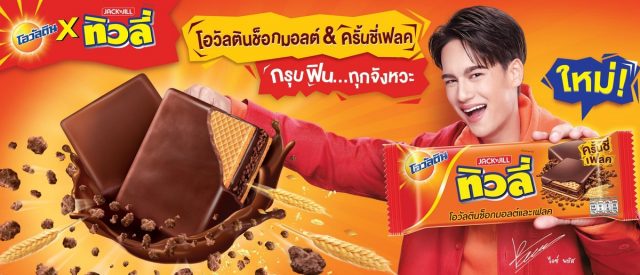 URC's Jack 'n Jill Tivoli has come together with Ovaltine to launch a new premium coated wafer. The new product is a collaboration between the number one wafer brand and chocolate malt drink in Thailand. It combines Tivoli's signature crispy chocolate wafer and Thailand's leading chocolate malt drink, Ovaltine.
This collaboration is the perfect mix between the two leading brands that will interest both the young customers who are already familiar with both Tivoli and Ovaltine, and as well as the chocolate lovers adults who seek for indulgence moment. Another URC's way of delighting our customers with good food choice." said Ms. Jane Bernardo, Marketing Director of URC (Thailand) Co., Ltd.
With this new collaboration, Tivoli is also launching a jingle to go with it. Using the uniquely crispy sound that you hear when you bite onto the Tivoli x Ovaltine piece and turning it into lively song. Keep an eye out for Tivoli x Ovaltine at your nearest stores from 24 June, 2021 onwards.
Presenter Ice – Paris Intarakomalyasut, the famous Thai teen singer and actor.
On top of this new collab, Tivoli also has an ongoing promotion with a variety of prizes worth over 700,000 baht. Starting from Jul 1, 2021 – Sep 15, 2021. For more information please visit www.facebook.com/TivoliThailand or LINE Official Account: @TivoliTH