SEPANG, 24 August 2021 – gateway@klia2, one of the shopping malls under WCT Malls Management Sdn Bhd ("WCT Malls") is celebrating Merdeka and Malaysia Day with an 'Adopt a Bento' meal donation drive. This initiative allows shoppers to demonstrate their appreciation to the medical frontliners through a lunch box along with personalised messages.
The campaign is designed to spring into action to thank overwhelmed frontline heroes and deliver words of encouragement to those who have been working courageously and relentlessly every day to help the community in the battle against COVID-19.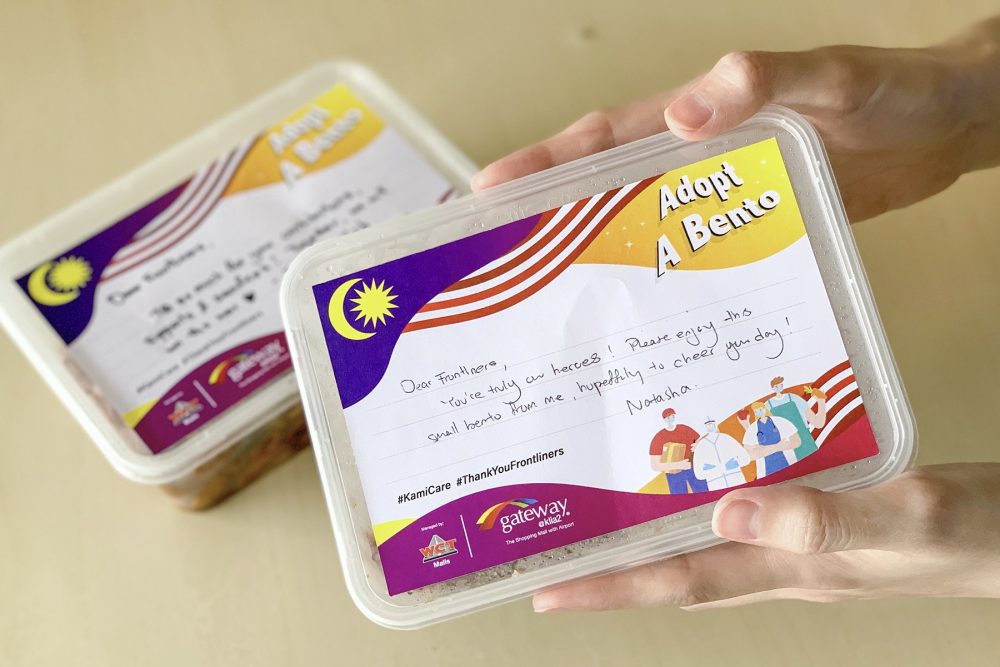 Shoppers can be part of this initiative by 'adopting a Bento' at only RM10 from 24th August until 12th September. They can write down their 'thank you' messages on a special wish card which will be attached to the lunch box for the receiving frontliners.
Donations can be made at the Concierge Counter located at Level 3 of gateway@klia2 by cash, or through bank transfer or TnG e-wallet and fill in your messages at https://bit.ly/3mk8yn0.
Selena Chua, Chief Executive Officer, WCT Malls Management said "We understand that the frontliners are facing constraints at the workplace when it comes to having a proper cooked meal due to their tight schedule. Therefore, we extend this act of kindness to our shoppers to be a part of the programme, and use this as an opportunity to establish a connection by conveying their heartfelt messages that I believe would be greatly appreciated by the frontliners."
"WCT Malls will continue to engage in a variety of meaningful CSR activities with focus on multiple societal needs and our dedicated collaboration with hospitals, local communities, as well as NGOs and others," she added.
The distribution of dedicated Bento boxes to frontliners at Putrajaya medical facilities will be held on 16th September 2021 in conjunction with the celebration of Malaysia Day. Shoppers may witness the adopted Bento boxes and messages being delivered to the frontliners on gateway@klia2 Facebook page on the stated date.
For more information about the festivities and promotions of the mall, kindly visit the: –
gateway@klia2 Website: www.gatewayklia2.com.my
gateway@klia2 Facebook page:  https://www.facebook.com/gatewayklia2/