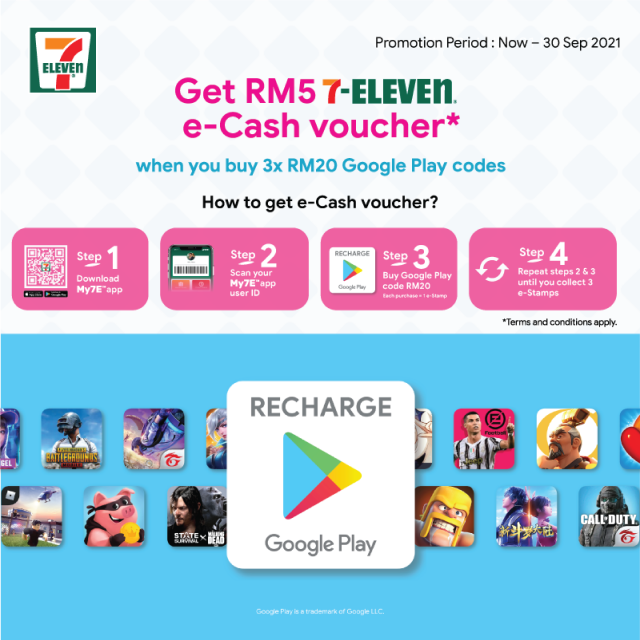 KUALA LUMPUR, 23 August 2021 – 7-Eleven Malaysia once again rewards its customers with amazing 7-Eleven e-Cash vouchers with purchase of Google Play codes. This promotion runs from now until 30 September 2021, valid at all 7-Eleven stores nationwide.
It's as easy as 1-2-3 to be rewarded! Step one, download the My7E™ app on Google Play Store or App Store and register yourself as a member. Step two, show your My7E™ member barcode to the cashier. Step three, purchase a RM20 Google Play code to be entitled to one e-Stamp. And of course, be sure to repeat the steps until you collect three e-Stamps to be entitled to a RM5 7-Eleven e-Cash voucher!
Google Play codes are available in two values, RM10 and RM20, where customers can conveniently enjoy the services and entertainment offered by Google Play Store without having to make debit or credit card payments via their Google Play accounts. On top of the over-the-counter Google Play codes, customers can also purchase RM50, RM100 and RM200 gift cards at 7-Eleven stores nationwide.
While at 7-Eleven stores, be sure to support the #TrashToTreasure environmental campaign by taking home first-of-their-kind-in-Malaysia trendy recycle bags. For every purchase of these exclusive eco-friendly reusable bags from now until 16 September 2021, RM1 will be channelled to local environmental NGOs – Juara Turtle Project and Reef Check Malaysia – in support of their nature conservation efforts.
For more information on how you can be rewarded with 7-Eleven e-Cash vouchers with purchase of Google Play codes, kindly visit www.7eleven.com.my or follow 7-Eleven Malaysia's official social media pages at 7ElevenMalaysia.