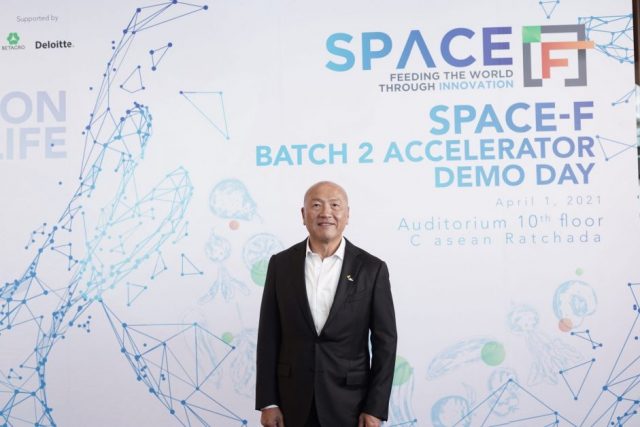 Monday 23 August 2021 – The National Innovation Agency of Thailand, or NIA, together with Thai Union Group PCL, Mahidol University, Thai Beverage PLC, Betagro Group and Deloitte Touche Tohmatsu Jaiyos Co. Ltd hosted the 'SPACE-F batch 2 Incubator Demo Day' to allow entrepreneurial startups under the first food-tech incubator and accelerator program in Thailand and South East Asia – SPACE-F to demonstrate how they have embraced technology to bring advancements to the food industry.
Ten startups participated in the SPACE-F Demo Day including
GPJ Biotechnology: Supplement to address joint pain
HydroZitla: Functional drink for preventing kidney stone formation
Nam Jai Sparkling Water: Sparking Water RTD made with 100% real fruit – zero sugar added
Omylk: Heat stable, pasteurized oat milk
Rethink Bio: Nutrient rich supplement food from microalgae
Saxo-Siam Protein: Sustainable fishmeal and chicken feed made from black soldier fly larvae
The Flying Thai Food: Active coating that keeps food fresh longer
Trash Lucky: Exchanging recycleable items to lottery platform
Viramino: Convenient snack foods from plant-based protein
Yindii Yindii: Platform that sell unsold food surplus at discounted price
Dr. Pun-Arj Chairatana, Executive Director of the National Innovation Agency of Thailand (NIA) said, "I would like to congratulate a success of 34 graduated Incubator startups as well as SPACE-F for the past 2-year. This is a strong evidence of public-private commitment in-order-to enhance startup growth. As our NIA vision is to support and drive startup ecosystem. For the upcoming 3 years, NIA aims that Thailand will achieve 100 DeepTech startups. This includes increase efficiency in food processing process as well as business management and creating 'future food' trends which is expected to add massive value to the industry. The development of food for the future is not just about to process new food, but also to create brand image, develop raw material, and manage a business and innovative system which could respond to the changes in customer's lifestyles. These is not only necessary for startups, but also be important for SMEs and large corporates, especially for the development of alternative food whether it's processing alternative protein i.e. insect protein, processing functional food which focus more on nutrient rich than taste, food chain management i.e. food waste management and food storage, as well as innovation development in food taste that people and consumers around the world are paying attention to it right now."
Mr. Vasit Taepaisitphongse, Chief Executive Officer and President, Betagro Group said that "Betagro admires the determination and intention of all Startups which has passed through the incubator program of SPACE-F Batch 2 Project and congratulate them on the success. Betagro Group is proud to be part of the support and development of Food Startups to get ready and success in their business. Through this project, every team has demonstrated varieties of interesting and useful food innovation which result will equip the food industry with the capability to deal with changes in new customers' need. This will help consumers to be able to access the good quality foods that will certainly leverage the growth of Food industry in Thailand to sustain their lives".
Subhasakdi Krishnamra, Managing Partner of Deloitte Thailand, said "The food ecosystem is experiencing a huge transformation with growing global population, new technologies, changing consumer preferences, climate change and even the COVID-19 pandemic. To achieve the desirable transformation and a sustainable future of food, it requires not only players from the food industry, but also collaborations from government organizations, education institutions, business organizations, start-ups, etc. Deloitte is committed to Making an Impact that Matters. We are proud to be part of SpaceF program and have an opportunity to contribute our expertise and insights as we believe that we make the greatest societal impact when our professionals use their skills and expertise to help people. A collaboration with SpaceF program will enable possible initiatives that can have a profound impact on the food ecosystem as well as shaping the sustainable future of food for Thailand."