For the next 20 days, Pizza Hut is giving out 200 FREE Hand-Crafted Pizzas everyday- The catch? Absolutely nothing. For those who missed this, enjoy this new pizza for the rest of the month at 50% Off 
PETALING JAYA, 12 OCTOBER 2021 – In conjunction with the successful launch of the Hand-Crafted San Francisco Style Pizza, Pizza Hut further reward and excite fellow Malaysians with yet another interesting campaign. For all the pizza lovers that are bored with flat, lacklustre pizzas, they can now use any coupons or vouchers they have received from any brands previously and exchange it with Pizza Hut's latest Hand-Crafted pizza. Instead of using discounted coupons/vouchers to get any ordinary pizza, Malaysians can now enjoy the latest Hand-Crafted pizza for free with no purchase required.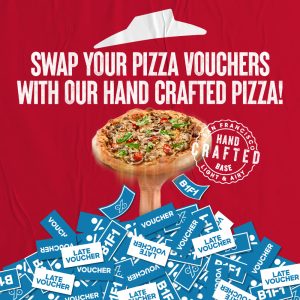 To join this campaign, share a picture of your pizza vouchers from any brands online and tag two friends with the hashtag #PizzaHutMalaysia and #NewHandcraftedPizza. FB Link here: https://www.facebook.com/pizzahutmalaysia/posts/10159361833789654 The first 200 submissions daily will get a free Hand-Crafted pizza each. Available from Tuesday, 12th October till 31 st October 2021.
"This exciting activation is our way to prompt our customers to reimagine their existing pizza choices. If one has been eating a 'flat' pizza all this while, one may not know the possibilities of a new level of pizza enjoyment. Now is the perfect time to try a unique and revolutionary new pizza experience that one has never imagined before – a multisensorial bite that is crisp on the outside and airy soft on the inside."
"We believe that all of our pizza connoisseurs deserve the very best and should not settle with mundane 'flat' pizzas when they can experience this new delectable pizza for free. For those who have missed the activation, there is still the 50% off promotion available until 31st October 2021," said Emily Chong, Chief Marketing Officer of Pizza Hut Malaysia
The new Hand-Crafted San Francisco Style Pizza is widely sold across 418 stores nationwide through online delivery and takeaway from www.pizzahut.com.my, Pizza Hut App, GrabFood, Food Panda, or simply walk-in to any Pizza Hut stores for dine-in and takeaway. This innovative crust is available in all your favourite toppings, in both ala carte pizzas, pizza combos' promotion (www.pizzahut.com.my/order/promos).