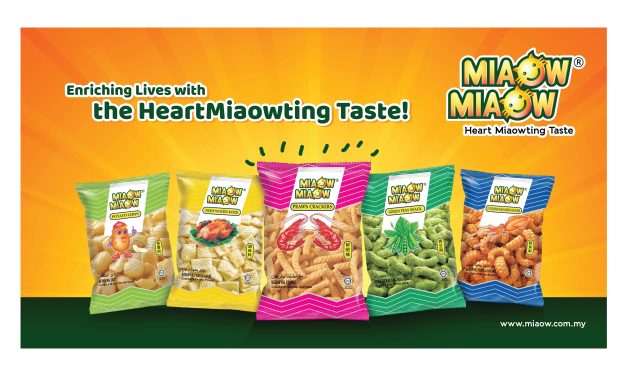 Nostalgic Flavours to Bring You Back to Your Childhood
Kuala Lumpur, December 22, 2021 – This holiday season, Miaow Miaow aims to take you back to your childhood days one nostalgic bite at a time through their classic snacks and flavours.
Many of us share common happy memories and life enriching moments enjoying Miaow Miaow whether as after school snacks, or while watching television with family and friends. Their instantly recognisable logo and packaging never fails to rekindle memories of ripping the aluminium foil and being greeted with an explosion of flavours and scents…you never forget your first tasty CRUNCH.
According to their founders, brothers Mr Chink Poh Cheng and Mr Chuang Poh Lim, Miaow Miaow is a family brand at heart. Mr. Chink said, "Most of our family members are still involved in different aspects of the business, and we believe that Miaow Miaow's classic snacks can help friends and family reconnect through their shared memories of indulging in the savoury treats."
Mr. Chink added "The upcoming holidays and the lifting of MCO means more people will gather and socialise more often, and what better way to reminisce and bond than over delicious Miaow Miaow snacks."
From humble beginnings in 1975 as a family business started in Batu Pahat, Johor, Miaow Miaow has now grown to become one of Malaysia's leading snack food manufacturers. To date, Miaow Miaow is loved worldwide and is enjoyed by people of all ages in nearly 40 countries.
Among their most well-known and beloved snacks are the Miaow Miaow Prawn Crackers, Green Pea Snacks, Cuttlefish Flavoured Crackers, Potato Chips, Cheese Flavoured Rings, Hot & Spicy Flavoured Snacks and Chicken Flavoured Crackers.
Get ready to travel back in time as you rediscover the taste of these iconic Malaysian childhood snacks. You can get a hold of Miaow Miaow snacks from most major retailers such as AEON, Econsave, Giant, Mydin and The Store.
About Miaow Miaow
Miaow Miaow (pronounced 'meou meou') synonymous with the meaning 'Wonderful' in Mandarin, is a Malaysian homegrown snack brand that was founded in Malaysia's multi-racial community. Having created millions of memories for Malaysians, Miaow Miaow aims to continue enriching everyone's lives by bringing happiness with every crunch.
Known for its tasty treats and puffed-snacks, Miaow Miaow got their start in the snack food manufacturing business in 1989 in Batu Pahat, Johor. Over the past few decades, the business has expanded substantially, not just in Malaysia but has a growing presence in nearly 40 countries around the world.
The Miaow Miaow manufacturing site is strategically surrounded by oil palm fields. This assures a natural but pollution-free manufacturing condition which guarantees higher quality products to customers. Dedicated in developing innovative and high-quality snacks, Miaow Miaow consistently develops new recipes to fulfil the needs and expectations of their customers to fill their lives with delicious moments.
For more information, please visit our social pages
https://www.facebook.com/miaowmiaowfood/ (Facebook) https://www.instagram.com/miaowmiaowfood/  (Instagram)