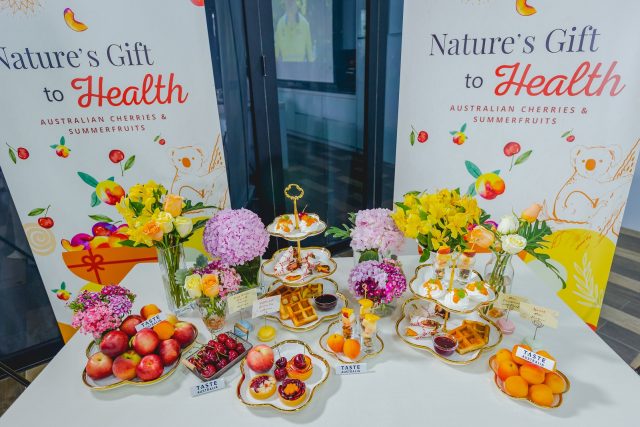 Delicious and health-boosting fruits now available in local supermarkets!
20 DECEMBER 2021, KUALA LUMPUR – Nature came bearing gifts, and they are bursting with delicious flavour and health-boosting nutrition! The national brand representing the Australian horticulture industry, Taste Australia's freshest range of Cherries and Summerfruits – peaches, nectarines, apricots and plums – have now landed on Malaysian shores.
Hort Innovation's Head of International Trade, Brei Mongomery, said Australian growers invest millions of dollars each year into their industry to deliver world-class quality fruit.  "To support Taste Australia, through Hort Innovation, growers are continuously investing in biosecurity, pest and disease and breeding research, and supply chain monitoring initiatives to ensure production of the highest quality Cherries and Summerfruit possible," she said.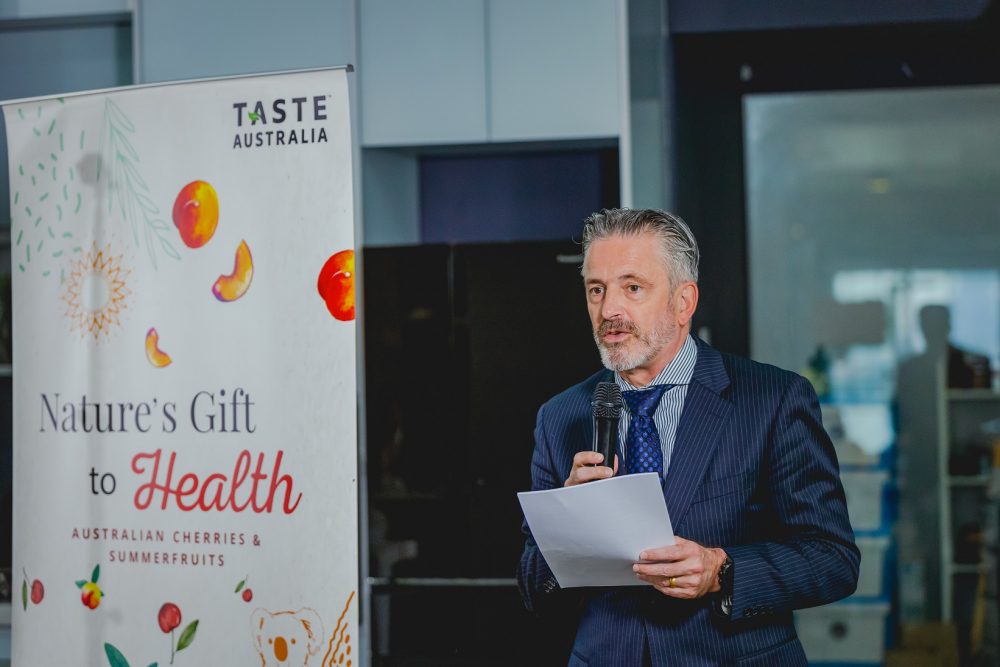 Commenting on the launch, Mr. Paul Sanda, Minister Counsellor (Commercial) and Senior Trade Commissioner – Malaysia & Brunei shared, "We are excited to launch Australian Cherries and Summerfruits here in Malaysia. These fruits are the perfect way to celebrate any occasion or simply for gifting to your loved ones, and we can't wait for all Malaysians to indulge in them!"
Known for their nutritional properties and sweet flavour, Australian Cherries and Summerfruits are farmed in accordance with Australia's stringent processes, ensuring that only the hgihest quality of fruits are exported to Malaysia.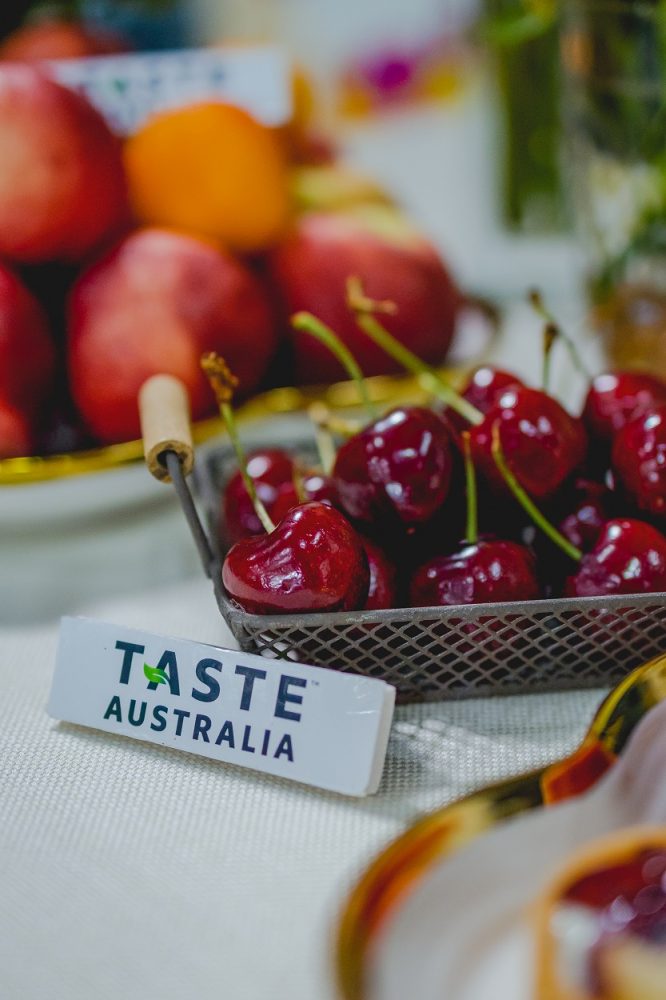 Peaches, nectarines, apricots and plums are jam-packed with vitamins A, E and C, antioxidants that provide energy to the body whilst boosting the immune system to fight infections. Vitamin C is also known to increase production of collagen for beautiful, healthy skin. Meanwhile, cherries are filled with fibre and potassium – essential nutrients for good health. Best of all, they're low in calories and glycemic index, making cherries the perfect snack for any health-conscious person!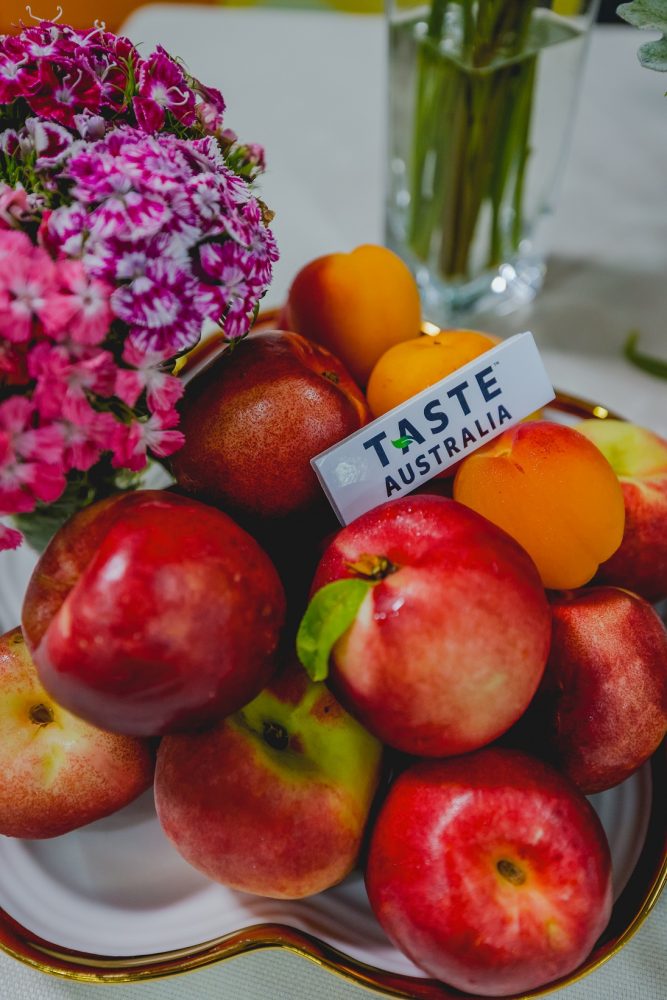 Mr. Paul Sanda continued, "Cherries and Summerfruits are the best pairing for anyone looking to take care of their health in these times. These fruits have antioxidants and vitamins C, A, and K that aid a wide range of benefits, including heart health, lowering blood pressure, and overall provide a powerful boost to your immunity."
Taste Australia Cherries and Summerfruits are also incredibly versatile and fit well in any pie, tart, or dessert you have planned for your holiday dinners. Whether you're folding them into your pie filling, or using cherries as a fresh garnish for your tarts, a delicious tinge of juicy sweetness is guaranteed with every bite.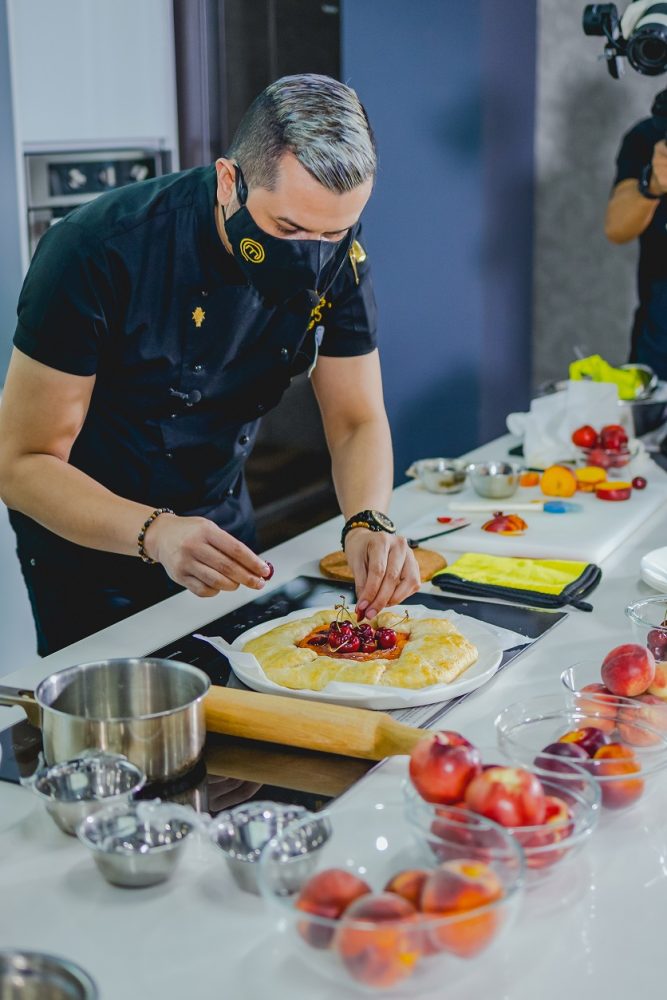 To further drive buzz for the campaign, Taste Australia is running a special social media contest. Titled Basket of Summer Joy, the contest invites Malaysians to get their creative juices flowing by arranging a fruit basket featuring any one or a combination of Australian Cherries and Summerfruits. The most creative entries will win RM 200 worth of cash or supermarket vouchers!
The Basket of Summer Joy contest will run from 19th December 2021 to 26th February 2022. For more information, please visit Taste Australia's social media pages.
Taste Australia's range of Cherries and Summerfruits is now available at major supermarkets such as Jaya Grocer, Village Grocer, QRA, Lotus's, and AEON supermarkets across Malaysia. For your daily kick of delicious fruits, or even for your gifting and baking needs, head over to the nearest outlet today!
ABOUT TASTE AUSTRALIA
Taste Australia is the whole-of-horticulture Australian brand used by industry and Hort Innovation to help increase the profile, sales and consumption of premium horticulture products in key export markets. For more information, visit Taste Australia's website, www.tasteaustralia.net.au, or head over to their social media pages at Facebook: facebook.com/TasteAustraliaMalaysia/ or Instagram: @tasteaustraliamy