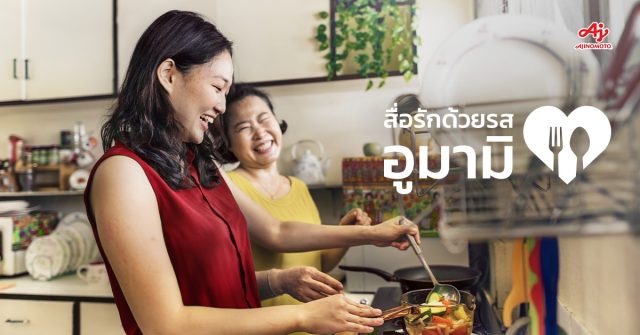 Wednesday 22 December 2021 – Ajinomoto Co., (Thailand) Ltd. is offering young Thais an unforgettable opportunity to share their heartwarming personal stories in its new campaign "Love Meets Umami," helping them reciprocate the love of their loved ones through cooking unique umami dishes that celebrate their relationships.
Ajinomoto will select three winners with the most impressive stories, who will each have the opportunity to feature in an exclusive video, airing in early 2022, that follows their experience partnering with leading relationship expert, Khun Supicha "Aey" Sorndamrih, and well-known celebrity chef, Chef Supamongkol "Art" Supapipat, to create a unique umami dish that symbolizes their reciprocal love.
Those interested in participating in the campaign can apply through the Facebook page "Umami Lovers" and Instagram @umami.lovers from today (December 20, 2021). Entries will close on January 17, 2022 and winners will be notified by February 14, 2022. Ajinomoto will also award an exclusive prize worth 5,000 baht to each of our 3 winners and an additional 20 special prizes worth 20,000 baht to participants who submit their stories.
After long periods of social distancing as a result of the COVID-19 pandemic, Ajinomoto hopes the campaign encourages people to enjoy time with their loved ones again. Whether with a special someone, family member or close friend, young Thais can nurture their relationships through using AJI-NO-MOTO(R) MSG to create unique umami dishes with balanced and well-rounded flavors that embody the love they share.
For more information, terms and conditions, please visit Facebook Fan Page "Umami Lovers"