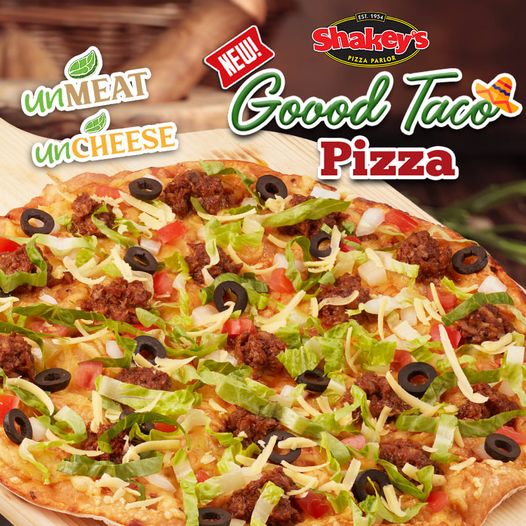 Shakey's Pizza Asia Ventures, Inc. (Shakey's) has launched its 100% plant-based pizza called the Goood Taco Pizza. The launch makes Shakey's the first major chain in the Philippines to launch a vegan pizza.
According to the press release, the Goood Taco Pizza is made with 100% plant-based ground "meat" and dairy-free cheese and topped with fresh onions, tomatoes, lettuce, and savory spices to create the classic tex-mex-flavored comfort snack with a healthy twist.
The new plant-based pizza joins the ranks of the Goood Burger and the Goood Nuggets, a move by Shakey's to widen its healthy selections.
The full 'Goood' menu makes use of 100% plant-based meat alternatives. Once again, Shakey's partnered with unMEAT to bring the innovation to life. 'unMEAT' is the Philippines' pioneer large-scale meat alternatives brand by affiliate company Century Pacific Food Inc., one of the leading branded food manufacturers in the country.
For the patties, nuggets, and meat toppings, Shakey's utilizes unMEAT's plant-based burgers and nuggets, all made with non-GMO soy proteins.
For the launch of the Goood Taco Pizza, unMEAT created a dairy-free cheese alternative called 'unCHEESE' made with potato starches blended with natural flavors and oils. The product looks, tastes, and feels like dairy cheese, making it the perfect topping for Shakey's new vegan pizza.
The new Goood Taco pizza is now available in selected Shakey's stores nationwide.