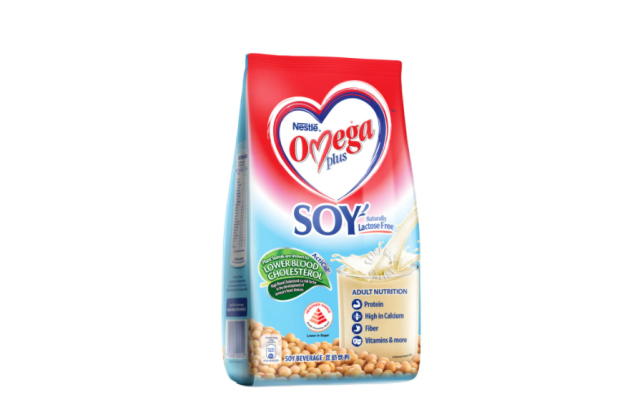 Nestle Singapore has launched a soy-based Omega Plus Acticol with added plant sterols, scientifically proven to lower cholesterol. The latest product is halal and comes with the Healthier Choice logo. It is also described as the first soy beverage with Plant Sterols to lower cholesterol.
The key ingredients are Soya Protein, Soluble Corn Fiber, Acticol® Plant Sterol Powder [Plant Sterol, Sodium Caseinate (Milk Protein), Anti-caking Agent (E551)], Calcium Carbonate, Glucose Syrup, Guar Gum, Vitamins [C, E (Contains Soya), B5, B3, B6, B1, B2, A, B7, Biotin, Folic Acid, D3, B12], Ferric Pyrophosphate, Maltodextrin, Potassium Iodide, may contain gluten.
The latest innovation shows how brands can use soy to formulate a dairy-free alternative of their existing produts. It also showcases new approaches to add functional health benefit into soy drinks.