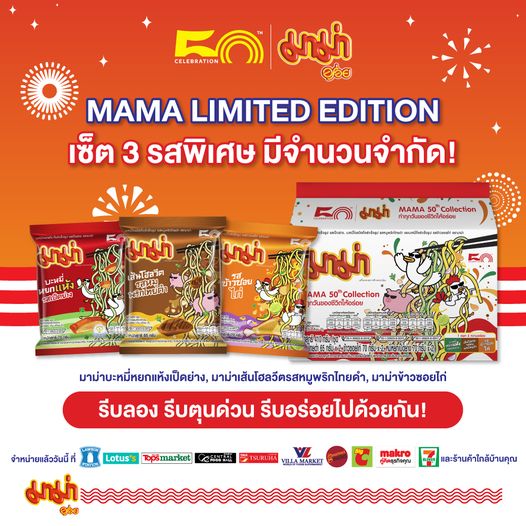 Thai President Foods Public Company, the maker of Mama instant noodle in Thailand, is celebrating its 50th anniversary with the launch of new limited Mama editions in the market. The three limited Mama editions are instant chicken khao soi-flavoured noodles, black pepper pork-flavoured wholewheat noodles and roast duck-flavoured dried jade noodles.
The company aims to spend THB 400 million to install new machinery at three factories in Thailand to increase the output capacity by 5%, reported Bangkok Post. The investment to upgrade the capacity was earlier delayed since 2021 due to the pandemic.
Thai President Foods aims to derive 50% of total revenue in 2026 from the overseas market, up from the current level of 29%. To achieve this plan, the company plans to establish factories in the US, African and the Middle East to bring the total number of manufacturing bases to five on five continents. Right now, it has one overseas production plant in Hungary, one in Myanmar, one in Cambodia and one in Bangladesh.
The Thai noodles and instant noodles market as of November 2021 fell by 3.4% to THB 16,637 million with Mama still taking the lead at 48%, according to Thai President Foods citing data from Nielsen (Thailand).
Below is the sales results of Thai President Foods for the year ended Dec 2021.