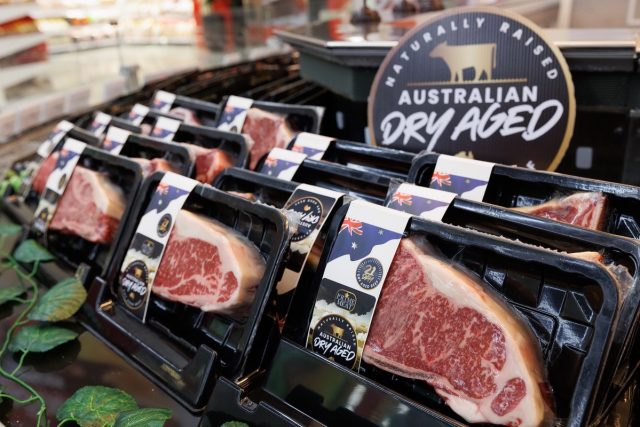 Monday 28 March 2022 – To cater to beef aficionados, Makro is introducing dry-aged Australian beef, which will be making its debut and showcased in a dry-aging cabinet at Makro Food Service Sukhumvit 22 Branch. With superior tenderness, aroma, and concentrated flavor, the new beef products will not only support the recovery of restaurants and the growing demand for dry-aged beef but will also reinforce Makro's position as a Beef Destination with one of the most extensive ranges of products in Thailand.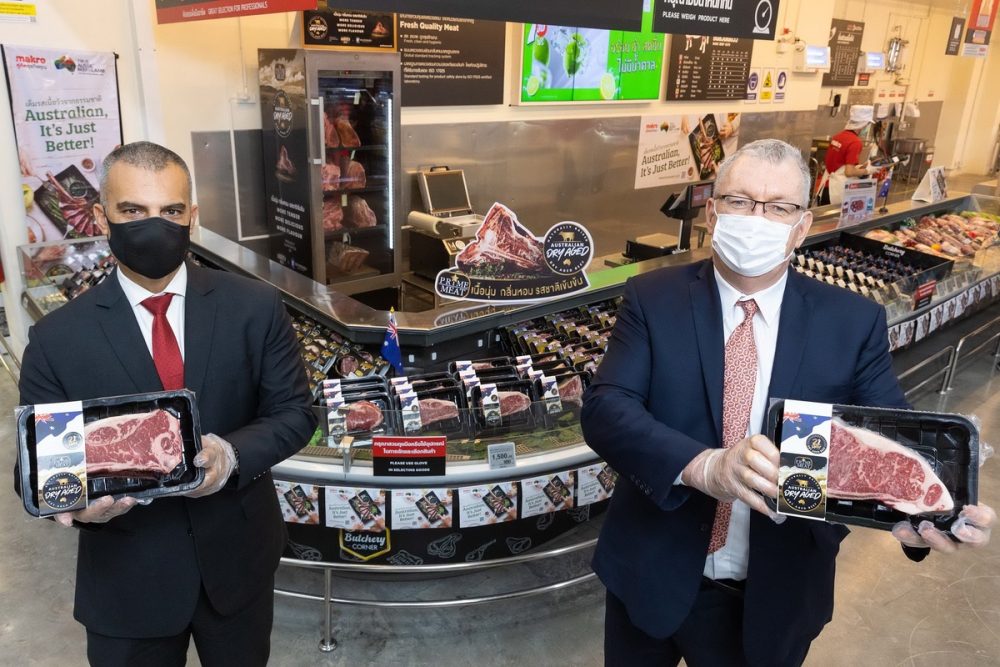 The launch event of the dry-aged Australian beef under the brand Prime Meat was graced with the presence of Mr. Allan McKinnon, Australian Ambassador to Thailand, and Mr. Michael Helleman, Senior Trade and Investment Commissioner and Counsellor (Commercial), and attended by Mr. Ricardo Boarotto, Chief Executive Officer – Makro Thailand Business Unit, Ms. Suny Sidik, Head of Commercial, Siam Makro PCL, and Mrs. Siriporn Dechsingha, Chief Corporate Communications Officer, Siam Makro PCL.
Prime Meat dry-aged Australian beef is launched in response to the rising trend of quality beef consumption in Thailand – a market with 15-20% growth per year. The products cater particularly to lovers of dry-aged beef, which is growing in popularity as a key ingredient in cooking. This is thanks to its concentrated flavor, distinct aroma, and tenderness, developed during the aging process at suitable temperatures, humidity, and wind speed, all of which are carefully controlled in an aging facility. As part of this launch, Makro has also installed its first dry-ager at Makro Food Service Sukhumvit 22 Branch to offer a new experience where customers can view the aging process within the display cabinet. The dry-aged beef is available at different aging stages from 21-60 days and can be sliced to desired sizes.
As the leader of fresh food, Makro is well recognized as a beef destination that offers variety and quality at reasonable prices as well as one of Thailand's premier importers of Australian beef, which, thanks to its distinct characteristics, has enjoyed widespread popularity among restaurant operators and general customers.
The launch of Prime Meat dry-aged Australian beef will provide a differentiated alternative for restaurant operators and aficionados of quality beef.
Popular beef cuts for dry-aging are mostly bone-in, such as the T-bone, rib set, and short ribs, as the bone helps impart aroma and intensify the flavor during the aging process. These cuts are often cooked as steaks in restaurants to highlight their distinct characteristics and help create differentiation for the restaurants themselves, while beef lovers often serve them as steaks or use them as a key ingredient in various dishes to be enjoyed during family time.
Experience Prime Meat dry-aged Australian beef today at Makro Food Service Sukhumvit 22 Branch.