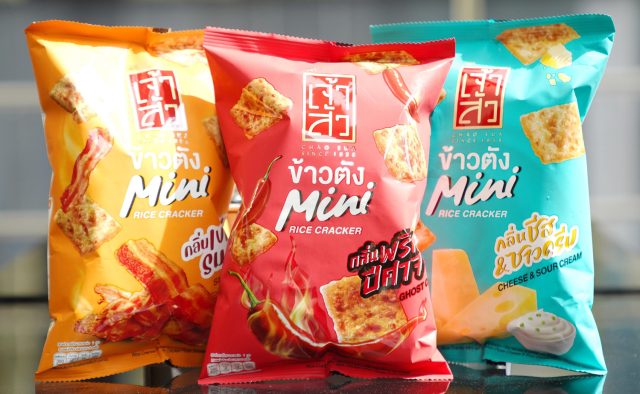 7 APR 2022 – Chao Sua reaffirms its market leader position among the processed meats sector with its 2022 business plan to drive full steam ahead to gain market share. The strategy includes launching "Chao Sua Mini Rice Cracker" bite-size rice crackers in three flavours targeting new generation customers and responding to the fast-growing segment of customers seeking healthy and nutritious snacks with confidence in 20% growth for 2022.
"This is another milestone for Chao Sua after having launched an integrated brand transformation plan last year," commented Napatr Morin, Chief Executive Officer of Tia Ngee Hiang (Chaosua) Co., Ltd. "The signature everyday snack rebranding is accompanied with modern and compact packaging, expansion to nationwide distribution and broader marketing channels. As a result, Chao Sua brand products has already expanded 17% over last year as consumers have welcomed it."
Napatr further revealed that the outstanding growth has driven the brand to create new recipes that complement its targeting of aspiring customer segments by implementing four strategies, namely:
Be part of customers' consumption on any occasion: Chao Sua products are available in five categories: ready-to-eat, ready-to-cook, appertisers, casual snacks, and souvenirs. These enhance responsiveness among consumers.
Brand extension to new market segments: Accompanying Thai snacking habits, the trend of healthiness influences consumers to select products with heightened nutritious ingredients and reduced unhealthy ingredients. The new Chao Sua products are accordingly implemented under two core concepts, namely, differentiation and 'better for you' snacks with nutritional benefits from protein and genuine jasmine rice.
Global market expansion: As Thai products are acclaimed in global markets, Chao Sua plans to launch its snacks in CLMV (Cambodia, Laos, Myanmar, Vietnam) countries, Hong Kong, China, Europe, Australia, and USA. Rice crackers will lead the charge into these markets as part of a grain-based diet concept summarised as 'Better For You Snacks'.
Rapid innovation organisation: Fast-moving consumer behaviours have driven Cho Sua to quickly respond with new product developments. Agile working systems are implemented to accelerate working speed. Values include encouraging staff to contribute ideas and experimenting with new generation ideas leading to new concepts and product innovations.
Tantalizing "Chao Sua Mini Rice Crackers"
"The rebranding last year has brought rice crackers to the fore, especially 'Product Heros' targeting the  pre-meal appetiser category," revealed Sasikarn Mahasiri, Marketing Director at Tia Ngee Hiang (Chao Sua) Co., Ltd. "The delicious and nutritious snacks has already propelled growth of one-third. Our recent research into consumer needs found that Thai consumers prefer bite-size snacks they can hold in one hand while watching series, working, and doing activities. This has led the company to launch Chao Sua Mini Rice Crackers with a focus on the quality of the jasmine rice and meat ingredients. The delicious taste of the special sauce and adjusted size contribute to the pleasure the snacks impart."
Chao Sua Mini Rice Crackers are made with high quality 100% jasmine rice blended with Chao Sua's secret sauce and topped with chicken seasoning. The handy-size rice crackers are crispy and delicious. Perfectly baked for health-conscious consumers, they are available in three flavours, namely, smoked bacon, cheese & sour cream, and ghost chilli, and in two pack sizes, 30 grams (20 baht) and 55 grams (30 baht).
"With their outstanding features that differentiate them from other snacks, we are certain that Chao Sua Mini Rice Crackers will be widely welcomed, particularly among the young generation. To ensure this, we are implementing 360-degree marketing through offline, online, outdoor media, and other channels to reach consumers through all channels. Meanwhile, Mathew and Lydia remain our key brand presenters to build awareness and continuous brand reminding. We are also expanding our distribution to easy access points including convenience store, supermarkets and modern trade outlets nationwide. Altogether, this will drive over 20% growth and reaffirm Chao Sua as the processed meat food products market leader", concluded Sasikarn.