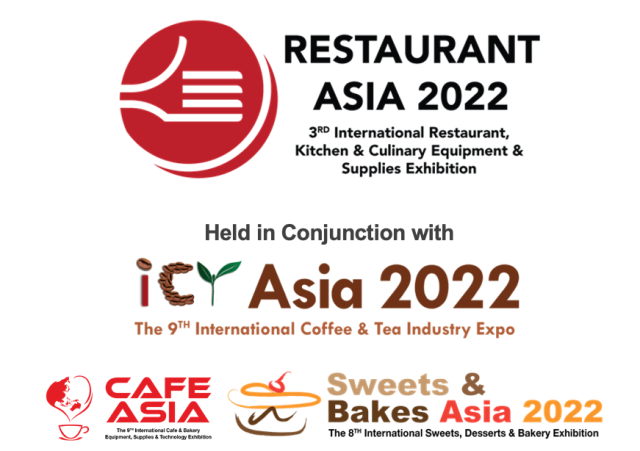 Singapore, 19 May 2022    Key business leaders and industry players from the local and international F&B scene showed up in full force at the official opening of Restaurant Asia 2022 (RA 2022) and International Coffee & Tea Asia 2022 (ICTA 2022). The three-day co-located shows at the iconic Marina Bay Sands Singapore Expo and Convention Centre are organised for participants from the F&B scene to seek new business opportunities and new markets especially in the areas of food ingredients, supply chain, operations, manpower, and innovation. 
The shows' official opening ceremony this morning was graced with the presence of Guest-of-Honour, Mr Gan Kim Yong, Minister for Trade and Industry; and Ms Low Yen Ling, Minister of State, Ministry of Trade and Industry and Ministry of Culture, Community and Youth.
RA 2022 is organised by the Restaurant Association of Singapore (RAS) in partnership with Singapore-headquartered Conference & Exhibition Management Services (CEMS), a regional company in Meeting, Incentive, Convention and Exhibition (MICE). ICTA 2022 incorporates the highly anticipated 9th edition of Café Asia and the 8th edition of Sweets & Bakes Asia and is organised by CEMS. Spanning across 5,500 sqm of gross exhibition area, the shows are designed to host both international and local exhibitors, including 115 brands and companies from more than 15 countries including Singapore. Around 8,000 international and local trade and public visitors are expected to visit the shows over three days.
RA 2022 will highlight opportunities and fast-rising market potentials in the F&B scene – Food Services Industry Transformation and Hawker Entrepreneurship. The food services sector has had to endure repeated disruptions due to the pandemic. Many took the opportunity to transform their businesses and operations. RA 2022 was conceptualised to present itself as a platform for industry leaders and players to meet, discuss, and discover new solutions to improve efficiencies in their front of house and back of house operations.
Following the recent initiative by the Singapore Government to equip aspiring and existing hawkers with the relevant skills and competencies to run their hawker businesses, the focus on Hawker Entrepreneurship at RA 2022 is timely as visitors will find that they will avail themselves to resources and networks as they take that first step into the business.
At the shows, business owners, key players from the F&B, coffee & tea, and bakery industries will also establish and welcome new collaborations, explore opportunities, learn best practices, present thought leadership forums, and present the latest trends and developments to trade professionals and members of the public. One such collaboration will be between CEMS and ER Marketing to form a Halal Pavilion in the Café Asia 2023 and RA 2023 exhibitions. A Memorandum of Understanding was signed between the two parties after the official opening of RA 2022 held in conjunction with ICTA 2022, incorporating the Café Asia and Sweets & Bakes Asia series. The unique cluster of these shows will offer a one-stop convenient sourcing hub for the F&B, coffee, tea, and bakery industries.
The shows also serve as a hub of knowledge and technical know-how to all visitors and conference delegates that include invaluable insights on productivity, capability development and leveraging on relevant technologies to future-proof the F&B business, fronted by prominent business leaders in the F&B, coffee, and tea industries.
The RAS Leadership Symposium is organised and positioned as the leading foodservice event for top executives at the event, presenting the latest and important topics from some of the most inspiring minds in Singapore's F&B sector. Delegates at the Symposium will discover the latest industry trends, network with like-minded business owners and explore new business opportunities.