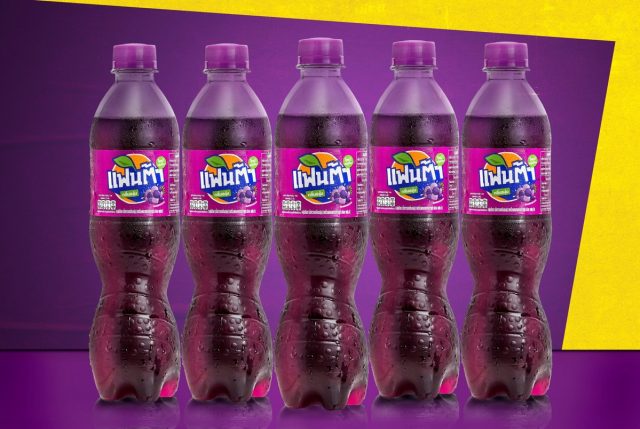 Friday 20 May 2022 – 'FANTA', from The Coca-Cola system in Thailand, comprising ThaiNamthip Ltd., HaadThip Plc, and Coca-Cola (Thailand) Ltd., has introduced 'Fanta Grape POP' a new version of Fanta Grape that has the same fizziness and fun loved by many Thai consumers but with a new & improved delicious purple twist.
Improving and relaunching the product which is already popular and beloved by lots of people shows that Fanta continues to treasure its core values: staying playful and bringing color to the lives of consumers. As Fanta keeps seeking delicious and underrated fruit tastes to satisfy consumers and to refresh every moment in their lives, the brand is bringing another experience of a fruity burst of Grape Pop which is more vibrant, more refreshingand tastier.
Marketing Director of Coca-Cola Thailand, Richa Singh, shared: "Fanta has always been one of the most fun and vibrant brands under our portfolio of beverages. Through the years, the brand has introduced different variants across a wide range of fruity flavours including Fanta Grape which we launched in 2012. We know how much people look forward to trying out exciting new drinks and we hope that they will also continue to enjoy and love Fanta Grape in its new POP version."
Apart from the new taste of Fanta Grape POP, the brand has launched an exciting marketing campaign to communicate with consumers through a wide variety of marketing activities including television and digital commercials, media channels at point of purchase, in-store media, and e-commerce platforms. Fanta also collaborates with well-known restaurants for providing special promotions as well as key influencers who will share experience of life coloring and how did they change gray moments in life back to vividness with Fanta Grape POP. In this campaign, it is Fanta's first time to initiate gamification to create a playful experience with consumers by playing a game named 'The Grape Hunt', an interactive Facebook game for consumers to enjoy one play per account. Winning players will be rewarded with a digital voucher to redeem snacks and Fanta Grape POP for free at Texas Chicken restaurants all over Thailand. There are 50,000 vouchers waiting for consumers in July. More information on www.facebook.com/FantaThailand
The grape flavour is one of the favourite flavours of Fanta, next to Fanta orange. With this delicious and underrated fruit now as one of the staple variants in Coca-Cola Thailand's beverage portfolio, people can look forward to enjoying more playful snacking time with friends.
Starting today, Fanta Grape POP is available in cans and PET plastic bottles for purchase in select convenience stores, supermarkets, and e-commerce sites across Thailand together with its special promotion. You can also enjoy Fanta Orange, Fanta Strawberry and Fanta Fruit Punch in original and zero-sugar option.
Learn more on what is new with Fanta by following us on www.facebook.com/FantaThailand and www.instagram.com/fanta/
The Coca-Cola system in Thailand consists of Coca-Cola (Thailand) Limited as the brand proprietor responsible for marketing activities, and its two local bottling partners – ThaiNamthip Ltd responsible for 63 provinces around Thailand and HaadThip Public Company Ltd serving 14 southern provinces.
The Coca-Cola system in Thailand is the nationwide market leader for non-alcoholic beverages. In addition to Coca-Cola, the Coca-Cola system's portfolio of beverages in Thailand includes "Coke", "Fanta", "Sprite", "Schweppes", "A&W" Root Beer, "Minute Maid Splash", "Minute Maid Pulpy", "Namthip" and "BonAqua".