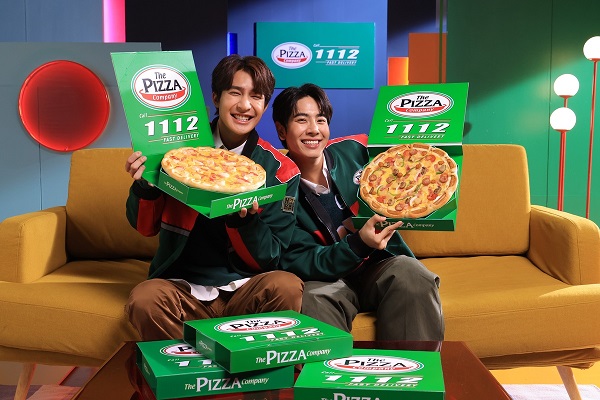 Thursday 16 June 2022 –  The Pizza Company in Thailand is working with the campaign's brand ambassadors "Earth-Mix" to create a phenomenon and highlight its market-leading delivery position.
To impress customers, The Pizza Company promises to take deliciousness, hot from the oven, and deliver it directly to their homes, while also providing fast service and standard quality.
Moving forward as the 'King of Delivery,' The Pizza Company strives to maintain the number one brand in service excellence that has won the hearts of consumers in the food industry for more than 20 years under the concept of 'A Company iron rules; deliver freshly baked pizza on every tray, fast delivery everywhere, and guaranteed delivery in 30 minutes.'
To accomplish this, the company emphasizes the strength of success through three main factors: systematic in-store management, the availability of modern equipment, and fast delivery within 30 minutes using the largest network of branch locations totaling 420 branches covering 75 provinces, as well as the meticulousness in delivering food on a standard that the company pays attention to every detail when providing services in the form of delivery.
Customers can now order a pizza or more through the brand's strong channels, such as The Pizza Company 1112 mobile app or calling 1112 or ordering via the website www.1112.com. This campaign is expected to increase overall sales through delivery by 20-25 percent in 2022 and will continue to grow in the future.