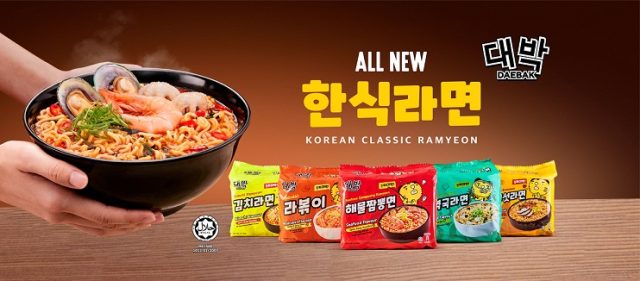 Daebak Foods Malaysia, which offers the authentic taste of Korea, has introduced the all-new Korean Classic Ramyeon in Malaysia. The range comprises five flavours:
DAEBAK Miyeok Guk Ramyeon (103g x 5 packs)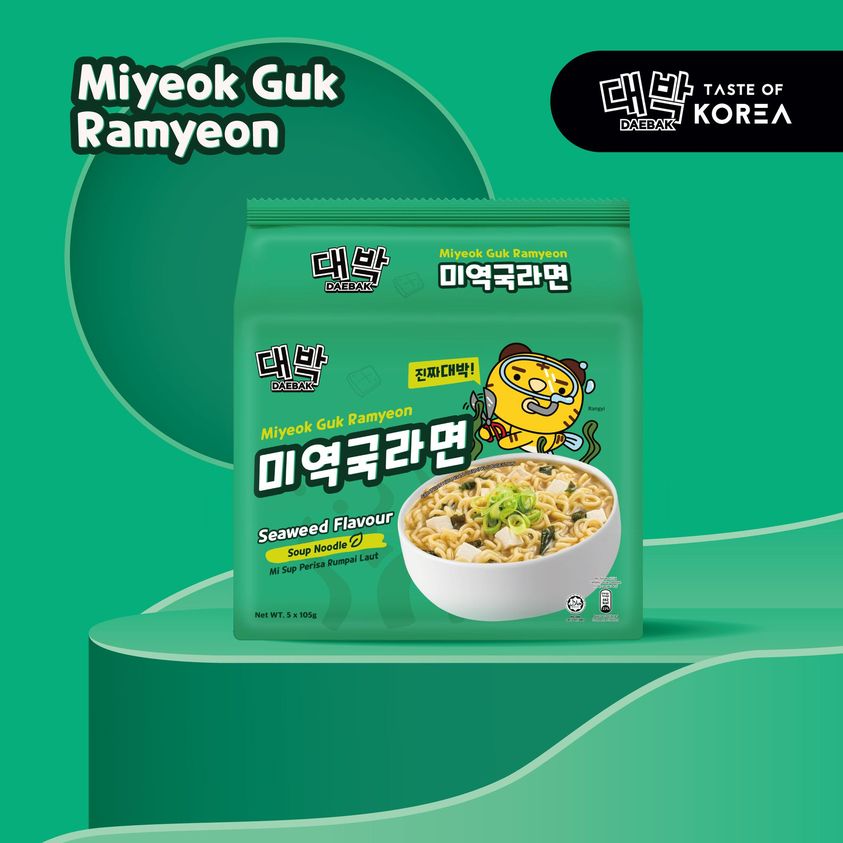 Miyeok Guk is a traditional seaweed based soup that touches the hearts of many Koreans. The recipe is formulated to be as authentic as possible to it's Korean roots.
This comfort dish is often consumed on occasions by Koreans – birthday celebrations, confinement food & under the weather situations.
Miyeok (Seaweed) is rich in calcium and iodine, fiber, omega acids, vitamin B1 & B3, nutrients that Koreans believed to be important for good health. This dish is also eaten outside of special occasions during the rest of the year – it's a very common soup dish served with noodles.
The product comes with pre-packed seaweed condiments.
DAEBAK Seafood Jjamppong Ramyeon (101g x 5 packs)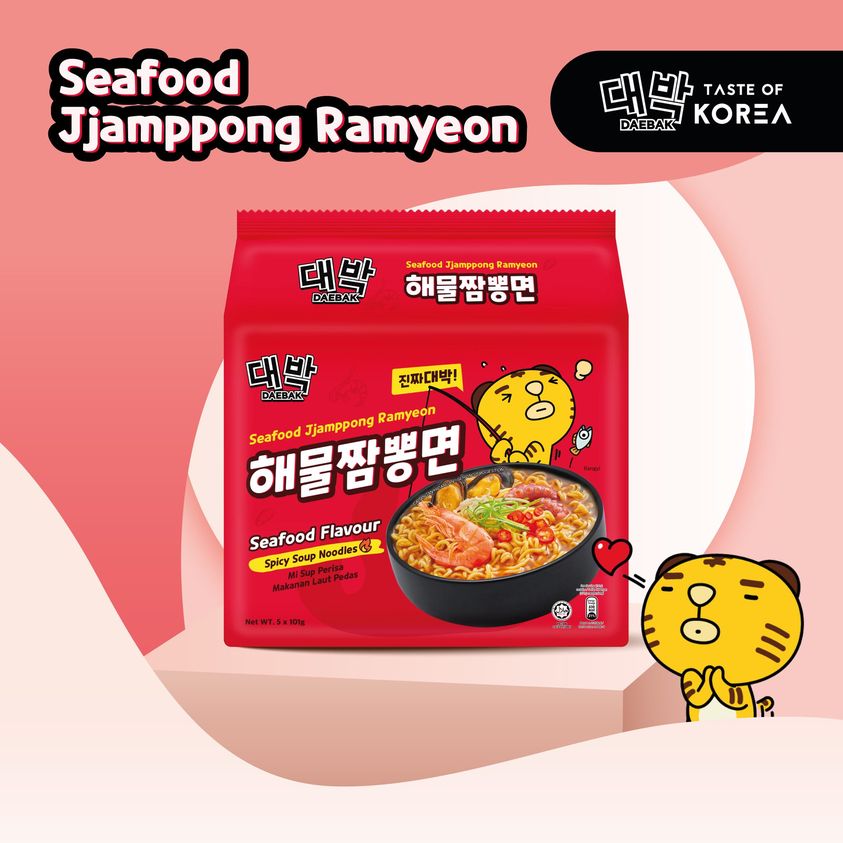 The Seafood Jjamppong Ramyeon is a popular Korean spicy noodle dish that's seafood based. The combination of red hot thick seafood broth and premium chewy Korean noodles, it's an gourmet designed for any meal of the day to fix any cravings – a dish that's refreshing and comforting.
The product comes with pre-packed seaweed, cabbage & chili rings condiments.
DAEBAK Kimchi Ramyeon (103g x 5 packs)
The Kimchi Ramyeon is Korea's national dish – a combination of spicy, tangy and umami flavors packed in a hot bowl of hearty noodle soup.
The soup base combines sweetness from assorted vegetables & the umami taste of seafood broth. This traditional dish can be dated back to 1590s during the mid-Joseon era, it is now one of the most common noodle soup dish in Korean cuisine.
The core ingredient – Kimchi, is a fermented napa cabbage seasoned with gochugaru, salt, spring onions, garlic, ginger and jeotgal. It's spicy, umami and sour flavor adds a perfect zing to any dish.
The product comes with pre-packed kimchi, chili rings & chives condiments.
DAEBAK Rabokki (113g x 5 packs)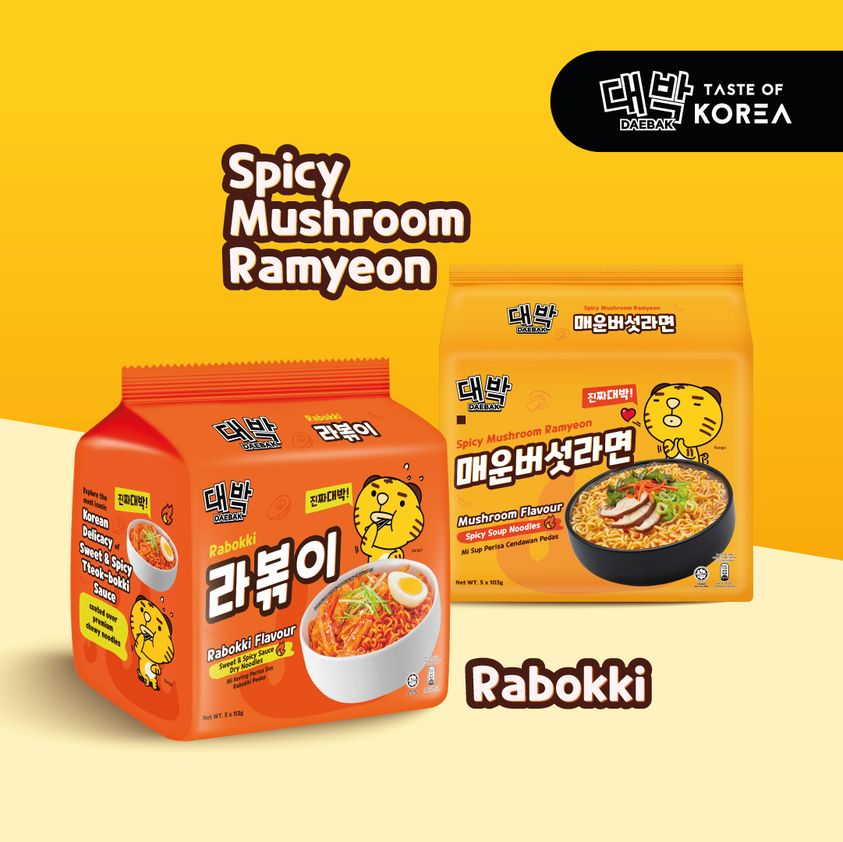 The DAEBAK Rabokki is a traditional ramyeon dish that's coated with a sweet & spicy tteok-bokki sauce – basically the addition of Ramyeon into tteok-bokki (rice cake dish stir-fried in a spicy-sweet gochujang). It is every Korean's go to comfort street food commonly sold in bunsikjip (snack bars).
The common ingredients used in preparing the sauce are gochujang, gochugaru, sugar, garlic and soy sauce. Every family has their twist to it, but the common taste profile is basically a rich sweet thick sauce like texture with very slight hints of spiciness.
The product comes with pre-packed chives, chili rings & toasted sesame seeds condiments.
DAEBAK Spicy Mushroom Ramyeon (103g x 5 packs)
The Spicy Mushroom Ramyeon is designed to take DAEBAK onto the next stage. Whilst designed to be a daily consumable staple, the quality of the noodles & broth seasoning is formulated with the utmost highest standards.
This vegetable broth based (mushroom, carrots & sweet onions) ramyeon packs a strong spicy mushroom flavor whilst giving a strong brothy flavor.
The product comes with pre-packed mushroom cubes, chives, seaweed & chili rings condiments.
The products are all certified halal by JAKIM.
Click here to purchase now on Shopee.
We feel the launch of the latest Korean Classic Ramyeon shows Daebak Foods Malaysia is now moving into the mainstream Korean instant noodle range, while offering a more competitively priced alternatives to the imported ones.