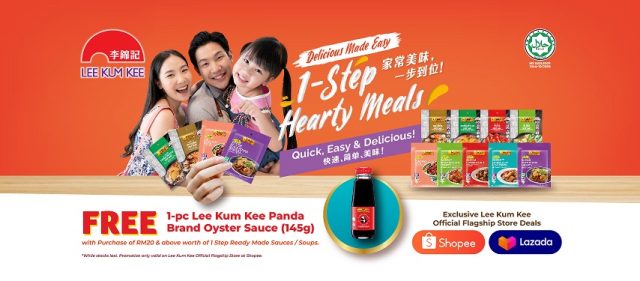 To meet the needs of busy, modern consumers, Lee Kum Kee has launched a range of delicious made easy 1-step hearty meals in Malaysia. The new Lee Kum Kee Ready Made Sauces or Soups comprise the following items:
𝐋𝐞𝐞 𝐊𝐮𝐦 𝐊𝐞𝐞 𝐑𝐞𝐚𝐝𝐲 𝐌𝐚𝐝𝐞 𝐒𝐚𝐮𝐜𝐞𝐬 𝐟𝐥𝐚𝐯𝐨𝐮𝐫𝐬
Black Pepper Noodles
Braised Potato Chicken
Kung Pao Paste
Hoisin Chicken
Nyonya Spicy Prawn
𝐋𝐞𝐞 𝐊𝐮𝐦 𝐊𝐞𝐞 𝐑𝐞𝐚𝐝𝐲 𝐌𝐚𝐝𝐞 𝐒𝐨𝐮𝐩 𝐟𝐥𝐚𝐯𝐨𝐮𝐫𝐬
Tomato Soup Base
Mushroom Soup Base
Chicken Dangui Soup
Chicken Soup Base
Just mix and cook with your favourite vegetables or protein. No cooking knowledge required.
Grab them today from your nearest grocery, or better yet grab them from Lee Kum Kee Flagship Store on Shopee and Lazada.
Get 1 FREE 1-pc Lee Kum kee Panda brand Oyster Sauce (145g) with purchase of RM20 & above worth of 1 Step Ready Made Sauces/Soups. While stocks last. Promotion only valid on Lee Kum Kee Official Flagship Store.