ITE College West's young aspiring mixologists compete with confidence, flair and grace
11 November 2022, Singapore    Students of ITE College West turned up the heat at the fifth edition of the F&N The Greatest Mix – Drinks Creation Challenge with their awe-inspiring talent in the art of mixology as they created delectable mocktails with much flair before a panel of judges and live audience.
F&N The Greatest Mix – Drinks Creation Challenge, which took place this afternoon at the ITE College West campus, was jointly organised by F&N Foods and ITE College West's School of Hospitality. The competition is an annual hot favourite among students from the NITEC in Hospitality Operations course, who are keen to showcase their mocktail creations using the F&N range of products. This year's panel of judges hail from the education and F&B industries. The Challenge has become an important opportunity for students to sharpen their skills, build their confidence, and hone their talent as they prepare to join the F&B and hospitality industries after they graduate.
With the lifting of restrictions for dining in and the opening up of international borders, the F&B and hospitality industries have benefitted from the boost of diners, locals and tourists.  Restaurants and cafes welcome the strong rebound in activity levels which have also translated to  a vast selection of career opportunities especially for those who are graduating from the F&B and hospitality disciplines.
At this afternoon's competition finals, students from the Higher NITEC in Performance Management lent their hands to the competition's organising team with their support and various technical expertise needed for the sleek running of the competition. They were responsible for the management of live-streaming of the competition coverage via social media platforms for online audience.
This year, the panel of judges comprised education and industry leaders – Denise Tan (Director, School of Hospitality, ITE College West), Angela Koh (Marketing Manager, F&N Foods Pte Ltd), Jasper Low (Treasurer, Association of Bartenders & Sommeliers Singapore) and a distinguished guest judge Hyrul Aslam, Group Bar Manager of Heritage & Iconic Properties, 1-Group.
In her opening speech to the finalists, students and guests, Angela Koh (Marketing Manager, F&N Foods Pte Ltd) said, "We are heartened that F&N The Greatest Mix – Drinks Creation Challenge continues to serve as an important platform for students and aspiring mixologists to showcase their talents. We are delighted that ITE and F&N have remained steadfast in our commitment to offer a platform for young talents to embrace their aspirations and ambitions and compete with confidence in this highly anticipated annual competition. To all students who are involved in making this day a success in one way or another, we hope that the experience they have garnered so far will bring them to greater heights as they look forward to pursuing careers in the F&B, hospitality, and event management industries."
The 10 student finalists were judged according to various criteria ranging from taste, colour, creativity, and the visual appeal of their creations. The evaluation criteria also included preparation technique and presentation skills. In addition to the top three prizes, which were awarded based on the final tabulation of scores from the panel of judges; a brand-new Showmanship Category was also awarded to three winners who projected an admirable show of finesse and artfulness on stage.
Cash prizes totalling SGD900 were awarded to the winners of the top three prizes. Three winners in the Showmanship Category were each presented with a Bar Set.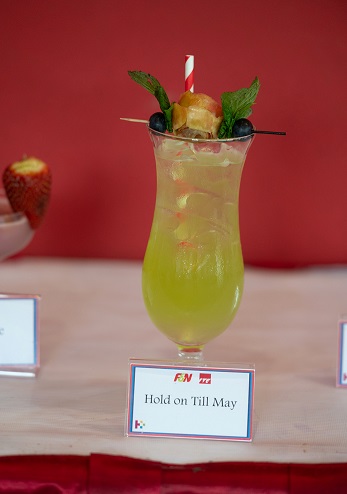 The winners of F&N The Greatest Mix – Drinks Creation Challenge 2022 are:
Champion: Isanvi Jone E. Antonio, 24 years old
1st Runner Up: Nur Az-zahra Binte Zulkarnain, 17 years old
2nd Runner Up: Tiffany Wong, 17 years old