Anlene encourages Malaysians to battle the stereotype and continue moving actively and living life to the fullest, even as we get older
Kuala Lumpur, 15 November 2022 – International movie icon and long-time Anlene supporter, Michelle Yeoh, is back with an Anlene campaign after over a decade. Yeoh is set to take up her role as a brand ambassador for Anlene's #MoveWithNoLimits campaign, to encourage more Malaysians to overcome both physical and mental limitations by staying active. The campaign also focuses on how each of us can make important contributions to our own lives and communities, even during the different stages of our lives.
Weak, sick, immobile, and depressed, these are often the general perceptions of older people. The vicious cycle of these stereotypes is worsened by the elderly mindset of being incapable to achieve any life goals due to the preconceived ideas of aging, which equals to becoming weaker and less productive. To battle this stereotype, Anlene invites Malaysians to join its #MoveWithNoLimits campaign, to learn about how we can move more with better flexibility and energy, and to be the best version of ourselves, even as we get older. 
Growing Older Not a Hurdle to Michelle Yeoh
At the heart of the campaign is the Malaysian-born actress Hollywood star, Michelle Yeoh. Her stellar career is showing no sign of slowing down, as she recently received a Gotham Award nomination for her lead role in the critically acclaimed 'Everything Everywhere All At Once'. Her performance speaks for her talent, as she stands among the front-runners for the upcoming Oscars. At 60, she continues to push boundaries and is nowhere close to slowing down, as she continues to defy the stereotypes that older people are restricted in mobility and cannot make significant milestones in their lives.
"I first drank Anlene fifteen years ago, and chose to join hands with the brand in 2008 because their philosophy struck a chord with me. They believe in enabling you to be stronger than your age, allowing you to continue moving freely and live a healthy life as you age. On that note, I too want to continue bringing good to the lives of others through Anlene," said Yeoh.
Let's Care for our Bones, Muscles and Joints 
From a nutritional standpoint, taking a balanced diet by including nutrients such as calcium, protein, collagen, and minerals, is one of the key factors to staying active and mobile. Mobility among Malaysians are also at risk, as previous Anlene Mobility Check roadshow bone scan results found that 7 out of 10 Malaysian adults  may be susceptible to poor bone health. Therefore, it is vital for individuals to consume the important nutrients sufficiently, together with regular exercise,  in a bid to maintain optimal bone health. 
"As you continue to age your bones begin to lose calcium gradually. For older adults, increasing calcium is necessary because the gut tends to absorb less calcium as one ages. Additionally, having sufficient protein intake is important to help preserve muscle mass and strength to maintain a certain quality of life. The amount of collagen in your body decreases with age. Collagen is found in our body including skin and joints", said Liew Yen Lee, the Assistant Nutrition Manager of Fonterra Brands Malaysia.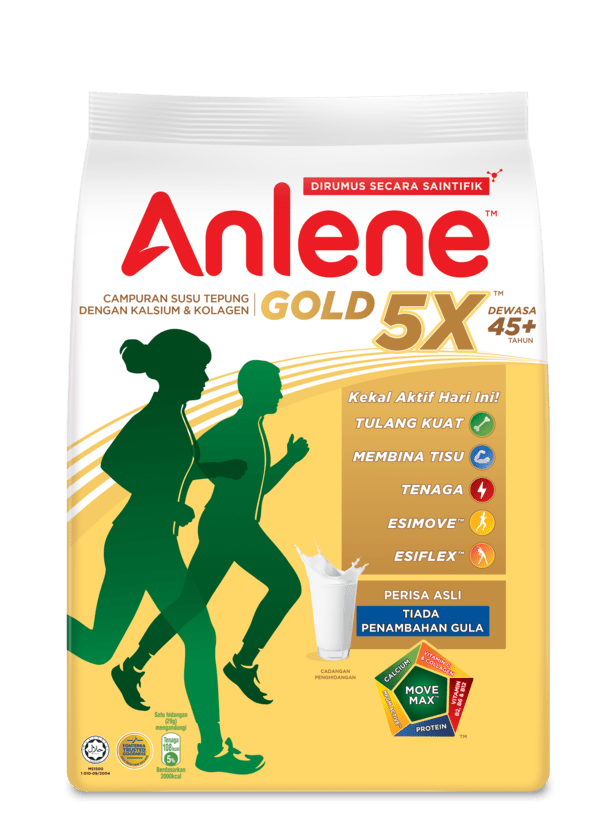 Anlene Gold 5X™ is scientifically formulated  with high calcium, high protein, collagen, 13 vitamins and minerals, with no added sugar, to support our active lifestyle and daily nutrition needs. It also contains MFGM Active™. In addition, study shows people who consumed two glasses of milk added with MFGM and important nutrients daily along with regular exercise, experience double the improvement in flexibility, three times improvement in balance and 40% greater improvement in muscle mass, as compared to the control group.
"At Anlene, we want to empower Malaysians by taking charge of their lives and their bone, joint and muscle health, ensuring our mobility does not limit how we spend our days ahead. As the number one adult milk brand across Southeast Asia, we believe good nutrition and an active lifestyle lays the foundation to build and maintain strong bones, joints and muscles for productive aging. Our Anlene products and #MoveWithNoLimits campaign encourages Malaysians to step out and to move more with better flexibility, to improve overall well-being. This also helps bridge the gap between our younger, fitter, stronger self, and who we are today," said Marketing Director of Fonterra Brands Malaysia, Irene Cheah. 
As part of the campaign, Anlene will be activating nationwide roadshows to encourage Malaysians to be more mobile while taking care of their bone health. The first activation will be held from 25th – 27th November in Vivacity Megamall , Kuching, Sarawak. These roadshows will also give the public an opportunity to undergo a FREE bone scan and muscle strength test worth RM150, and to ensure that we can continue to improve our overall mobility measure.  Find out the upcoming roadshows near you here: https://www.anlene.com/my/en/anlene-move-check.html
So get ready to start moving with flexibility, gear up for good mobility for years to come and stay active with Anlene. For more information on Anlene's product range, visit www.anlene.com/my. Alternatively, check out Anlene's Facebook page, @AnleneMalaysia and stay up to date with #MoveWithNoLimits.