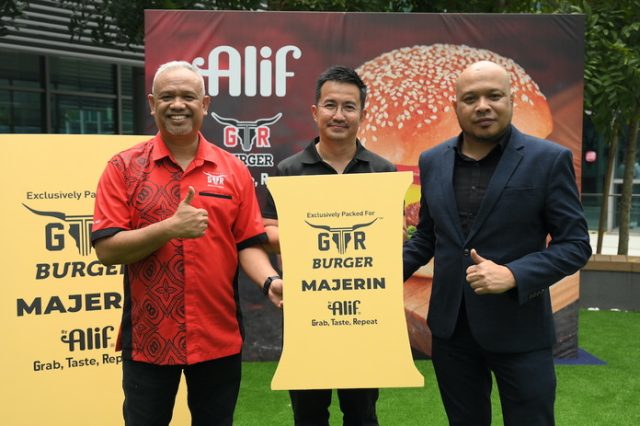 PETALING JAYA, 10 May 2023 – Sime Darby Oils, is collaborating with Koperasi GTR to supply exclusively packed ALIF Marjerin for GTR Burger, a renowned home-grown, Malaysian burger brand.
ALIF Marjerin has been developed with a unique aroma and taste to enhance a wide range of cooking, from Malaysian's breakfast favourite, 'roti canai', to delectable festive cookies. Introduced to the market in May 2022, exclusively packed ALIF Marjerin will now be making its way to all GTR Burger stall entrepreneurs around the Country to enhance the aroma of juicy GTR burgers.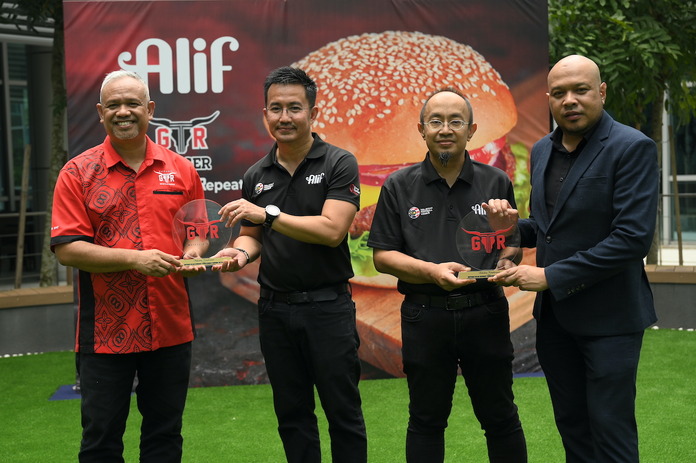 According to Mohammad Rahimi Abdullah, Business Unit Head of Sime Darby Oils Professional, the collaboration marks a significant milestone for ALIF as it expands its footprint into the food and beverage (F&B) segment and further establishes the ALIF Marjerin brand presence amongst food operators.
"We are committed to provide the highest quality products to our valuable customers. With currently more than 300 GTR Burger entrepreneurs operating burger stalls nationwide and more expected to come on board, we look forward to share the goodness of ALIF Marjerin with fans of GTR Burger, whilst firmly establishing our presence in the F&B segment," said Mohammad Rahimi.
With proper training and support system to ensure continued business success, including consistent supply of quality ingredients, GTR Burger has established a good business programme to develop entrepreneurs who mainly comprise members of the B40 community.
"We are happy to play our part for the community and explore more ways to support our local businesses. The selection of ALIF Marjerin as the exclusive marjerin to all GTR burger stalls is not only a testament to the quality of our product but it will also ensure the continuous supply of quality ingredients to meet GTR's customer requirements and support its objective in developing successful entrepreneurs," he added.
Through the collaboration, ALIF also extended its support to GTR Burger's latest Corporate Social Responsibility (CSR) campaign "Program Kebahagiaan Ramadan", which aims to benefit 2 million recipients during the holy month of Ramadan through distribution of food from donations made to GTR Burger during the campaign period.
To savour the delectable aroma and taste of ALIF Marjerin, the product is currently available in 1 kg pack at selected retail outlets. 
ABOUT ALIF COOKING OIL
ALIF Cooking Oil is a premier sustainably produced Malaysian palm oil available at most leading retail outlets nationwide. A quality product with a well-known household brand name, ALIF Cooking Oil is fortified with Vitamin D3 which helps to boost the immune system and available in packaging of 5kg, 3kg, 2kg and 1kg. 
ABOUT SIME DARBY OILS 
Sime Darby Oils (SDO) represents the entire downstream operations of Sime Darby Plantation (SDP), the world's largest of Certified Sustainable Palm Oil (CSPO).
Launched on 4 March 2019, SDO's operations span 12 countries worldwide, involving the manufacturing as well as the sales and marketing of oils and fats products, palm oil-based biodiesel, oleochemicals, nutraceuticals and other derivatives.
SDO aims to occupy a sustainable, quality, integrated and innovative position, reinforcing trust in the brand by focusing on human lives. Its tagline 'Realising Possibilities, Together' reflects SDO's philosophy to help its partners create quality products so that people can live life to the fullest and do so in a sustainable manner.