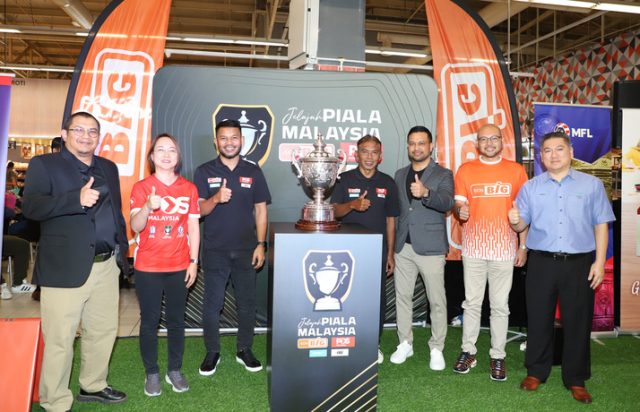 KUALA LUMPUR, 15 September 2023 – 'Jelajah Piala Malaysia' officially launched today, marking the tour of the prestigious Malaysia Cup trophy to five selected locations across Malaysia. The tour, powered by Pos Malaysia (official logistic, delivery & fulfilment partner), AEON BiG (official hypermarket), ALIF Cooking Oil (official cooking oil) and BubblesO2 (official drinking water) in collaboration with Malaysian Football League (MFL) will see the trophy displayed across five locations from 15 September to 3 December 2023. This collaboration not only signifies the shared commitment to the spirit of sports but also lays the foundation for a spectacular event – the Malaysia Cup Final on 9 December, which is set to take place at the iconic Stadium Bukit Jalil.
The tour kicks off at AEON BiG Wangsa Maju in Kuala Lumpur before making its way to four other selected AEON BiG hypermarkets, offering members of the public all over Peninsular Malaysia the opportunity to view the Malaysia Cup, as well as engage in interactive games and exciting activities with MFL partners. Additionally, fans can also anticipate meet and greet sessions with their favourite players at each of the tour locations.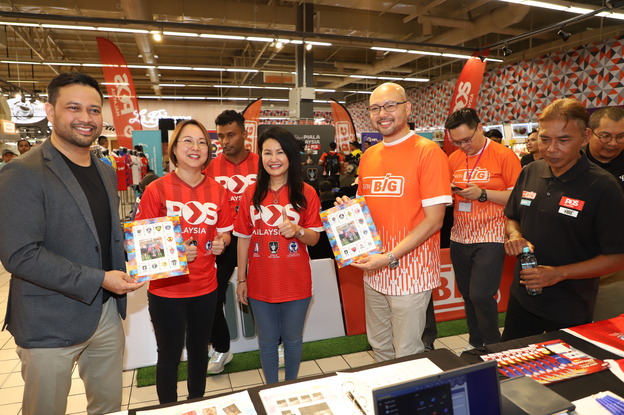 Datuk Stuart Ramalingam, Chief Executive Officer of Malaysian Football League (MFL) said, "On behalf of MFL's President, Dato' Ab Ghani Hassan, and the Board of Directors, we are delighted to welcome the collaboration of Malaysian League 2023's sponsors – Pos Malaysia, AEON BiG, ALIF Cooking Oil and BubblesO2. They are holding the Malaysia Cup Tour, an exciting activity that adds to the competition among the oldest tournament in Asia. The tournament has now entered its quarter-final stage.
"This tour will not only promote the tournament but also provide fans with the opportunity to see the trophy up close. The collaboration between the sponsors of Malaysian League 2023 also demonstrates an excellent cooperative relationship between them. This strengthens their respective brands on the platform of the Malaysia League.
"We encourage football enthusiasts to seize the chance to witness the esteemed Malaysia Cup trophy, which holds a rich history. Formerly known as the HMS Malaya Cup, the tournament originated in 1921 and was renamed the Malaysia Cup in 1967. During the Malaysia Cup Tour, fans can view the second trophy used for the tournament since 1978."
Fiona Liao, Chief Marketing, Communications and Sustainability Officer of Pos Malaysia
remarked, "Pos Malaysia is honoured to be appointed the Official Logistic, Delivery, and Fulfilment Partner for this season's Malaysian Super League, FA Cup, and Malaysia Cup. Our pivotal role in these prestigious sporting events is a clear endorsement of the trust and confidence bestowed upon us by MFL. The fact that we've been entrusted with the critical responsibility of managing end-to-end logistics, particularly for such valuable cargo as the FA Cup and Malaysia Cup underscores the depth of trust that the stakeholders have in our ability to consistently deliver excellence.
"This collaboration serves as a resounding reaffirmation of our commitment to maintaining the highest standards in logistics, fostering trust, and working as one team to delight customers at these exceptional sporting events. In fact, a recent Courier Challenge Survey commissioned by MCMC, Pos Malaysia rated an impressive 96% for Guaranteed Delivery Performance compared to the industry average of 78%. As an organisation that is passionate about building trust to connect lives and businesses for a better tomorrow, we are committed to deliver an unforgettable experience to the public," she added.
Sheikh Farouk, Managing Director of AEON BiG (M) Sdn Bhd said, "We are honoured that
AEON BiG will be hosting the legendary Malaysia Cup as one of the strategic partners for Jelajah Piala Malaysia. We are happy that our customers will be able to catch a glimpse of this historic trophy up close and personal at our selected stores.
"We believe strongly in collaborative initiatives with our business partners that will ultimately benefit our loyal customers. Working together with MFL and its partners will allow us to develop our own little ecosystem in which everyone can benefit from. We can now further leverage on our close relationship and offer creative, customised and differentiated offerings for Malaysian football fans. Needless to say, we are proud to partner alongside esteemed organisations such as Pos Malaysia, Sime Darby Oils and BubblesO2 for Jelajah Piala Malaysia," he added.
According to Muhammad Rahimi Abdullah, Head of Sime Darby Oils Professional, the
partnership between ALIF and MFL which started from last year resonated strongly with local football fans with close to 30,000 visitors engaging in exciting activities carried out at ALIF Zone activation at the stadiums during the 22 selected matches. This amazing engagement helped boost ALIF's presence tremendously on social media, achieving a new high of 3 million viewers for MFL-related postings.
"The ALIF brand represents the very best features of sustainably produced Malaysian palm oil. Partnering with a renowned retail partner in AEON BiG together with MFL is going to help us share the goodness of ALIF even further with the diverse audience of Malaysian consumers. We are truly excited to continue supporting Malaysia's favourite sport by bringing ALIF, Malaysian football teams, and their fans closer together," said Muhammad Rahimi.
During the launch event, Sime Darby Oil introduced a new, limited edition ALIF Cooking Oil in EcoPax MFL 3kg pack, featuring well-known Malaysian football players and will be made available in retail outlets for the campaign period.
According to Muhammad Rahimi, the introduction of the limited-edition ALIF Cooking Oil in EcoPax MFL pack is also in line with the company's commitment to delivering quality products for a diverse range of Malaysian consumers and lifestyles, including the modern lifestyle of urban households.
"With the brand's continuing involvement in Liga Malaysia, we expect the new limited-edition packaging to add to ALIF's appeal to local football fans, beyond ALIF's current key consumer segment," added Muhammad Rahimi. ALIF Cooking Oil is fortified with Vitamin D3 which helps to boost the immune system and naturally contains Tocotrienol. ALIF Cooking Oil is available in packaging of 5kg, 3kg, 2kg and 1kg.
Mohd Zaffarin bin Abdul Ghaffar, Public Relation Director, BubblesO2 Sdn. Bhd. said,
"BubblesO2 is excited to be part of Jelajah Piala Malaysia. As the official mineral drinking water, this tour underscores our commitment to promoting health and well-being on both the local and global scale. It also aligns with our mission to provide naturally oxygenated mineral water that stands out as a one-of-a-kind and refreshing choice for consumers. With our memorable presence as MFL's official mineral water sponsor, we have garnered successful attention from the public. BubblesO2 is well-positioned as a brand of choice for a healthy, sporty lifestyle with this collaboration."
Football fans and members of the public are invited to visit the five locations and join the special contest for a chance to win two Corporate Suite Passes and 10 MFL Premium Passes to watch the Malaysia Cup Final match on 9 December.
They can also get their photos printed on customised stamps by performing a minimum of RM20 transaction with Pos Malaysia, or by purchasing 1 pack of 3kg ALIF cooking oil and 2 bottles of BubblesO2 800ml drinking water.
The Malaysia Cup Trophy Tour will take place on the following dates and locations:
15 to 17 September – Kuala Lumpur (AEON BiG Wangsa Maju)
22 to 24 September – Perak (AEON BiG Falim, Ipoh)
20 to 22 October – Pahang (AEON BiG Kuantan)
3 to 5 November – Selangor (AEON BiG Shah Alam or Klang)
1 to 3 December (AEON BiG Batu Pahat)