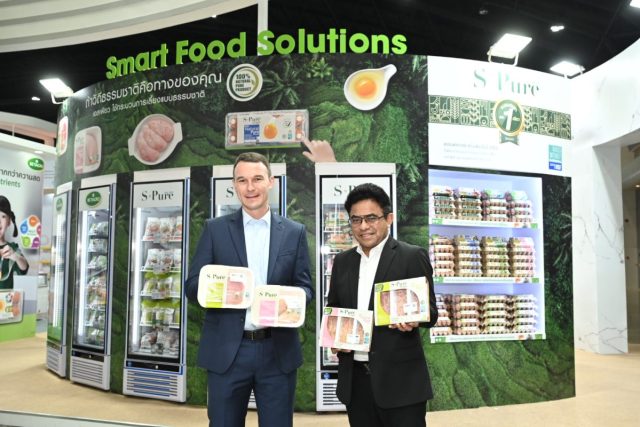 Wednesday 24 May 2023 – Betagro PCL (BTG)'s Protein and Food Business Group has emphasized its purpose and belief in elevating the food industry for a sustainable life. Betagro represents as a leading international food brand and extending concept of 'Smart Solution for Sustainable life' at the THAIFEX-ANUGA ASIA 2023 trade show this week.
Mr. Trirat Thongplod, Chief Operating Officer – Protein Business, Betagro PCL, said Betagro is portraying 'Betagro Smart Solutions for Sustainable life' with 'Intelligent Business Solution' via food innovations and quality products serving all the needs in food entrepreneurs, included fresh, processed food, ready-to-cook and ready-to-eat. In addition, the company shows a complete range of excellent services, business consultation (CRM), Betagro Shop which is our wholesale distribution channel and Kerry Cool, nationwide logistics network in order to strengthen partnership's competitiveness for sustainable business success together.
The Betagro's pavilion at the THAIFEX-ANUGA ASIA 2023 spotlights on food innovation presenting quality food products, wide ranging of swine, poultry, egg, fish, ready-to-cook and ready-to-eat foods, sausages in various brands under S-Pure, Betagro, and Itoham. These products are created under Betagro's commitment as food pioneer. In this year, we focus on an innovative packaging design for convenience lifestyle with accountability for environmental friendly.
S-Pure is a premium brand with 100% natural pure product who is the first and only brand that has been certified by NSF for 'Raised Without Antibiotics' (RWA) from the United States' in all products from swine, poultry, and egg. S-Pure reinforces the brand by focusing on sustainable development from launching S-Pure fresh swine and poultry in paper tray package as the first fresh food brand in Thailand in order to reduce plastic utilization by 80% reduction.
'S-Pure Perfect Portions' is designed in pre-packaged to contain portion of swine and poultry meat in split pack zip lock bag and 'S-Pure Portion Pack' which is a split pack package to control food waste and sustain fresh and hygienic product with convenient consumption.
In addition, there are new products from S-Pure, in the categories of sausage, ham and bacon under 'S-Pure Prime.' S-Pure Prime focuses on natural ingredients made from 100% swine and poultry without food additives. The most importantly, our packaging is suitable in environmental friendly certified by FSC. S-Pure introduced new various products such as S-Pure Rich Yolk Egg with perfect orange egg yolk from natural paprika extracts feeding. Moreover, everyone will experience S-Pure Chef's Table Series, a ready to cook premium steak, egg white porridge mixed with essence of chicken soup as well as egg white porridge with oatmeal also being presented at the pavilion.
Meanwhile, Betagro presents superior quality products under the Betagro Quality Management (BQM) that adheres for qualified inspection, monitoring according to international food safety standards. Part of Betagro products highlight are ground swine and poultry with concentrated seasoning packed in a tube to contain freshness and Hygienic Egg from healthy hens is a rich multi nutrients egg. Furthermore, German pork knuckle, crispy chicken nuggets, smoked hot dog sausage, smoked Wiener sausage and Pinku waffles that are also ready to experience and teste for real products. There is also a ready-to-eat Italian styled food made from best imported ingredients to ensure the utmost tastiness i.e. spaghetti with truffle cream sauce and ham, and spaghetti Bolognese with pork balls. While Itoham brand represents original premium Arabiki sausage products from Japan such as Bayern Wiener Arabiki.
More importantly, an alternative protein under brand 'Meatly!', a premium plant-based protein is a ready-to-eat plant-based for Vegan foods serving modern lifestyle. There are five series in the Meatly! Brand including an 'Original Thai taste' a key highlight product in line. Amongst Thai favourite dishes in this grouping, there are Loan Tao Chiew, Nam Prik Roang Ruer and Khua Kling series for minced pork format. There are also Chinese, Western, Japanese and Korean food series in Meatly! collection, and there will be new product during the vegetarian festival serving by occasion.
Last by not least, quality export products from Betagro's booth presents showcases and ready to serve all requirements to create comprehensive product awareness and business discussion to new market opportunity with partners.
Dr. Oliver Gottschall, Chief Operating Officer – Food business, Betagro PCL, added on to the Service Excellence section aiming to support food entrepreneurs for sustainable business growth under concept "Grow Together for Sustainable Life". The 'Food Innovation Centre (FIC)' is ready to be a business partner by providing exclusive experiences through curated menus and recipes in the form of 'Chef's Table by FIC chef'. The FIC will be on hand for discussion and consultation on food research and development that will make an originality to partner businesses. 'Celebrity Chef Cooking Show' will be held with the concept of 'The Amazing Taste of Thai' by famous chefs such as Chef Gunn Sorawit Sangwanich, Chef R Thiraphat Tiyasuntranont, Chef Paope Jessica Wang and Chef Ping Surakit Khemkaew.
There is also a section dedicated to 'Intelligent Business Solution' that offers business consultation for food entrepreneurs to ensure their business success. This year trade show, Betagro continues to showcase success forums from customers' experiences as a part of togetherness with Betagro who stands side by side as partner to build business achievement i.e. Nittaya Kai Yang, Det Fried Chicken, Saeng Thong Pork and Pen Lao.
Another zone from 'Betagro Shop' offers a complete source of products and services for food business operators and general consumer. The shop comes with a new identity – a modern and proactive services to enhance its positioning as Betagro Shop, a food wholesaler who empowering food service success.
Lastly is 'Kerry Cool', a joint venture between Betagro and Kerry that provides cold delivery platform for chilled food products as well as meat and frozen products with technology and quality services that are ready to provide advice and services to entrepreneurs at the event as well.
Dr. Oliver Gottschall said: "At the THAIFEX-ANUGA ASIA 2023, Betagro proudly presents to all business partners and allies who participate this event. "We will see entrepreneurs coming from Europe, the Middle East and Asia, notably from the UK, France, Netherlands, the United Arab Emirates, Bahrain, China, Japan, South Korea, Hong Kong and Singapore. "Betagro's customer relationship management team will be on hand to address any queries throughout the duration of the trade show to support the business success of food entrepreneurs and for a sustainable life for everyone."