Culvita Sdn Bhd, which makes probiotic drinks, has recently launched a range of Culvita pre- and probiotic functional drinks in Malaysia. Compared with the company's existing flagship Sparkling Probiotic Drinks with live probiotics that have to be kept chilled, the new range can be sold in a shelf stable format.
The new Culvita drinks comprise Singabera, Relaxer and Summer Breeze. The range was displayed at the Malaysian International Food & Beverage (MIFB) Trade Fair 2023 held at the Kuala Lumpur Convention Centre on 12-14 July 2023.
The Culvita functional drinks are fermented with Cultiva's kefir culture and fruit juice. It contains four strains of live probiotics Bacillus Coagulans, L. paracasei, L. plantarum, L. rhamnosus and prebiotic (inulin) to improve gut health. The drinks are sweetened with natural molasses.
Culvita Singabera is made from cold pressed ginger, lemongrass and pandan, Culvita Summer Breeze contains cold pressed passion fruit and Culvita Relaxer has lemon and levender extract.
Culvita Singabera has 5.3g of total sugar/250ml, while Culvita Summer Breeze has 5g of sugar/250ml.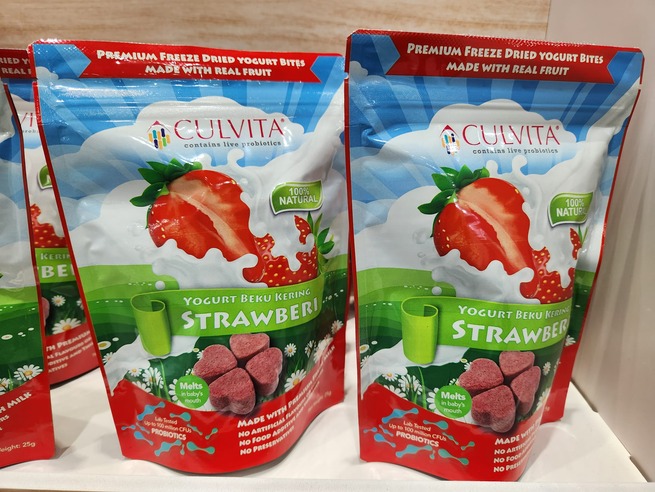 Apart from the functional beverages, Culvita also has a range of premium freeze dried yogurt bites made with real fruits – Mix Berries, Strawberry, Mango and Banana. The yogurt bites contain 100 million CFU per gram/2.5 billion per pack of probiotics to improve bowel movement and stimulate and modulate immune function. The snacks are suitable for babies 8 months and above.