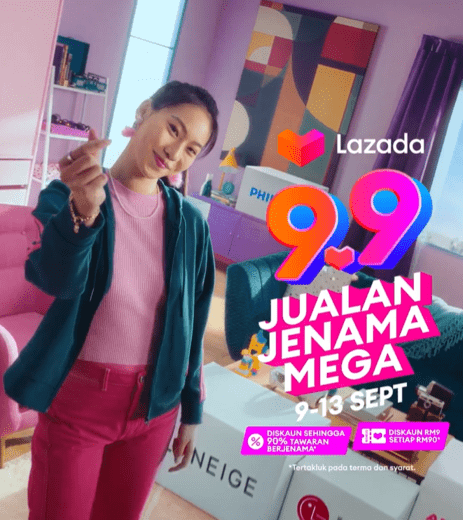 Kuala Lumpur, 29 August 2023 – Malaysians are in for a treat this Merdeka month as Lazada, Southeast Asia's pioneer eCommerce platform, will be organising a special giveaway to celebrate its upcoming Lazada 9.9 sale.
Amidst the vibrant streets of Kuala Lumpur, an endearing mascot embodying Lazada's spirit, Lazzie, has already been spotted strolling through the hustle and bustle carrying a mysterious box, capturing the attention and curiosity of fellow Malaysians.
The curious video, now making waves across social media, shows Lazzie's walk take an unexpected turn when a passer-by was captured snatching Lazzie's Mystery Box before dashing away.
The Mystery Box is a symbol of the much-anticipated Lazada 9.9 Mega Brands Sale, and is said to contain an array of premium branded items worth RM999 and more that Malaysians will get a chance to win in this upcoming giveaway. Come 1 September 2023, up to nine of these Mystery Boxes will be up for grabs and Instagram users stand a chance to win a variety of amazing gifts including beauty products, home and living goods, apparel, and much more from brands like lululemon, Dyson, Lancome, L'Occitane, and Nike!
To participate in the Lazada 9.9 Giveaway, users simply need to:
Visit Lazada's Instagram page from 1 September and pick a post featuring the Mystery Box that they like
Like the post
Share their 9.9 shopping wishlist in three separate comments with the hashtag #LazadaMY
The most creative, innovative comments will stand a chance to win their chosen Mystery Box. Participants may continue to share multiple comments for a higher chance of winning.
For more information on Lazada's 9.9 Mega Brands Sale and the Lazada 9.9 Giveaway, please visit www.lazada.com.my.