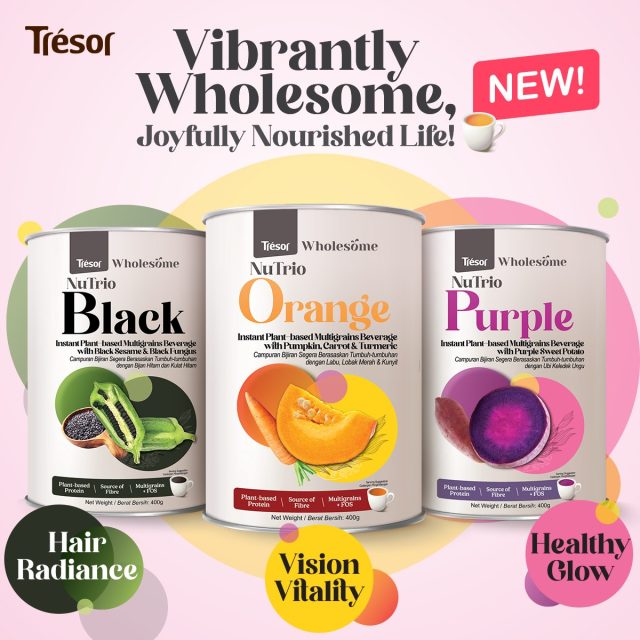 Health food maker Tresor Earthfood has launched Wholesome NuTrio instant plant-based multigrain beverages in Malaysia. The range comprises:
NuTrio Orange for vision protection
NuTrio Black for hair radiance
NuTrio Purple for a healthy glow
NuTrio Orange with Pumpkin, Carrot and Turmeric
Maltodextrin, Pumpkin (25%), Brown Rice, Honey, Brown Sugar, Red Date, Dehulled Soybean, Sweet Potato, Fructooligosaccharides (FOS), Isomalt, Cinnamon, Turmeric (1%), Banana, Avocado, Marigold Flower Extract.
NuTrio Black with Black Sesame and Black Fungus
Maltodextrin, black sesame (6.5%), black bean, black fungus (6.5%), black date, black rye, brown rice, red rice, black rice, millet, quinoa, black glutinous rice, mung bean, almond, cinnamon, dehulled soybean, FOS, isomalt, corn, brown sugar.
NuTrio Purple with Purple Sweet Potato 
Maltodextrin, Purple Sweet Potato (25%), Dehulled Soybean, FOS, Isomalt, Brown Rice, Black Rice, Red Rice, Millet, Quinoa, Black Sesame, Red Bean, Glutinous Rice, Almond, Purple Cabbage.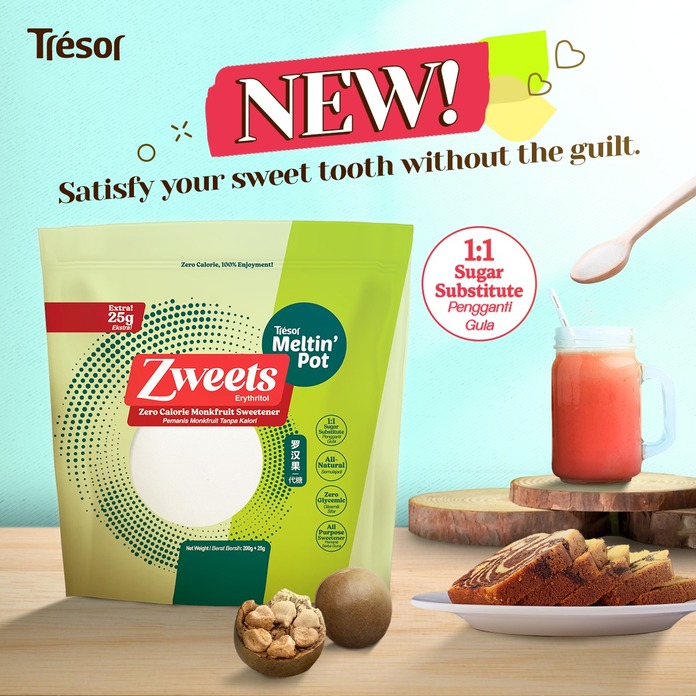 The company has also launched Zweets, a zero calorie monkfruit sweetener featuring blended sweetener (erythritol + monkfruit extract).
Get yours now at your nearest Caring Pharmacy, Wellings Pharmacy, or get it online at https://bit.ly/3QTYvo3 to enjoy the various benefits.
Click here to purchase on Caring Pharmacy.