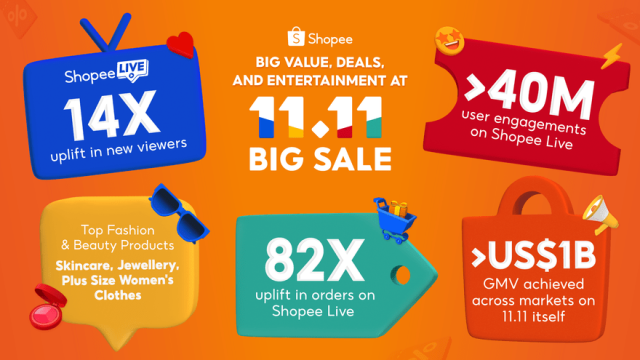 First-time viewers surge by 14 fold, drives over 40 million user engagements
KUALA LUMPUR, 15 NOVEMBER 2023 – Shopee achieved a remarkable 82 fold surge in Shopee Live orders for local sellers during the 11.11 Big Sale, cementing live commerce as an integral feature in the Shopee ecosystem. This success was driven by a strategic combination of increased new user traffic, exclusive live-only deals, and engaging livestream sessions.
Shopee Live captivated Malaysians, with a staggering 14 fold increase in first-time viewers. Users flocked to the platform enticed by irresistible promotions, including 90% off vouchers and the thrill of participating in the Kotak Duit Misteri game show.
On 11 November itself, Shopee Live recorded over 40 million engagements, highlighting the platform's ability to capture and sustain user attention. Users actively engaged with hosts, posed questions and sought expert insights, while immersing themselves in real-time product demonstrations.
15 times more Shopee Mall brands utilised Shopee Live compared to an average day, enabling them to share in-depth product knowledge, foster community growth, and build trust with potential customers. Over 5,000 Shopee Mall brands, including notable names such as 70mai, Dessini, Skechers, SKINTIFIC, and Vinda, participated in the 11.11 Big Sale, offering authentic products backed by a 15-Day Return Policy and an 8x Money Back Guarantee.
"This 11.11, Shopee achieved record-breaking results, hitting a total global gross merchandise value of USD1 Billion within a single day. We sincerely thank all our partner brands and sellers, and our valued shoppers for their support over the years, without which we could never have achieved this tremendous result. In Malaysia – this 11.11 has been our biggest sales day of all time!" said Kenneth Soh, Head of Marketing at Shopee Malaysia.
"We remain dedicated to bringing unparalleled shopping experiences and continuous innovation to our users. The strategic empowerment of Malaysian sellers has been crucial, as Shopee has supported and enabled businesses to thrive in the digital space," Soh added.
As Malaysians embarked on their shopping spree, fashion products dominated searches on the peak day. 'Women's shoes,' 'women's blouse,' 'dress,' 'handbag,' and 'women's sandals' topped the list, reflecting the platform's diverse and stylish offerings. Skincare, along with plus-size women's clothes and jewellery, secured top positions as the most sold fashion and beauty products.
The momentum was evident as over 1.3 million products were sold within the first 2 hours of the 11.11 Big Sale. Malaysians capitalised on the campaign's Free Shipping Vouchers, numerous deals, and enticing discounts, demonstrating their eagerness to secure the best bargains.
ELGINI Apparel, Kacang Republika Premium, Kedai Abang Syukor, Panda Eyes, and SKINTIFIC emerged as the most viewed livestream sessions, encapsulating the fervour and enthusiasm of the campaign. These sessions showcased the brands' and sellers' ability to present interesting and informative content that resonates with users.
"Shopee is incredibly proud of the success of our local sellers in this year's 11.11 Big Sale, and we are committed to supporting them as they grow their businesses with us. We aim to continuously provide our sellers with the tools and resources they need to succeed on e-commerce. We will continue to innovate and deliver an even more engaging and immersive shopping experience for our users," Soh concluded.