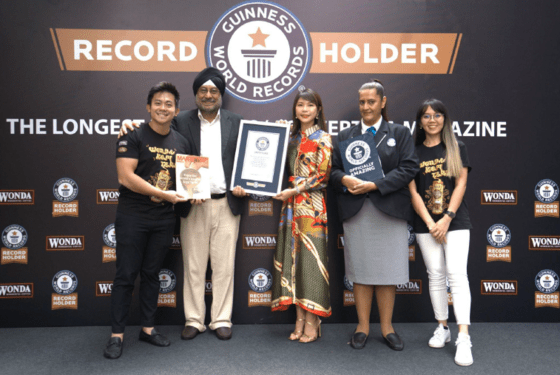 As Malaysia's fastest growing ready-to-drink coffee brand, Wonda Coffee continues to grow their presence and push the envelope with industry leading innovation and collaborations
17 November 2023, KUALA LUMPUR – Wonda Coffee, one of Malaysia's leading ready-to-drink coffee brands breaks another Guinness World Record for the World's Longest Magazine as part of their Kopi Tarik campaign". In collaboration with Marketing Magazine Malaysia, a special edition September issue magazine was produced in an accordion style and when fully opened, cover to cover measures at 715.2 cm in length.
Fresh from their recent Guinness World Record achievement for 'The Largest Online Video Chain of People Performing Football Juggle', participated by football enthusiasts across Malaysia in March 2023, this amazing feat was conceptualised together with their media partner to create a 'Kopi Tarik' in a magazine to set a new world record. As the fastest growing ready-to-drink (RTD) coffee brands in Malaysia, WONDA breaks boundaries through innovation and collaborations that cut across industries.
This Guinness World record is part of their broader vision of increasing their global presence as a competitive disruptor in the coffee industry. This can be seen in their collaboration with the Football Association of Malaysia and Astro Radio for the OR1 FM campaign.
Etika's Vice President of Marketing, Amy Gan, said, "Over the past decade, Wonda Coffee has proudly stood as an innovative brand. From pioneering Malaysia's most loved kopi tarik in a can to setting a Guinness World Record during the World Cup in 2023, we are thrilled to hold the world record for our "Tarik the Magazine", the longest magazine published."
"This recognition from the Guinness World Record is a stepping stone towards creating a legacy that resonates far beyond our borders. As we celebrate this milestone, we are inspired to continue our journey towards making a more significant presence and footprint in the world and leave an indelible mark on the global coffee scene."
She adds "This was only possible because we have a partner that resonates with our vision for innovation and breaking boundaries. As a brand that constantly pushes the limits in the marketing industry, we are grateful to be able to stand hand in hand with Marketing Magazine and celebrate this achievement together. We hope and look forward to more industry first collaborations with Professor Ham and his team."
Prof Harmandar Singh, Editor in Chief and Founder of Marketing Magazine said, "Wonda Coffee's creative brilliance and innovative spirit aligns perfectly with our vision at Marketing Magazine. Building upon our previous partnership with Wonda Coffee, where we sent out 3,000 personalised magazine covers to Malaysia's advertising and marketing industry movers, Marketing Magazine has recognized Wonda Coffee's ability to transform ideas into groundbreaking experiences that reaches out to the people of Malaysia. We are looking forward to what Wonda Coffee will think of next."
The Guinness World Record presented by Guinness World Record Adjudicator Sonia Ushirogochi, was held at Tiffin-at-the-Yard, also saw Wonda unveil a fresh new look for their range of Wonda Coffee products with the same brand promise of delivering coffee that tastes like just brewed.
For more information visit, www.facebook.com/WondaCoffeeMalaysia/