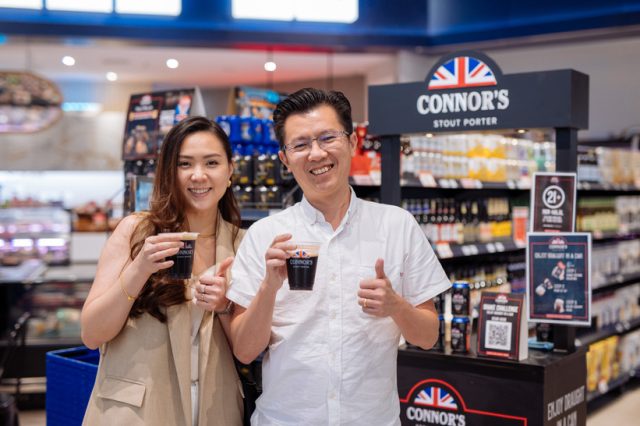 Experience a cheeky blend of everything Black and British specially curated for stout lovers
SHAH ALAM, 17 November 2023 – Connor's Stout Porter is rolling in 'Taste the Good Times' to commemorate and celebrate International Stout Month, by creatively devising a barrage of cool action poised to reward fans with top-notch experiences, prizes and of course the great taste of its unique black brew.
Having recently bagged two gold awards in the prestigious international Monde Selection, one of the only Quality Institute in the world to offer a global quality evaluation of food and beverage, and the World Beer Award 2023, one of the most coveted awards in the global beer industry respectively, Connor's is spreading its cheery success by roving the town and giving fans the opportunity to immerse themselves in a barrel of British fun in 290 venues.
In selected super and hypermarkets, the Connor's Shake Crew will be on the prowl for stout lovers to take on the Connor's Shake Challenge. Participants will have to perfectly recreate the draught stout experience through a serving ritual unique to Connor's Stout Porter in cans. This superb liturgy retains the creamy foam and gentle roasty undertones of its four premium malts including lager malt, caramel malt, brown malt and roasted barley, plus kicks off the brilliant cascading effect that makes Connor's all the more irresistible.
"Consumers today seek for a stout with great character and exceptional flavour to challenge their taste buds and our recent two gold awards affirm Connor's Stout Porter as the perfect brew. The Monde Selection award showcases our commitment to quality, whilst the World Beer Award solidifies Connor's excellence among the highest-rated beers globally. To celebrate our success and International Stout Day, we are bringing stout lovers together to 'Taste the Good Times' anytime, anywhere. Not just for a day, but for nearly two whole months!" said Stefano Clini, Carlsberg Malaysia's Managing Director.
Painting The Town Black Nationwide
Throughout International Stout Month, Connor's will be bringing the party to 12 selected outlets across Malaysia like never before, with a line-up of four exhilarating activities available to participants anytime they purchase one set of Connor's.
Revellers can expect to try their hand at 'The Perfect Pour', tapping their own mug of Connor's to win personalised coasters and go head-to-head at a game of 'Flip the Cup' for a Connor's merchandise. 'The Weight Challenge' will test patrons' camaraderie by piling on the fun to reach a collective weight of 600kg. The first table to do this will walk away with the colossal prize of a Connor's keg. On the fashion front, stout aficionados could win a limited-edition Connor's Bomber jacket.
These exciting nuggets of celebration funnel into a crafty contest where 60 lucky consumers will take home a superb SMEG Union Jack mini fridge worth RM15,000 each, making them the only ones in Malaysia to own one.
But wait, there's more! Connor's enthusiasts can also win the SMEG Union Jack Mini Fridge from now until 25 December 2023, with a purchase of a can or a half-pint of Connor's for an entry or a full-pint for two entries at their favourite restaurants, bars, or pubs. In supermarkets, convenience stores and ecommerce sites, any purchase of one can of Connor's grants consumers one entry to participate. They can even opt for the full monty and get five entries when they purchase four cans of Connor's.
Connor's x REXFEST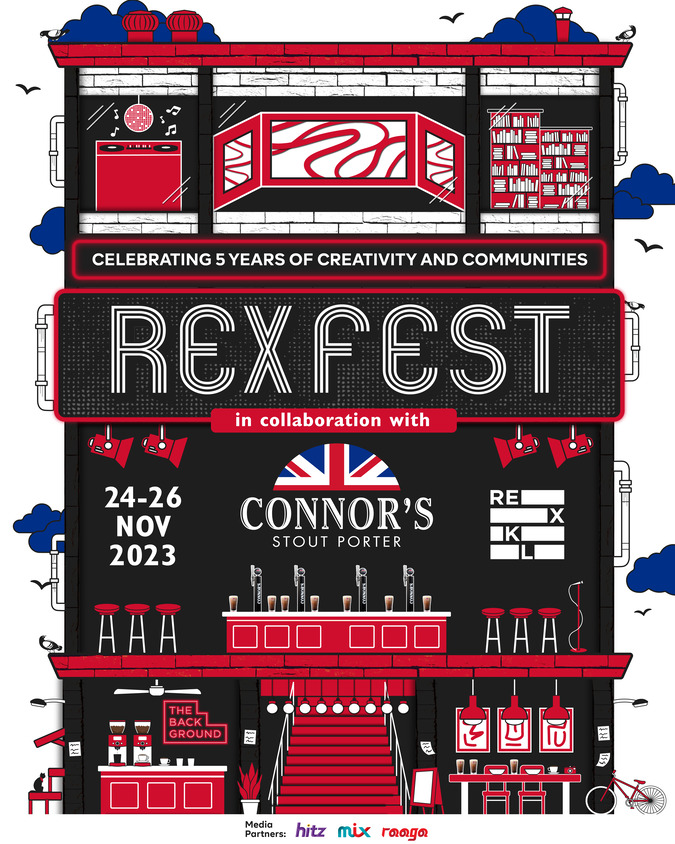 Apart from the copious amount of action already taking place all around town, Connor's is delivering its innate British love for all things music and festivals through the brand's collaboration at REXFEST. Adding its signature cool and creative vibes to the three-day fest, Connor's brings the finest of both stout and music together all within the confines of one spectacular event as art and music lovers 'Taste the Good Times'.
The buck does not end there. On festival grounds, punters will be able to chow down on unique grub and try their hand at concocting the first-of-its-kind Connor's Stoutfee Cold Brew cocktail in the Connor's Mixology Masterclass led by the Parkroyal Collection Kuala Lumpur's Head Mixologist, Lee Wei Lung. The Connor's Shake Corner also gets the party going with the art of pouring, scoring drinkers a complimentary can of Connor's whilst a free Connor's draught is up for grabs for those participating in the Connor's Snap & Post contest. For the ultimate Brit action, stout lovers can get their creative juices flowing with some Graffiti expression.
With so much in store, Connor's is delivering the best of everything Black and British this International Stout Month so be sure to stay in the know by visiting www.connorsmalaysia.com for more details and like and follow Connor's on Facebook at www.facebook.com/ConnorsMY and Instagram at www.instagram.com/connorsmalaysia.