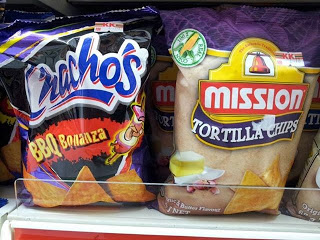 Mondelez's Chacho's has found a new rival – A tortilla with a mission. Mission Foods, a unit of US-based Gruma Corp, has started filling store shelves in Malaysia with its Mission Tortilla Chips. The Mission Tortilla Chips can now be found in leading supermarkets/hypermarkets such as Aeon and Tesco as well as in minimarket chains like KK Mart.
Malaysian consumers are very familiar with Chacho's but what about Mission? From the picture above, it looks like both have the same packaging size but behold, Chacho's is better value for money. Weighing at 80g, with a retail price of RM 3.00 at Tesco and RM 2.90 at Aeon, Chacho's is cheaper with a per unit price of RM 0.036 per gram compared with Mission, which weighs 65g with a price of RM 2.70 at Tesco and Aeon. The per unit price of Mission is RM 0.042 per gram. Mission is priced at a slight premium over Chacho's as it is made in Shanghai, China, while Nacho's is locally manufactured in Malaysia, both employing imported ingredients.
Taste wise, Mission tortilla chips are less salty than Chacho's. This can be a good thing as consumers now want to cut down on their sodium intake.
The Mission Tortola Chips claims to contains 30% less oil than potato chips and is 100% made from real corn. So it seems Mission is promoting itself as a healthier snack to potato chips, the most popular snack category. Can Mission continue to make inroad into Malaysia? It depends very much on getting the products into more stores, making consumers familiarise with the new kid in town and differentiating itself as the true tortilla corn chips in consumers' mind. However, it will be a tough fight against Mondelez, which has a strong distribution network and enjoys the first mover advantage in the niche tortilla segment.