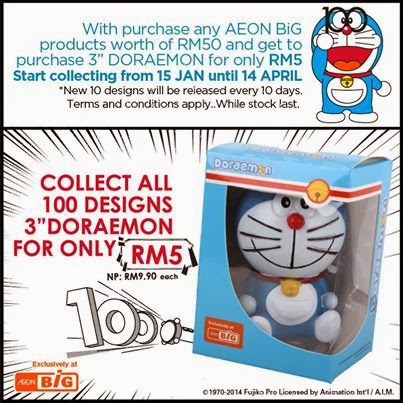 Aeon Big, formerly Carrefour, has become the latest hypermarket chain to jump into the bandwagon of collectibles. The promotion was launched in conjunction with the 100 Doraemon Secret Gadgets Expo in KL from 14 December 2013 to 23 March 2014
According to the company:
These 3″ Doraemon figurine are for sale at the price of:
RM5 each with purchase of any AEON BiG products worth RM50
RM9.90 each without purchase any AEON BiG products
New 10 designs will be released every 10 days!
However, shoppers are venting their frustrations over lack of stock on the Aeon Big FB page.
Even after official announcement that all stores had been restocked, it seemed some customers still failed to get hold of the figurine.
The key lesson from this is make sure the stock level is adequate and the staff in each store should be adequately informed on when the new stocks will arrive.