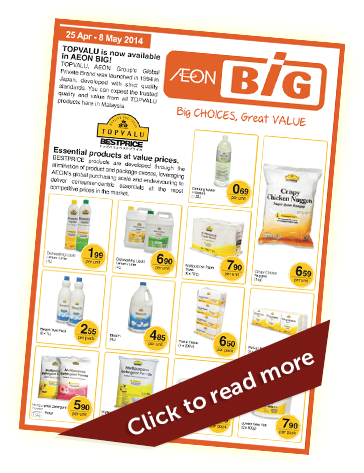 Aeon Big, formerly Carrefour, has introduced the Topvalu range of private label products in Malaysia. As with all private label products, the aim is to deliver the best price without sacrificing quality. Consumers are feeling the heat over the rising cost of living and this is not helped with the impending introduction of the 6% GST in April 2015. Many are looking for ways to cut their spending such as buying in bulk, dining out less and turning to group buying sites.
Private label seems to be the panacea but private label only represented 2% of dollar share in Malaysia, according to
the Nielsen Private Label Global Report, 2011
. An earlier Nielsen report valued the private label market at RM240 million or 4.3% of total sales in February-September 2008, up from 3.8% a year ago. The numbers range from 2% to 4.3% but they do show private label share has not exceeded 5% and may in fact falling eg 2% in 2011.
Private label seems to be a Western thing. This concept hasn't really taken off in Asia including in China despite numerous attempts to try winning the hearts and minds of Asian consumers. According to Nielsen, no countries in Asia has a private label share higher than 6%. Dia, the hard discount blue chip of Carrefour, never seems to be able to use private label as the key pillar of its price image strategy in China.  Despite having a total of 954 private label items in China in 2010, private label share stood at a mere 10% lower than other emerging markets such as Brazil and Turkey, each with 35%. Dia announced in 2014 that it was withdrawing from Beijing but is keeping the Shanghai stores running, which shows Dia's discount model is failing in China.
The key barrier for private label adoption in Asia is consumers are not really convinced of the quality. Nielsen's study shows of the bottom 10 countries that do not agree with the statement "Supermarket own brands are a good alternative to other brands", eight are from Asia with Malaysian and Japanese consumers (35%) in least agreement with the statement.
Malaysian consumers have no qualm buying store-brand tissue, toilet roll, plastic utensil, mineral water, and other products they perceived where the risk is low and there is not much difference in the perceived quality. However, they are more choosy when it comes to products they enjoy. In China, consumers want quality assurance as they are constantly being inundated with food scares. With big brands in China failing to pass the national quality tests, what's more for private label where the manufacturing of the products are usually outsourced to SMEs.
Tesco Loves Baby
In Malaysia, the low private label penetration in grocery has not deterred Tesco from introducing its new Tesco Loves Baby brand in April 2014. The retailer has set an ambitious target to capture 50% of the baby care and products market share (within Tesco stores or the overall baby care market??) by the end of 2014. Tesco has about 71% market share within key account hypermarkets and 38% within the modern trade category, according to Nielsen's private label report released in February 2014. Tesco even has a website for the new baby range at http://baby.tesco.com.my, a strong indication that Tesco wants to win.
Back to Aeon Big, the key problem for Topvalu is the design, which exudes the signs of being cheap and low in quality. There is simply too many white spaces in the Topvalu design (left) compared with a more colourful pack design for the Tesco juice (right). So, the key to private label acceptance in Malaysia is simply put extra thought to the pack design and white space does not sell.
Pick a fight with the branded peers by placing the private label product next to the nearest competitor. Tesco is famous for using this approach to highlight the price advantage over the leading brands.
Tesco own brand instant noodles on the right (red and yellow)
Shelve display matters. Tesco is known for populating the entire shelve with its own private label range as shown in the example above.
One of the strangest thing about Malaysian consumers is we are willing to pay more for imported products including private label products. Premium imported private label products such as Waitrose and Marks & Spencer are prized for their quality. Private label sells if they are fully imported. This applies to Topvalu products with Japanese characters imported straight from Japan.
Private label fits the needs of the HoReCa (hotel, restaurant and catering) market. Restaurants buy in bulk and all they care about is low price and reasonable product quality. Packaging does not matter as long as the price is right.
Conclusion, private label does have potentials in Malaysia.
1.) Private label is ideal for HoReCa.
2.) Private label pack design has to look less like private label and resemble more like branded goods with less white spaces.
3.) Private label sells if they are imported eg. Waitrose and Marks & Spencer.
4.) Private label wins by occupying crucial shelve space and placing it next to leading brands to highlight the price advantage over branded goods.