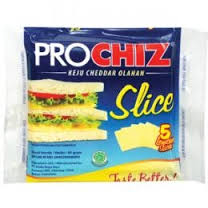 The Philippines is a fertile market for Indonesian FMCG companies as both markets are at a similar development phase. One of the unique characteristics of the two markets are the popularity of affordable sachet or pouch packaging. When it comes to cheese, the Philippines, given its strong westernised diet should be the one exporting cheese to other countries. However, this role is interestingly being filled by Indonesia, a country with a very low cheese per capita consumption. In Indonesia, cheese is usually added in terang bulan or sweet martabak.
Prochiz of Indonesia's PT Mulia Boga Raya is the latest sliced cheese appearing in the Philippines market. They come in 5 slices and 10 slices. This is not the first Indonesian-made cheese in the Philippines. The famous Eden processed cheese, which can be kept at room temperature, is largely made in the Philippines but some is manufactured by PT Kraft Ultra Jaya, a joint venture between Kraft and Indonesia's dairy company PT Ultrajaya Milk Industry.
The Prochiz range is priced at the lower end of the market, according to store check carried out in one of the Robinsons supermarkets. The affordable price is understandable since the made-in-Indonesia Prochiz lacks the premium halo attached to the brand. This makes the new product a contender for the entry-level market  competing mainly with local Philippines sliced cheese brands.