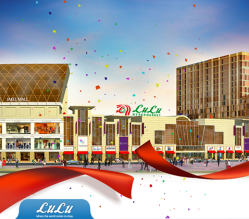 UAE-based Lulu Hypermarket opened its 127th outlet in the Malaysian capital of Kuala Lumpur on 25 June 2016. The new outlet at Capital Square represents its maiden outlet in the country, the second in Southeast Asia after the Jakarta debut in May 2016 (126th store).
Strategically located among four office/residential towers
The new outlet is located in Jackel Mall, CapSquare flanked by four major office/residential towers – Menara Multi-Purpose, Capsquare Tower, Capsquare Residences and 6 CapSquare. The area has a large captive market comprising office workers and nearby residences.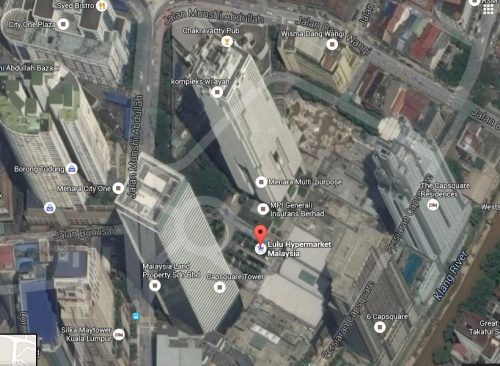 Halal only
True to its nature as an Middle Eastern-based retailer, Lulu Hypermarket only sells halal foodstuff. The store does not carry alcoholic beverages, pork-based products and even dog food (only cat food). The location of the store in Jalan Munshi Abdullah, a Muslim-majority area, also ensures the halal-only approach appeals to the local shoppers.
Huge assortment of dried food ingredients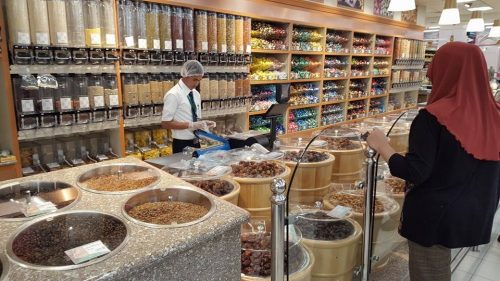 In the entrance is the food ingredient corner selling dried foodstuff/snacks ranging from raisins, Arabica coffee, sunflower seed, green pea, walnut to almond. On the shelves are a huge assortment of individually wrapped chocolate. The design resembles the food bazaar with a dazzling arrays of different products.
Mediterranean/Middle Eastern/South Asia food ingredients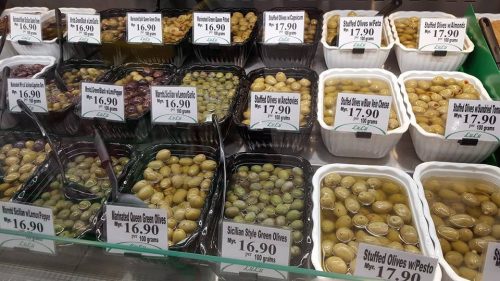 There are plenty of olive dishes to choose from including Sicialian style green olives, marinated green queen pitted and stuffed olives with feta.
Next to it are other Mediterranean food ingredients including pepperbells filled with pasta, marinated anchovies, marinated grilled mushrooms, Italian style mixed antipesto and marinated baby octopus.
The store also has a large collection of paste including dried chilli paste, tumeric paste, onion paste, galanggal paste, shallot paste, Baba ghannouge, hommos, Greek spring onion dip and Greek hommus dips.
Arabic/Indian ready meals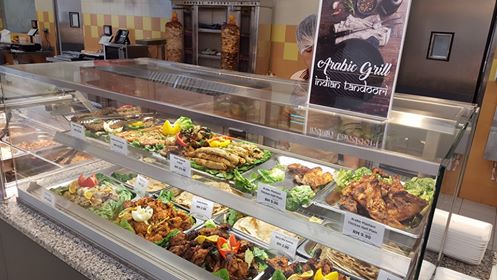 The meals served have a strong Arabic/Indian influence featuring dishes like Arabic Mashavi chicken half plain, spicy mix kulcha, gobhi kulcha, shish tawook grilled, potato kulcha, grilled lamp kofta, grilled fish peri peri and kebab.
Japanese Sushi bar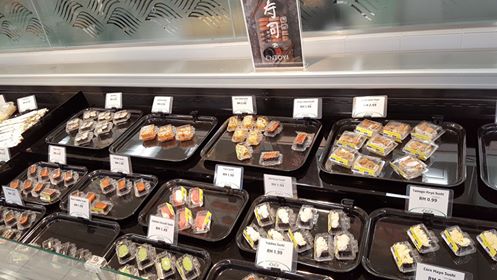 The Japanese sushi bar caters to white-collar workers who want food on the go.
Localised Malaysian meals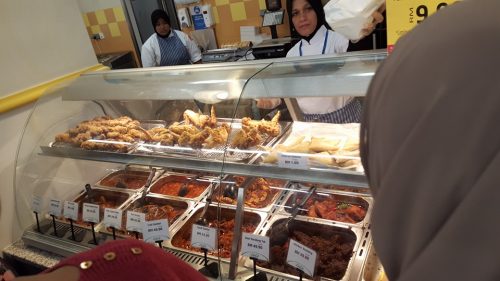 Apart from Arabic grilled and Indian tandoori, Lulu Hypermarket also has a section selling Malaysian favourites – fried chicken, samosa, nasi lemak, sambal ikan bilis, prawn sambal petai, fish asam laksa, crab sambal, squid sambal and chicken rendang.
Popular pizza section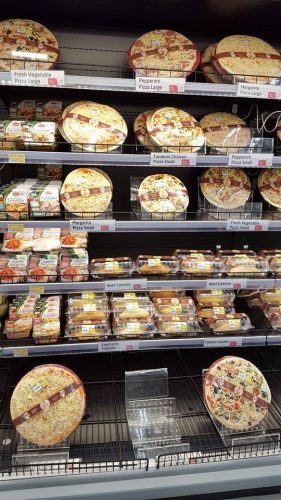 The pizza place is quite popular with shoppers due to its affordable pricing and the use of lot of cheese in the pizza. A small pepperoni pizza is selling for RM 10.50, Margarita pizza large RM 12.50, large pepperoni pizza at RM 19.90 and tandoori chicken pizza small at RM 9.90.
To cater to office workers, Lulu Hypermarket has a 'mix your own fruit' corner and bottled fruit juices (fresh water melon juice 250ml – RM 2.50, fresh orange juice 250ml – RM 7.50 and banana with milk 250ml – RM 3.00)
Made-in-India Horlicks and Cadbury Bournvita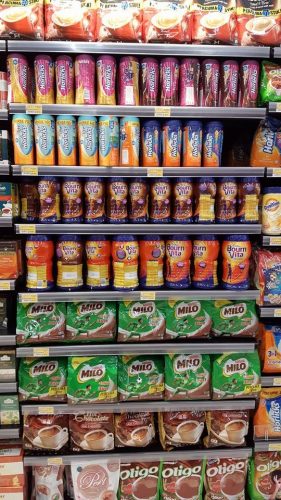 The malt-drink shelf of Lulu Hypermarket resembles a typical modern grocery store in India. On the shelf are made-in-India Horlicks Women, Horlicks Lite and Cadbury Bournvita, which are previously not available in Malaysia.
Other Indian foodstuff and sauces
Apart from hot drinks, Lulu Hypermarket also sells India's Britannia biscuits/cookies, Bru instant coffee, Haldiram's Gulab Jamun, Aahaa snacks (Masala Bondi, Mix Farsan and Bhavnagari) and Eastern (Coconut Chutney Powder, Bitter Gourd Pickle, Prawn Coconut Chutney Powder and Garlic Pickle).
Indian sauces include brands like Aachi, Chinni's, Eastern and Sakthi (image below).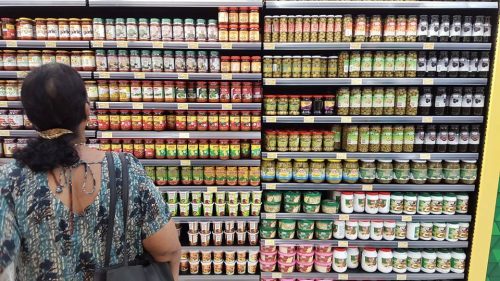 Private label sourced from different parts of the world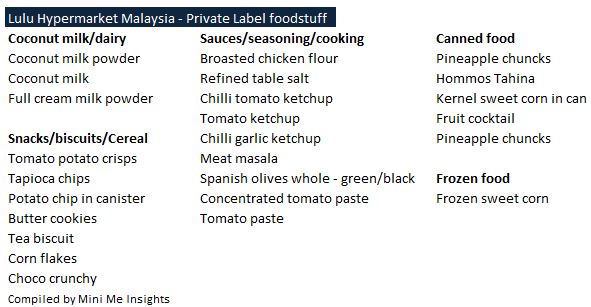 Lulu Hypermarket has a large selection of private label food and non-food items. These private label products are sourced from different countries including the United Arab Emirates (UAE), Denmark, China, Thailand, Greece, Germany, Oman, the US, Spain, Malaysia and Indonesia.
For example, coconut milk comes from Thailand, frozen corn from Malaysia, full cream milk is packed in Dubai, corn flakes from Denmark (Nakskov Mill Foods A/S), Choco crunchy corn flakes from Germany (C. Hahne Mühlenwerke Löhne), cassava chips from Indonesia (PT Mirasa Food Industry), crispy potato crisps from China (Shantou SEZ Yusheng Food Industries), chilli garlic ketchup from Oman (OAI LLC), tomato ketchup from the USA and Spanish olives whole green from Spain. Tomato chips are made in UAE by Hunter Foods Ltd. The toilet tissue comes from Greece, scouring cream from UAE (Biotechnology International CO LLC) and glass surface cleaner from UAE (FT Ind.)
Lulu private label does not have a clear price advantage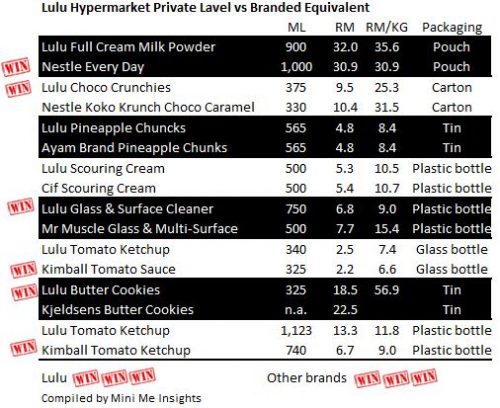 Lulu Hypermarket private label does not have a clear price advantage over its branded equivalent. The distinctive private label look and feel of the packaging makes it less attractive to shoppers.
The Lulu tomato ketchup is made in the US, while the Kimball tomato ketchup is made locally (Image below).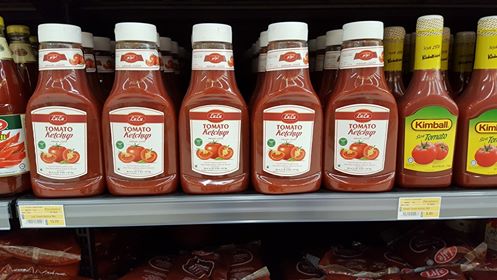 Lulu private label does have a strong shelf presence as the retailer owns the space and has the desire to promote private label as these products fetch a higher margin.
Below is the picture of the Lulu private label snacks.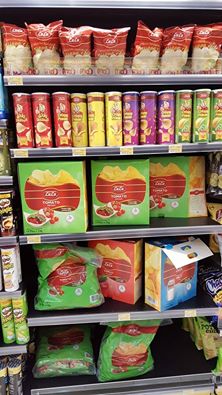 Beverages and dairy
There are no private label for beverages and dairy. The product range are the same as the other retailers in the country.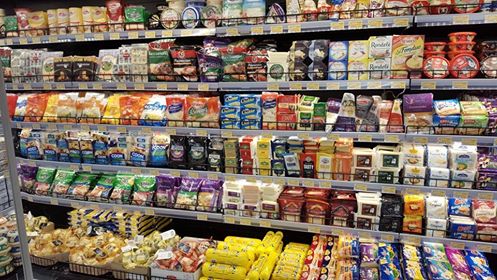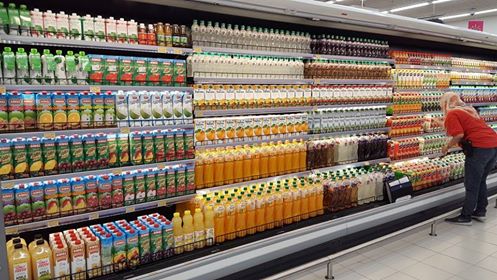 Fresh produce section
The fresh produce section comes with clear labelling of where the vegetable/fruit comes from. The local fruit selection is good with a wide range of local fruits such as durian, jackfruit, mango, guava, dragonfruit and starfruit.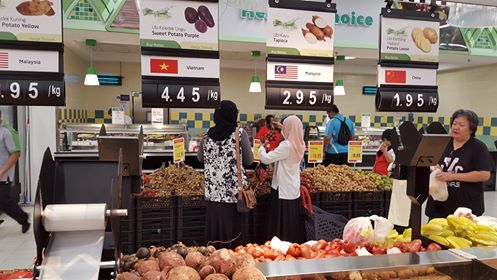 The chilled section features a wide range of processed chicken meat, marinated beef, cheese and processed olives.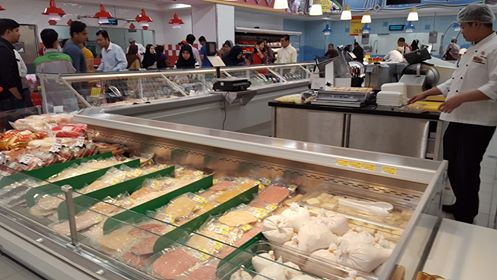 Lulu had a discount for whole chicken with head & feet for a limited period, which was a crowd puller. The price per KG is RM 2.99 translating into RM 4.09 for a 1.368kg bird.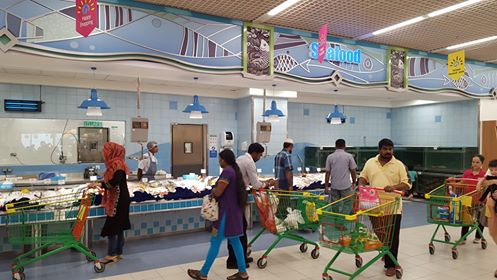 The seafood section has several tanks selling live fish. This goes well with Malaysians who would pay a premium for fresh fish.
Lulu plans 10 more stores
The outlet in Jackel Mall is the first store out of 10 planned for Malaysia in the coming 5 years. Securing strategic location with the right population mix will be the most challenging issue for Lulu Hypermarket. The 100% halal concept means it has to have the right product mix that also attracts non-Muslims. The most likely location of the new outlets will be in Muslim-majority areas like Bangi and Shah Alam in the Klang Valley.
Postscript
This article only covers the grocery section – ground floor of the three-floor Lulu Hypermarket.